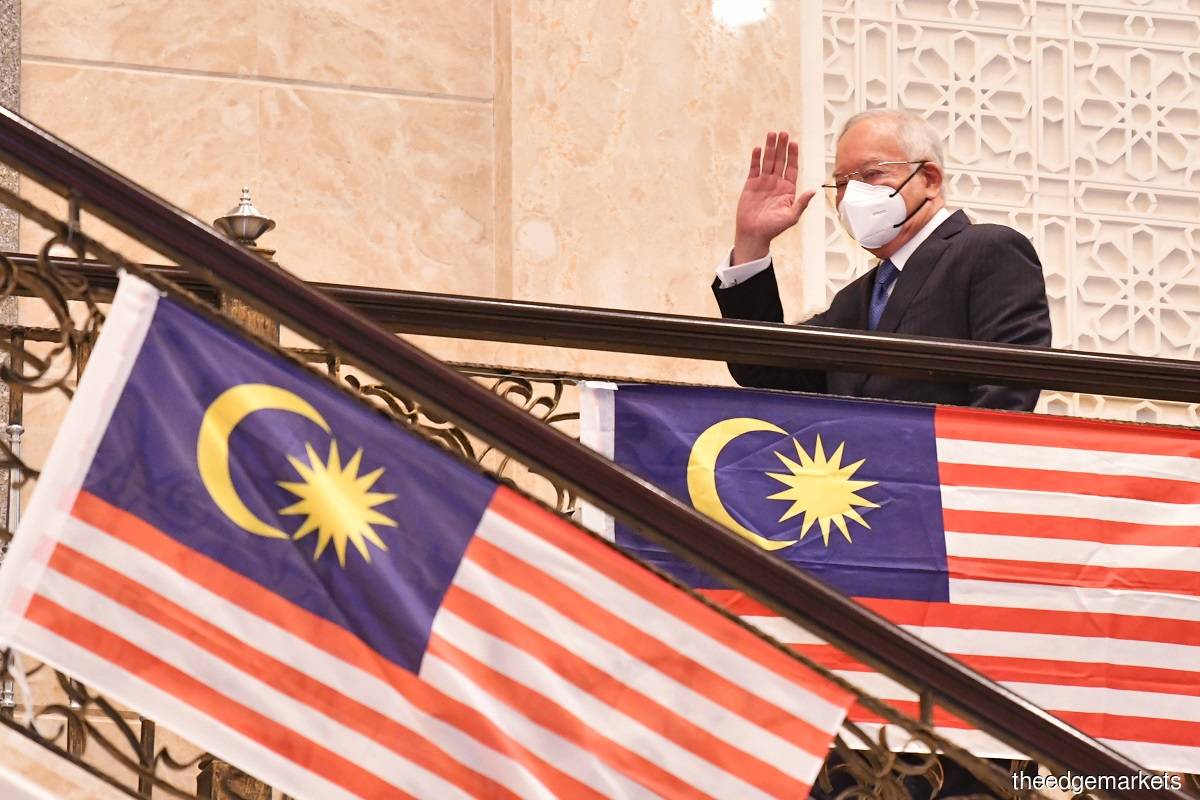 KUALA LUMPUR (Oct 17): Former prime minister Datuk Seri Najib Razak continues to categorically deny any wrongdoing, including breaches of duties in public office, dishonest assistance, misfeasance in public office and/or abuse of power, with regard to the RM42 million suit filed by SRC International Sdn Bhd and Gandingan Mentari Sdn Bhd against him.
He further denied the notion of him being a "shadow director" of the company, which was once held under 1Malaysia Development Bhd (1MDB), but is now under Minister of Finance Inc.
This comes after the Federal Court on Aug 23 affirmed his conviction and sentence with regard to abuse of power, criminal breach of trust, and money laundering of RM42 million in the first of his five criminal trials.
Najib is presently serving a 12-year jail sentence. He was also fined RM210 million.
The former PM's denial was contained in his defence to the RM42 million suit, filed last Wednesday (Oct 12) through Messrs Shafee & Co, where a copy was sighted by The Edge following a file search.
The former finance minister was served with a Mareva injunction earlier this year by the High Court to freeze RM42 million worth of assets owned by him, and for him to make a declaration of his assets.
Following that, Najib through an affidavit said he only had assets worth RM4.49 million.
A case management of the case was held last Thursday before newly appointed judicial commissioner Datuk Raja Ahmad Mohzanuddin Shah Raja Mohzan, where he fixed Jan 13 to 24, and Feb 12 to 26, 2025 as the hearing dates of the suit.
SRC and its subsidiary Gandingan Mentari had filed the civil suit against Najib to recover the RM42 million. It was one of the 16 suits filed by SRC in May 2021.
In a related development, Raja Ahmad Mohzanuddin during the case management informed the parties that while he had practised at Azmi & Associates, a former solicitor for 1MDB in an aborted transaction of sale of shares in a company in Sarawak, he was not involved in the matter and had no knowledge of it.
Besides this suit, SRC also filed a US$1.18 billion commercial suit against Najib and several others over the RM4 billion Retirement Fund Inc (KWAP) loan to SRC, where the funds' whereabouts are unknown since they were approved by KWAP between August 2011 and March 2012.
Najib's defence
Najib in his defence said that he had conducted his duties as the then PM and finance minister out of national interests, and that he was never in a position to control SRC's board or former directors.
He further denied knowing or allowing the approval, or causing any unlawful misappropriation of SRC funds, or causing the alleged loss or damage to the company. He further denied that he was the ultimate controller of SRC, and did not issue any directions or instructions which compelled the board to his whims.
Former SRC director Datuk Suboh Md Yasin testified in the criminal trial that Najib had exerted his control on the company through Nik Faisal Ariff Kamil, who was formerly the company's managing director and the mandate holder of Najib's accounts.
Najib further said that he was never in a position to control the board, and neither could the board at any point in time consider him as a "shadow director" within the definition of Section 4(1) of the Companies Act 1965 and Section 2(1) of the Companies Act 2016. He further denied that Nik Faisal had acted as his proxy.
"If indeed Nik Faisal held out to the SRC board that I (Najib) had instructed and/or directed the board on matters relating to the management of SRC, such representations were false.
"As per the corporate governance structure of SRC, Nik Faisal could not have unilaterally affected any of the board's exclusive powers, including the power to manage the affairs of SRC. The directors of SRC cannot be said to have been accustomed to act in accordance with my directions or instructions," Najib said.
He maintained that due process was complied with in the Ministry of Finance's (MOF) decision to give two government guarantees for the RM4 billion KWAP loan, and at no time did he exert any influence to compel any of the decision-makers in the MOF or Cabinet to compromise their official duties with the two government guarantees.
Najib maintained that approvals for the two government guarantees were undertaken in furtherance of national interest and in pursuance of his public functions as the then PM and finance minister. He further denied any involvement or knowledge of actions undertaken on behalf of SRC.
The former premier also denied any knowledge of fraud or fraudulent misappropriation of billions of ringgit in relation to SRC. He denied that he had the investigations hindered and interfered with.
He further denied that any senior public officers, or the attorney general or deputy prime minister, were dismissed at any time as alleged by the two companies.
However, in July 2015, it was reported that then attorney general Tan Sri Abdul Gani Patail and then deputy prime minister Tan Sri Muhyiddin Yassin were removed from their positions. Muhyiddin later became the country's eighth PM from February 2020 to August 2021.
Following the case management last Thursday, Raja Ahmad Mohzanuddin directed SRC and Gandingan Mentari to file their reply to Najib's defence by Dec 13 this year, and set Dec 19 as the next case management date.
While the case was originally before judicial commissioner Datuk Mohd Arief Emran Arifin, it was transferred to judge Datuk Amarjeet Singh. However, Amarjeet was then transferred to the High Court's appellate and special powers division, resulting in the suit being brought before Raja Ahmad Mohzanuddin.
Read also:
Najib's affidavits show former PM's assets worth RM4.49m
High Court allows SRC's application for second Mareva injunction against Najib
New judge to preside over SRC civil suit against Najib