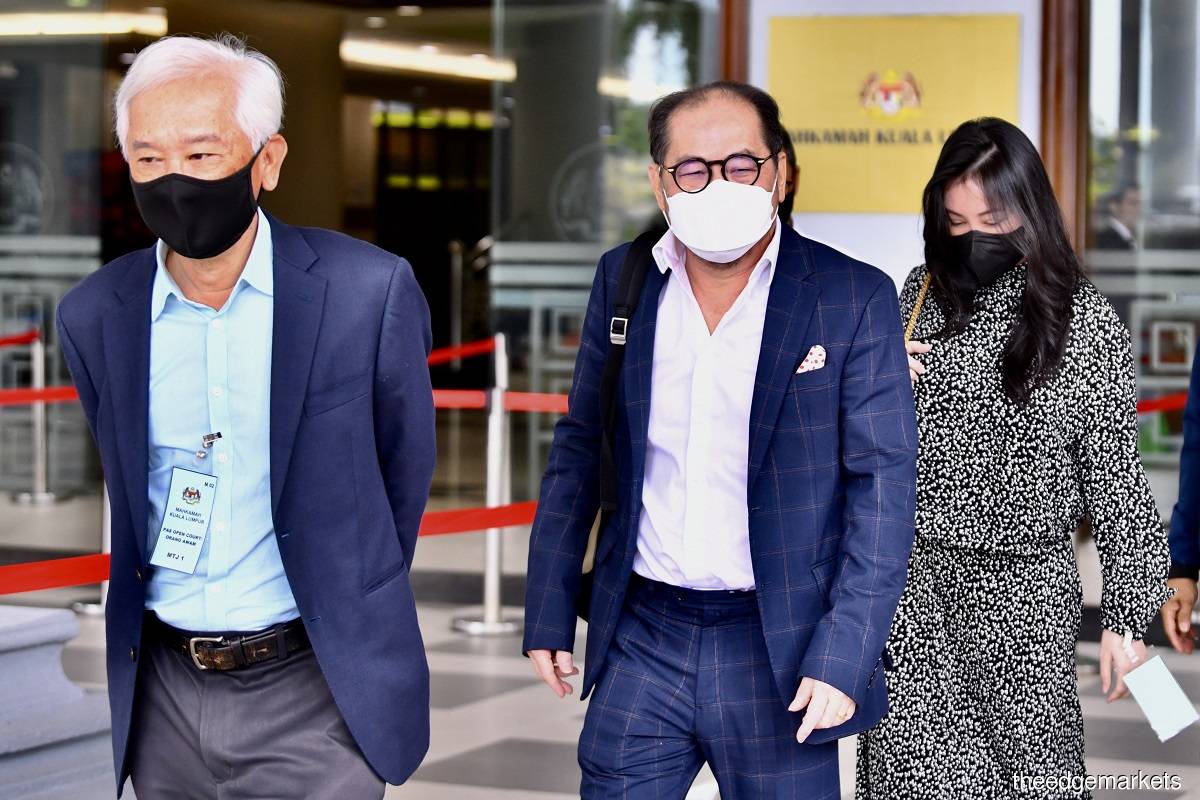 KUALA LUMPUR (Nov 21): The Edge Media Group chairman Tan Sri Tong Kooi Ong told the High Court here on Monday (Nov 21) that former prime minister Datuk Seri Najib Razak "did not say a word" when he showed Tong out of his house after Tong told Najib about the wrongdoing at 1Malaysia Development Bhd (1MDB) orchestrated by fugitive financier Low Taek Jho or Jho Low.
Tong was testifying in the 1MDB-Tanore trial as the 43rd prosecution witness before judge Datuk Collin Lawrence Sequerah. He was being cross-examined by lawyer Tan Sri Muhammad Shafee Abdullah, who was representing Najib, and was again asked how he tried to warn Najib about Jho Low.
Tong testified that during his meeting with Najib on March 6, 2015 at the former permier's Langgak Duta house here, he tried to warn Najib of the US$1.8 billion (RM8.23 billion) 1MDB had invested in a joint venture with PetroSaudi International Ltd (PSI) being siphoned off by Jho Low and PSI co-founders Tarek Obaid, Patrick Mahony and Prince Turki.
Tong testified last week that when he explained all this to Najib based on information he had gathered, Najib stood up without saying a word and showed him the door.
"After I told him that action should be taken against Jho Low, he stood up [and] opened the door for me," Tong testified.
At the trial on Monday, Shafee told Tong that the exchange with Najib might have been misinterpreted. However, Tong disagreed and said that Najib abruptly stood up and opened the door to let him out without saying a word.
Shafee: You might have misinterpreted [the situation]. You were seated nearest to the door. He walked you to the door and said thank you, [then] he terminated the conversation.
Tong: I wish he did that.
Shafee: He didn't open the door and say, "Tong, get out."
Tong: He did not ask me to leave... After I explained the handwritten notes [from 1MDB] and the problems arising [from that], he told me he would close 1MDB. I then proceeded to say, "But someone should be held [accountable]. [From my] briefing note [which] you have taken a copy, I clearly showed [the] money was diverted to Good Star Ltd and Jho Low owned Good Star, not PetroSaudi. Jho Low should be [held accountable]."
Tong related to the court that after he said this, Najib stood and showed him the door.
Tong: [From then] on he never said a word. He stood up and walked to the door. He opened the door. I stood up and then I left.
Shafee then asked Tong if Najib had walked him to the door in previous meetings in the past, to which Tong responded that he had never met Najib on a one-on-one basis at Najib's home before.
Shafee also asked Tong if he had misinterpreted the situation.
Shafee: I'm just a mere lawyer. Whenever [I met with Najib, he would] walk me to the door. Maybe you were sensitive to the fact your briefing didn't have the kind of expectation. You think he was showing you the door?
However, Tong said he was very sure that Najib was showing him the door.
Tong: In my mind the gesture was not what you would have described it. I was surprised that he just stood up, walked to the door and opened it... After I said it (about Jho Low), he didn't say anything, he stood up and opened the door. I stood up and then I left. That was the totality of it.
Tong agrees 'Najib is the most polite person'
Earlier, Shafee asked Tong about Najib's personality as Tong said he had known Najib since the 1990s, to which Tong agreed that Najib was polite.
Shafee: You know Najib is the most polite person?
Tong: That, I finally agree with you.
Shafee: Had Najib ever been rude to you?
Tong: No, never.
The said meeting with Najib was penned in an article by Tong published by The Edge on Nov 26, 2018.
Tong said that he penned the article in The Edge in 2018 in response to Najib's interview with Sinar Harian that the former prime minister was unaware of Jho Low's involvement in 1MDB.
Najib, 69, was found guilty of abuse of power in relation to a RM4 billion loan given by the Retirement Fund (Inc) (KWAP) to SRC between August 2011 and March 2012.
He was also convicted of criminal breach of trust and money laundering involving RM42 million of SRC funds between Dec 26, 2014 and Feb 10, 2015.
For this, Najib was sentenced to 12 years' jail and fined RM210 million by the High Court, with the jail sentence and fine being upheld by the Court of Appeal on Dec 8, 2021, and further affirmed by the Federal Court on Aug 23 this year.
In this trial, Najib is charged with four counts of abuse of power and 21 counts of money laundering involving RM2.28 billion of 1MDB funds.
The trial continues before judge Datuk Collin Lawrence Sequerah.
The Edge is covering the trial live here.
Users of The Edge Markets app may tap here to access the live report.
Read also:
'You didn't know Jho Low cheated us?'
Nazir Razak asked The Edge chairman to look into 1MDB's RM5b bond as he feared his brother Najib was misled by Jho Low