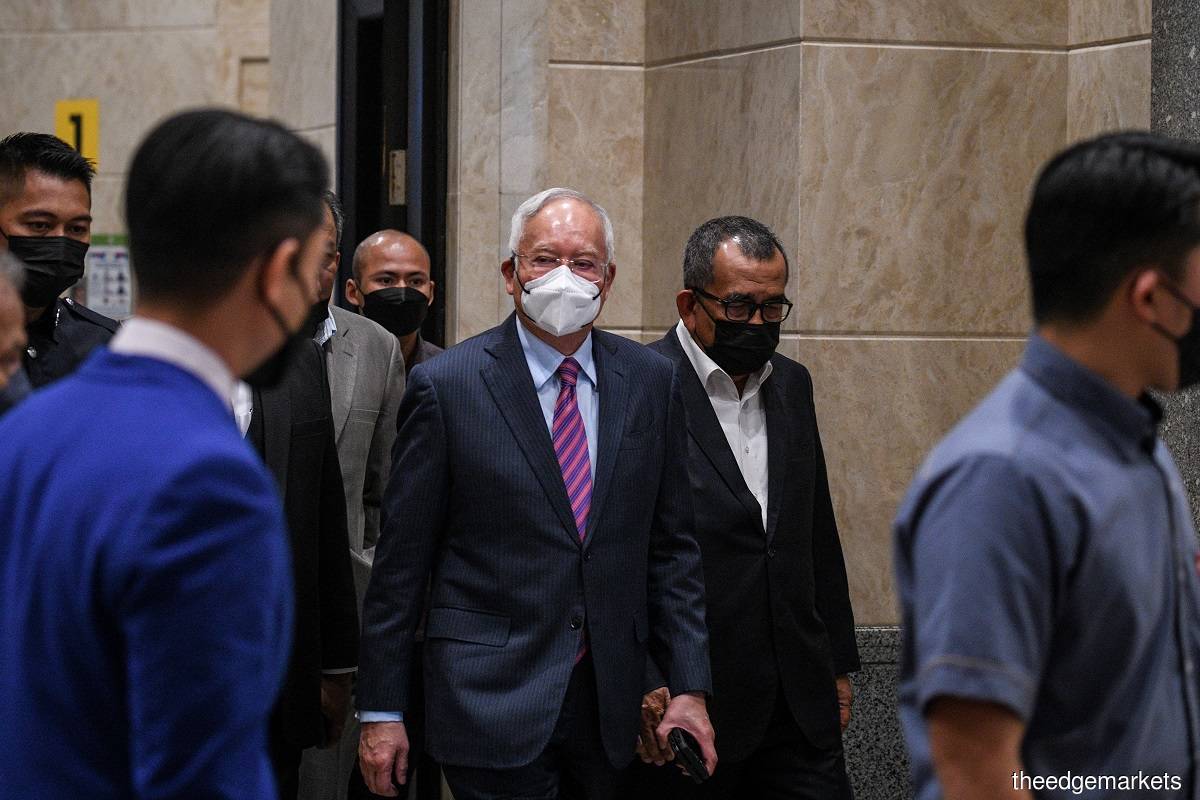 PUTRAJAYA (Aug 19): Former premier Datuk Seri Najib Razak has discharged Datuk Zaid Ibrahim's law firm from representing him in his final appeal against his SRC International Sdn Bhd conviction in the Federal Court.
This is the second time Najib has dropped his solicitors in less than a month.
During proceedings in the apex court on Friday (Aug 19), the former premier's lead defence counsel Hisyam Teh Poh Teik informed the five-member bench led by Chief Justice Tun Tengku Maimun Tuan Mat that his client had discharged his solicitors.
The solicitors in question are from Messrs Zaid Suflan TH Liew and Partners.
Najib's counsels from Messrs Zaid Suflan TH Liew — Zaid, Liew Teck Huat and Rueben Mathiavarnam — were not present in the courtroom. Kee Wei Lon and Low Wei Loke appeared with Hisyam.
In late July, weeks before the final appeal before the Federal Court was set to commence, Najib had dismissed his initial solicitors for the SRC case, namely Messrs Shafee & Co, to make way for the appointment of Messrs Zaid Suflan TH Liew.
The newly appointed solicitors only lasted for about three and a half weeks.
At a press conference on Tuesday, Zaid had reassured that he stood by Najib, adding that the defence would do what it can for the former premier.
This came after Zaid reprimanded those who castigated him for taking up the final SRC appeal, asserting that there was no respect for veterans at the Bar, and questioned how they could be so flippant and cavalier about denouncing him.
On Thursday, Hisyam also made an attempt to discharge himself as Najib's lead defence counsel in the final SRC appeal, saying he was unable to continue serving his client in the case, due to the scope and depth of the appeal, as he was not given enough time to prepare without an adjournment given.
He urged the Federal Court bench to review the defence's bid for a three- to four-month adjournment, remarking that he would proceed with his bid to discharge himself if it was not granted.
The Federal Court, however, did not allow Hisyam to discharge himself, and instead asked him to continue representing Najib.
Previously, the five-member quorum dismissed Najib's request for an adjournment, as they reasoned that the former premier was "well aware" of the hearing dates of the appeal that had been fixed since April, but still proceeded with replacing Messrs Shafee & Co with Hisyam and Messrs Zaid Suflan TH Liew at the 11th hour.
The High Court on July 28, 2020 found the former premier guilty on one count of abuse of power with regard to the approval of loans totalling RM4 billion from Retirement Fund Inc (KWAP) to SRC. Najib was also found guilty on three counts each of criminal breach of trust (CBT) and money laundering involving RM42 million of SRC funds.
For the power abuse offence, he was sentenced to 12 years in jail and fined RM210 million. He was also sentenced to 10 years in jail for each of the CBT and money laundering charges. The High Court ordered that the jail terms run concurrently.
The conviction and sentence were upheld by the Court of Appeal on Dec 8 last year, resulting in the final appeal in the Federal Court.