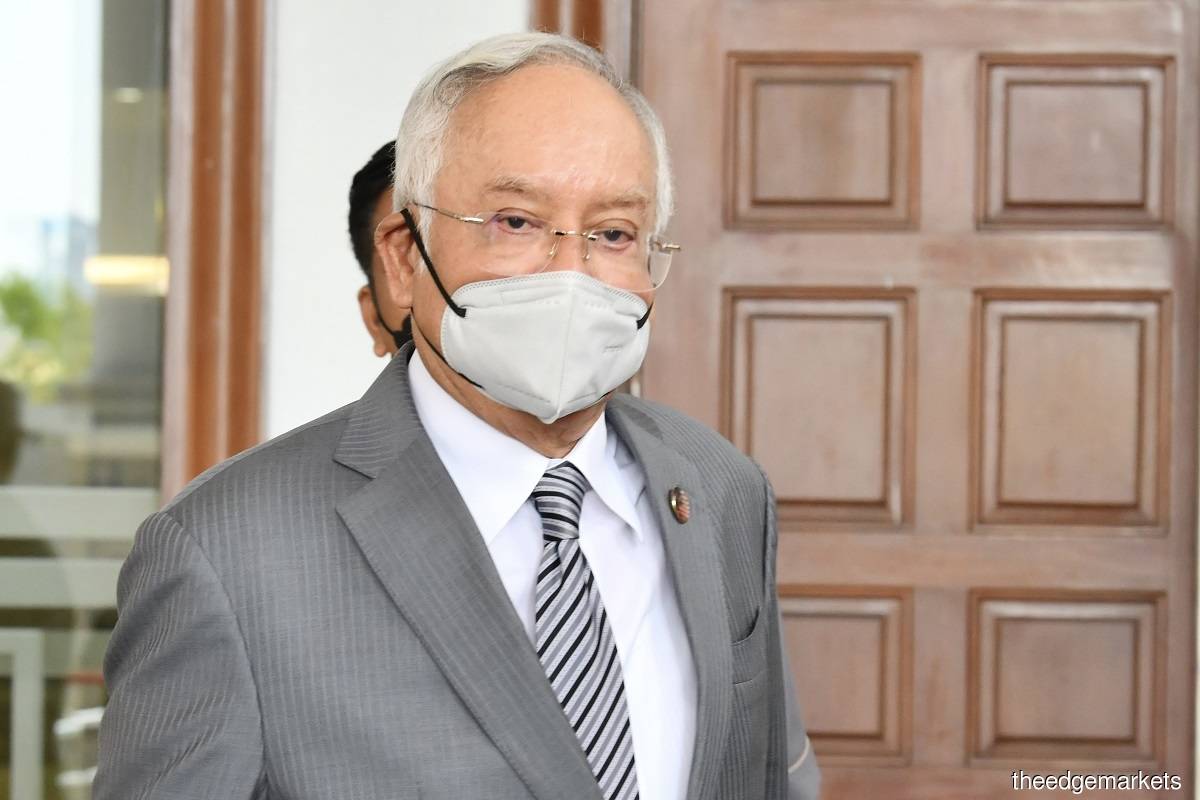 KUALA LUMPUR (Sept 6): Former prime minister Datuk Seri Najib Razak spent close to RM100,000 in one transaction at a 5-star hotel in Rome, Italy, 11 years ago on one of his two AmBank credit cards which a witness said had among the highest limits ever approved by the bank.
Testifying at the 1Malaysia Development Bhd (1MDB)-Tanore trial, Yeoh Eng Leong, who was the former senior vice president of AmBank's retail banking fraud management and authorisation department, verified these transactions and also affirmed that Najib was given one of the highest limits by the bank.
Yeoh, who is the 36th prosecution witness, said that Najib had a Visa Platinum card and a MasterCard Platinum card with a combined RM3 million limit.
"I believe this is one of the highest limits given at AmBank," he said.
Deputy public prosecutor (DPP) Deepa Nair Thevaharan asked him about the average credit card limit given to regular customers.
The witness answered RM50,000 per card and reaffirmed that Najib's limit was RM3 million for both cards.
He then said that for the MasterCard Platinum transaction on July 21, 2011, Najib made a transaction of €22,461.62 (RM98,013.63) to The Westin Excelsior R Roma.
He then verified the following Visa Platinum transactions:
Aug 21, 2011 — Aigner-KLCC Kuala Lumpur RM4,145
Aug 21, 2011 — Hugo Boss-KLCC Kuala Lumpur RM910
Aug 21, 2011 — Hugo Boss-KLCC Kuala Lumpur RM880
He also said that on Aug 30, 2011, Najib received a tax-free refund from the UK totalling RM2,190.68.
A total of RM103,948.63 was spent from August to October 2011.
He then verified the credit card statements for October 2011. The outstanding balance was RM3,744.32 due from the previous statement, which was paid on Sept 28, 2011.
Both cards were cancelled in March 2015.
Najib's lawyer Wan Aizuddin Wan Mohammed asked the witness if the bank makes considerations for a person's social standing when considering the person's credit card limit, to which Yeoh answered in the negative.
Wan Aizuddin: What about a person's standing in the corporate world or if the person is the head of state?
Yeoh: No.
Wan Aizuddin: [If they are] long-standing customers?
Yeoh: Not really long-standing. Depends on what other facilities you have. Not really [based on their] tenure with us.
Yeoh said that it is the bank and not the customer who determines the credit limit and that he was not involved directly with setting the credit limit in this case.
Wan Aizuddin: You won't be aware of the circumstances which warrant this credit limit?
Yeoh: Yes, agree.
The trial before judge Datuk Collin Lawrence Sequerah continues on Wednesday morning.
Najib is charged with four counts of abuse of power and 21 counts of money laundering of RM2.28 billion of 1MDB funds. If convicted, he could be jailed up to 20 years and fined.
The Edge is covering the trial live here.
Users of The Edge Markets app may tap here to access the live report.
Read also:
Malaysia weak when backing US$3b 1MDB loan, says former MOF officer