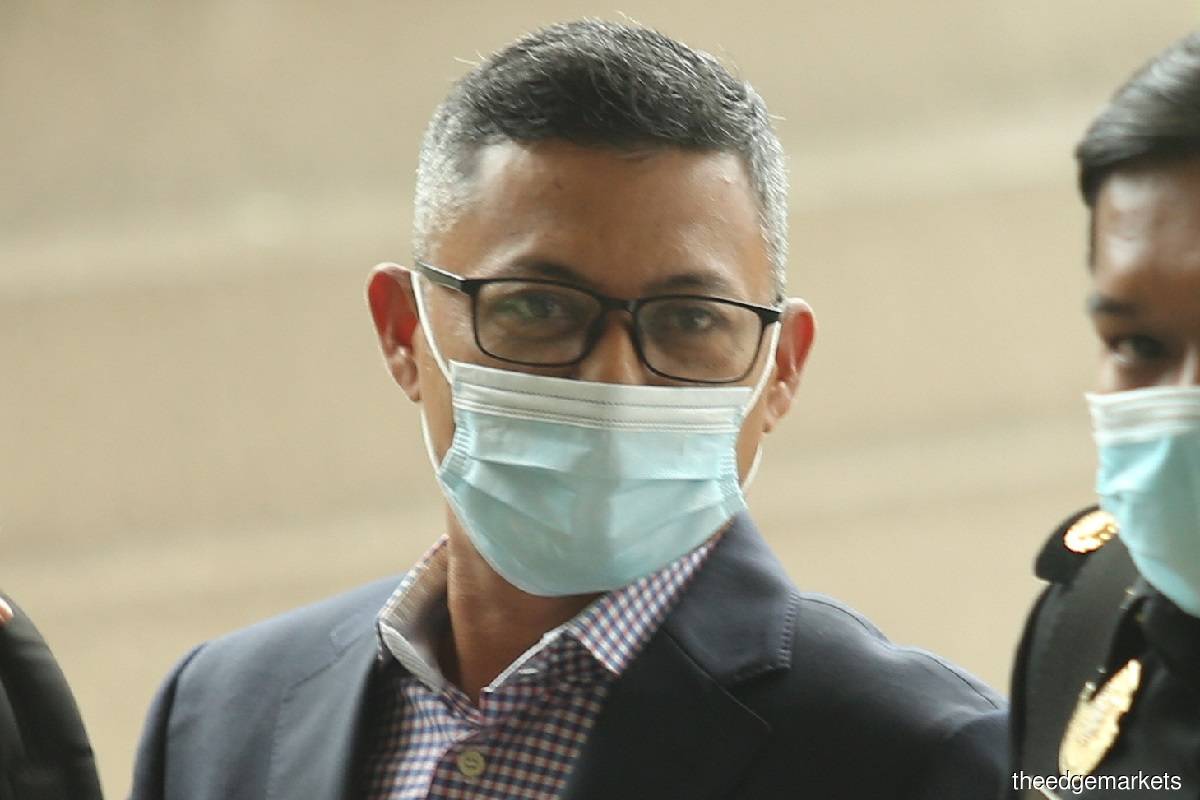 KUALA LUMPUR (Sept 14): Former prime minister Datuk Seri Najib Razak had hired a media consultant to answer questions lobbed by the opposition and media about 1Malaysia Development Bhd (1MDB) grossly overpaying for two independent power producer (IPP) plants.
The fund's former chief executive officer (CEO) Mohd Hazem Abdul Rahman, who took the stand for the first time in the 1MDB-Tanore trial today, testified that when the opposition began to question 1MDB's acquisitions in 2013, Najib hired a man named Romen Bose to handle correspondences and questions about the deals.
Hazem was referring to an email from fugitive financier Low Taek Jho (Jho Low) on Sept 4, 2013, containing a list of questions from Bose about the deals.
"The email Jho Low sent me [came with] answers that I was to give when answering these questions about 1MDB's acquisitions of the [Tanjong Energy Holdings Sdn Bhd] and [Genting Sanyen Power Sdn Bhd] IPPs," he said.
He testified that the email thread was started by Bose, who was corresponding with Najib's then-special officer Datuk Wan Ahmad Shihab Wan Ismail. Jasmine Loo, 1MDB's former general counsel who has gone missing, was then looped into the thread.
Later, Jho Low would add Hazem, 1MDB former chief financial officer Azmi Tahir and ex-director of finance Terence Geh into the thread to answer Bose's questions.
Hazem testified that Bose was representing Najib, and was hired to help craft responses to the opposition's barrage of questions about 1MDB.
"Jho Low had asked us to answer these questions as quickly as possible before he [went] through them and [sent] back his responses to Romen [Bose]," he said.
Hazem added that Jho Low had responded to the questions with fallacies.
For instance, Bose asked: "Why were Tanjong Energy (owned by Tan Sri Ananda Krishnan) and Genting Power companies' price-to-book values higher than [others'] in the region?"
Jho Low replied: "The government is in the process of restructuring the IPP sector that is controversial before the concession contract expires on 2016 and 2017, this is why we have to pay a premium."
Bose also asked: "[Opposition politician Nik Nazmi Nik Ahmad] claims it is cheaper to build a new plant rather than to buy from Genting. Is it true? If this is not true, it may look as if the government is trying to bail out cronies."
Jho Low's response: "This is not true because the profit outweighs the amount paid to Genting and Ananda."
Bose asked: "Why is the Goldman Sachs fee so high (US$200 million)? Is it because the deal is done under the radar?"
Jho Low answered: "Their fee is high because of the complicated nature of the transaction."
However, Hazem said Jho Low did not respond to this question from Bose: "Is it true that the deal is under the radar in the first place? Why is it not done in an open market where the fees could be more competitive?"
The witness said in his opinion, the answers from Jho Low were excuses used to sidestep the issues that were cropping up from the acquisitions, and to stop them from escalating.
Hazem added that he was afraid that he would be fired if he did not go along with Jho Low and Najib and therefore could not tell the truth about the deals.
"My 1MDB colleagues and I were ordered by Jho Low to add information to his answers which would back up his statements," he said.
It was previously reported that Najib had used RM655,000 from SRC International Sdn Bhd funds to pay Bose, who was a former Foreign Correspondents Club of Malaysia president. SRC was a subsidiary of 1MDB.
Hazem joined 1MDB as its chief operating officer in 2012, before becoming its CEO in March 2013 until early 2015.
Najib is facing four counts of abuse of power for using his position as the then prime minister, finance minister and 1MDB board of advisers' chairman to receive gratification worth RM2.28 billion.
He is also facing 21 counts of money laundering involving over RM4.3 billion.
Read also:
'Najib would sign shareholders' resolutions before DCR approved'
1MDB the 'biggest trap in Malaysia's corporate history', says former CEO Hazem
1MDB was set up to raise money for Najib and Umno funding, says former CEO
The Edge is covering the trial live here.
Users of The Edge Markets app may tap here to access the live report.