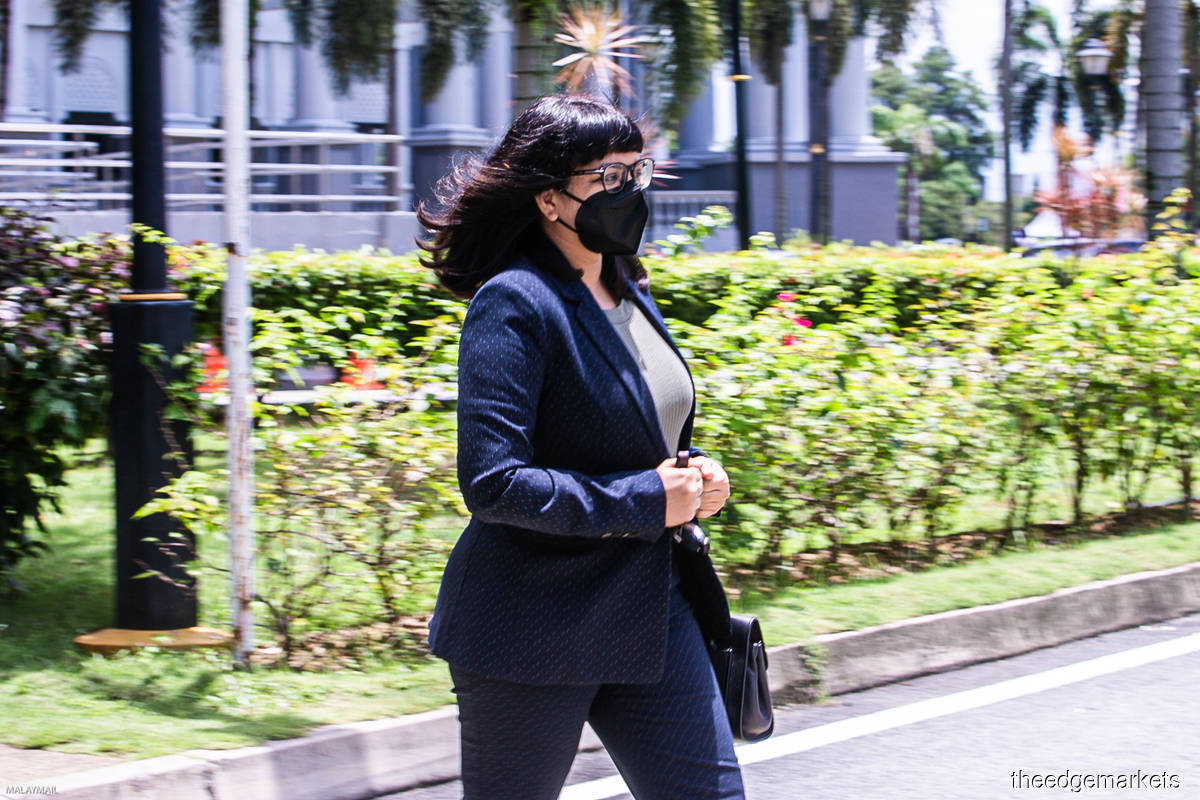 KUALA LUMPUR (Sept 12): AmBank branch manager R Uma Devi told the High Court here on Monday (Sept 12) that former prime minister Datuk Seri Najib Razak had never complained nor filed any legal action since 2015 against the bank in relation to the large sums of money that were banked into his private AmBank accounts.
Najib held five accounts with AmBank between 2011 and 2015.
Testifying as the prosecution's 37th witness in the 1Malaysia Development Bhd (1MDB)-Tanore trial, Uma was asked by lead prosecutor Datuk Seri Gopal Sri Ram about Najib's bank statements, and whether he ever complained to the bank about transactions in the five accounts, including those where he allegedly received huge sums of money and also issued cheques.
Uma responded in the negative.
She said that customers are given the statements of accounts every month, and they are given 14 days to make complaints if there are any disputes.
Sri Ram: Does your bank have a system where the customer is sent bank statements at intervals?
Uma: Yes, at monthly intervals.
Sri Ram: In the case of the accused (Najib), did he ever complain about the statements of his accounts to the bank?
Uma: As far as my knowledge, even in the SRC case, I [testified] that there were no complaints.
Sri Ram: What about this case?
Uma: [I have the] same answer.
Uma said that she was transferred to AmBank's Jalan Raja Chulan branch in 2015, where Najib had opened his bank accounts.
Sri Ram: [From] 2015 to 2018, did the accused file any proceedings against your bank for mishandling his accounts?
Uma: To my knowledge, no.
Uma previously testified the same thing in the SRC International Sdn Bhd trial in 2019, where she was a witness. Najib, who is currently serving his 12-year jail sentence for embezzling RM42 million into his private accounts after he was found guilty on seven charges, was present in court on Monday.
In December 2019, Najib, however, sued former AmBank relationship manager Joanna Yu Ging Ping over the management of accounts under his name used to divert funds from SRC.
The suit — which was filed by Najib's solicitors Messrs Shafee & Co, naming AMMB Holdings Bhd and AmBank Islamic Bhd as defendants — revolved around Najib's AmBank accounts ending 694, 880, 898 and 906, which Najib claimed were managed by AmBank without his knowledge.
In September 2020, the High Court threw out Najib's suit.
Judge Datuk Khadijah Idris said the suit was filed to bolster the ex-premier's defence in his appeals in the SRC case back then, which she surmised as an abuse of the court process.
"This action is not filed by the plaintiff (Najib) to seek damages, but for a collateral purpose. This is simply an abuse of the court process," she said.
She said Najib only sought proceedings against the bank and Yu when the SRC case had come up, and not years before, when the events initially began to unfold.
"The plaintiff's actions are scandalous, frivolous, vexatious and an abuse of the court process," she said.
Najib then sought to appeal against the decision in the Court of Appeal.
In January this year, the appellate court dismissed his appeal, after it found that there was no "appealable error" by the High Court.
It is, however, unknown if Najib will appeal to the Federal Court.
Najib is standing trial on 25 charges of abuse of power and money laundering over 1MDB funds amounting to RM2.28 billion deposited into his AmBank accounts between February 2011 and December 2014.
The trial continues on Tuesday before judge Datuk Collin Lawrence Sequerah.
Najib's '694' AmBank account earned RM1.25 million in interest
Meanwhile, Uma verified that Najib's private AmBank account ending "694" garnered an accrued interest of RM1.25 million from February to December 2011.
She confirmed a total of 11 interest payments made into the account, adding that the amount varied from month to month, as the interest was based on the current balance of the account each month. 
Najib received RM5,214.10 on Feb 28 that year, followed by RM31,121.71 (March 31), RM28,979.44 (April 30), RM29,334.83 (May 31), RM44,371.21 (June 30), RM57,293,94 (July 31), RM122,360.35 (Aug 31), RM205,773.53 (Sept 30), RM211,130.87 (Oct 31), RM209,722.90 (Nov 30), and RM308,621.92 (Dec 31).  
The bank account was opened on Jan 13, 2011 at AmIslamic's Jalan Raja Chulan branch, and closed on Aug 30, 2013.
It is the prosecution's contention in this case that Najib received two tranches of US$10 million in 2011, which amounted to an equivalent of RM60,629,839.43, in the 694 account. 
The money, they claimed, came from the botched 1MDB joint venture (JV) with PetroSaudi International Ltd, where 1MDB had raised US$1 billion for the JV but US$700 million was siphoned by fugitive financier Low Taek Jho or Jho Low, and used to pay kickbacks to various players, including Najib. 
The Edge is covering the trial live here.
Users of The Edge Markets app may tap here to access the live report.