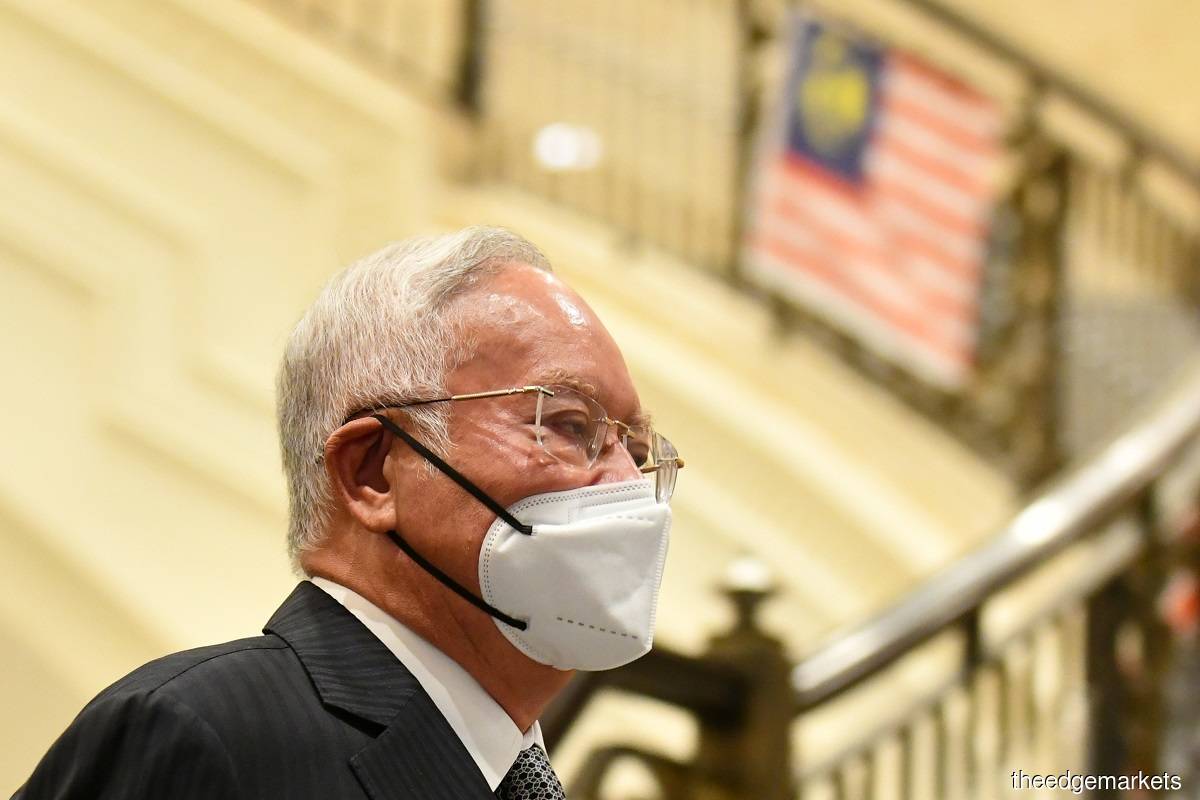 KUALA LUMPUR (Sept 5): Former prime minister Datuk Seri Najib Razak was present in court on Monday morning (Sept 5) despite news reports on Sunday that he was hospitalised.
The former premier was present for the ongoing 1Malaysia Development Bhd (1MDB)-Tanore trial before High Court judge Datuk Collin Lawrence Sequerah.
Najib, clad in a dark suit, was flanked by prison guards as per the norm in court proceedings, following his imprisonment on Aug 23. Also present was his wife Datin Seri Rosmah Mansor.
It was reported on Sunday that Najib was hospitalised and undergoing a medical check-up. The nature of his medical condition was not known, though he was reported to be in stable condition.
In this trial, Najib is charged with four counts of abuse of power in enriching himself with RM2.3 billion of 1MDB funds, and 21 counts of money laundering of the same amount. He could face a fine and up to 20 years' imprisonment if convicted.
Najib is currently serving a 12-year prison sentence as the apex court has dismissed his final appeal in the RM42 million SRC International Sdn Bhd case.
While the court was in recess for lunch, Najib's lawyer Tan Sri Muhammad Shafee Abdullah said the former prime minister was "concerned" after the health scare on Sunday. 
The senior lawyer added that a few doctors had seen his client and performed tests on the ex-premier at Hospital Kuala Lumpur (HKL).
Shafee added that Najib did not spend the night at the hospital, but was only there in the daytime for tests.
"I can tell you he is concerned, because about a couple of months ago, he had internal bleeding caused by an ulcer. His haemoglobin [level] went down to something like 4.7 [per decilitre]. The normal [level] is 16 [per decilitre]. The doctor said that was a situation that you could have gotten a stroke, because of the haemoglobin level," the lawyer said. 
He added that Najib's stomach felt uncomfortable while he was in prison, which was why he was sent to the hospital for a check-up. 
According to the lawyer, the doctors have prescribed medication to Najib. While his condition is "okay", the fact that he was given medication showed that he has a real health problem, said Shafee.
He added that whether or not Najib would have to go back to the hospital would depend on the test results and the doctors at HKL.
The Edge is covering the trial live here.
Users of The Edge Markets app may tap here to access the live report.
Surin Murugiah & Lam Jian Wyn