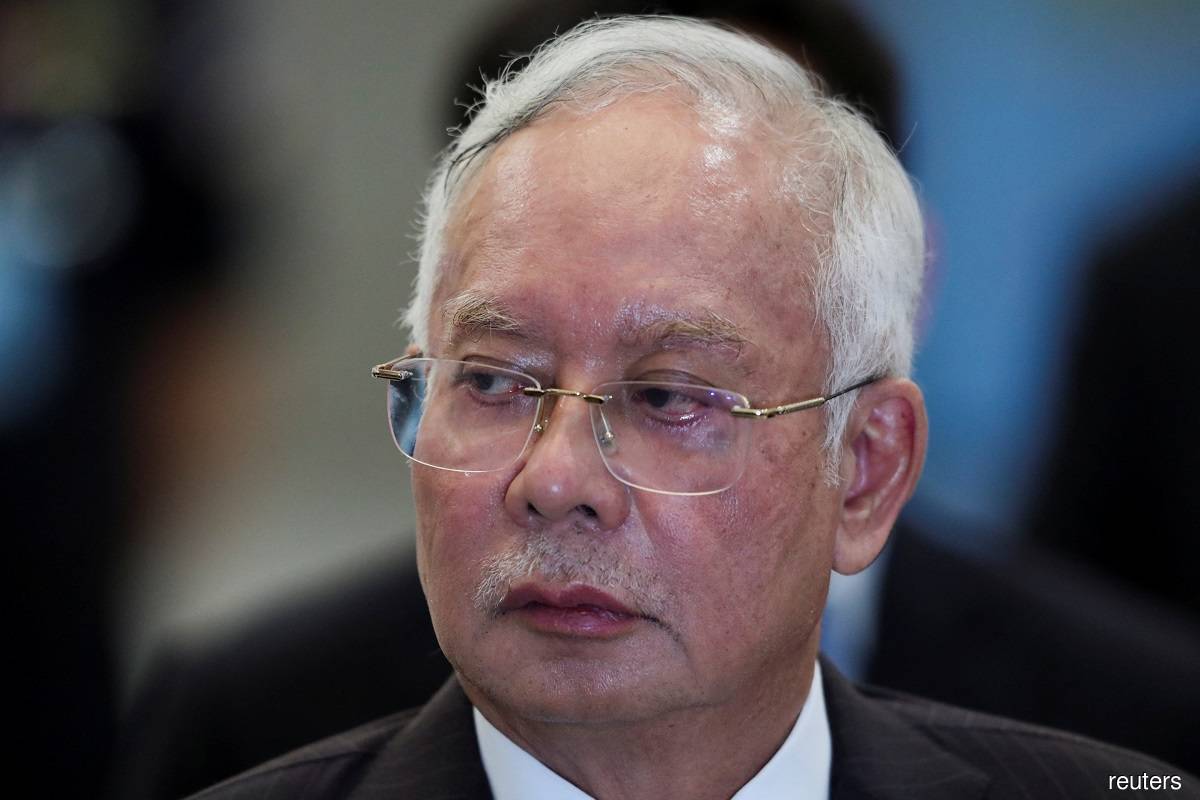 KUALA LUMPUR (Sept 14): The 1Malaysia Development Bhd (1MDB)-Tanore trial has been postponed for the week as former premier Datuk Seri Najib Razak is still warded at Hospital Kuala Lumpur.
During a brief mention before High Court judge Datuk Collin Lawrence Sequerah, lead defence counsel Tan Sri Muhammad Shafee Abdullah said, having consulted Najib, that he is not sure how long he will be in hospital.
"All we know is that [various] tests are being conducted on a daily basis," he said.
The court was also forwarded a copy of medical certificate (MC) from the Prison Department for Wednesday (Sept 14) and Thursday (Sept 15).
He also conveyed that Najib is now back on the blood pressure medication he is accustomed to and added that although his blood pressure is coming down, it is still not back to normal.
Sequerah also asked if Najib is being hospitalised as a result of a change in medication. To this, Shafee clarified that there are two current issues: Najib's history of stomach ulcers and the change in medication.
The lawyer also told the court that he had waited to see Najib for about three hours on Wednesday, but no medical officers would meet with him. 
The trial will resume on Sept 26.
Deputy public prosecutor Ahmad Akram Gharib did not object to this as the MC was certified by a government medical officer.
AmBank branch manager R Uma Devi was set to continue with her testimony. The prosecution's 37th witness was still verifying transactions regarding Najib's AmBank accounts.
She also testified on Monday (Sept 12) that the former premier did not raise any complaint over the large sums of money in his AmBank accounts.
Tuesday's (Sept 13) proceedings were vacated as Najib was warded. Shafee said that Najib's blood pressure was fluctuating for no apparent reason, and the cause was being determined.
Proceedings were also cut short on Monday, after lead prosecutor Datuk Seri Gopal Sri Ram informed the court that Najib was "adversely impacted" by a change in his blood pressure medication, and therefore needed to seek urgent medical attention.
However, both Health Minister Khairy Jamaluddin and Health director general Tan Sri Dr Noor Hisham Abdullah have clarified that there was no change in medication prescribed to the former premier.
It was reported that Khairy said that Najib was given a generic high blood pressure medication and the formula was the same as what he had been taking previously.
He also said that Najib is in stable condition.
Najib's daughter Nooryana Najwa claimed on Monday that the Pekan Member of Parliament had developed new stomach ulcers, was prescribed a change in medication and discharged back to the Kajang Prison.
'Najib in discomfort, not like his cheerful self'
Speaking to the press later, Shafee said Najib looked the same as he did on Monday, but did not seem like "his cheerful self".
"He is not in pain but discomfort," the lawyer said, adding that on Monday, the former premier looked "lobster-red' when his blood pressure shot up to 160/98.
"Today (Wednesday), [his blood pressure was] 117/84 in the morning. In the afternoon, it went up to 124/84 or 85," Shafee said, adding that Najib's normal levels were about 110/80.
The lawyer also said any comments that the generic medication was identical to the original was "total nonsense" as there were clear differences.
On Tuesday, Khairy said that Najib was in stable condition, and there was no need for him to be transferred to the National Heart Institute (IJN).
Media reports also quoted Khairy as saying that Najib will not be transferred to the IJN as it is the procedure for prisoners to be treated in government hospitals.
Shafee, meanwhile, said on Tuesday his client would be transfered to the IJN. On Wednesday, he claimed that his team was informed of the transfer by the Ministry of Health.
When asked to respond to Khairy's comments, Shafee said: "I don't think he is right. He should look at the Prison Act."
In this trial, Najib is charged with four counts of abuse of power in enriching himself with RM2.3 billion of 1MDB funds, and 21 counts of money laundering of the same amount. He could face a fine and up to 20 years' imprisonment if convicted.
Najib is currently serving a 12-year prison sentence, as the apex court dismissed his final appeal in the RM42 million SRC International Sdn Bhd case.
The Edge is covering the trial live here.
Users of The Edge Markets app may tap here to access the live report.
Read also:
Najib warded, 1MDB-Tanore trial postponed
Najib in stable condition, to continue treatment at HKL, says Khairy