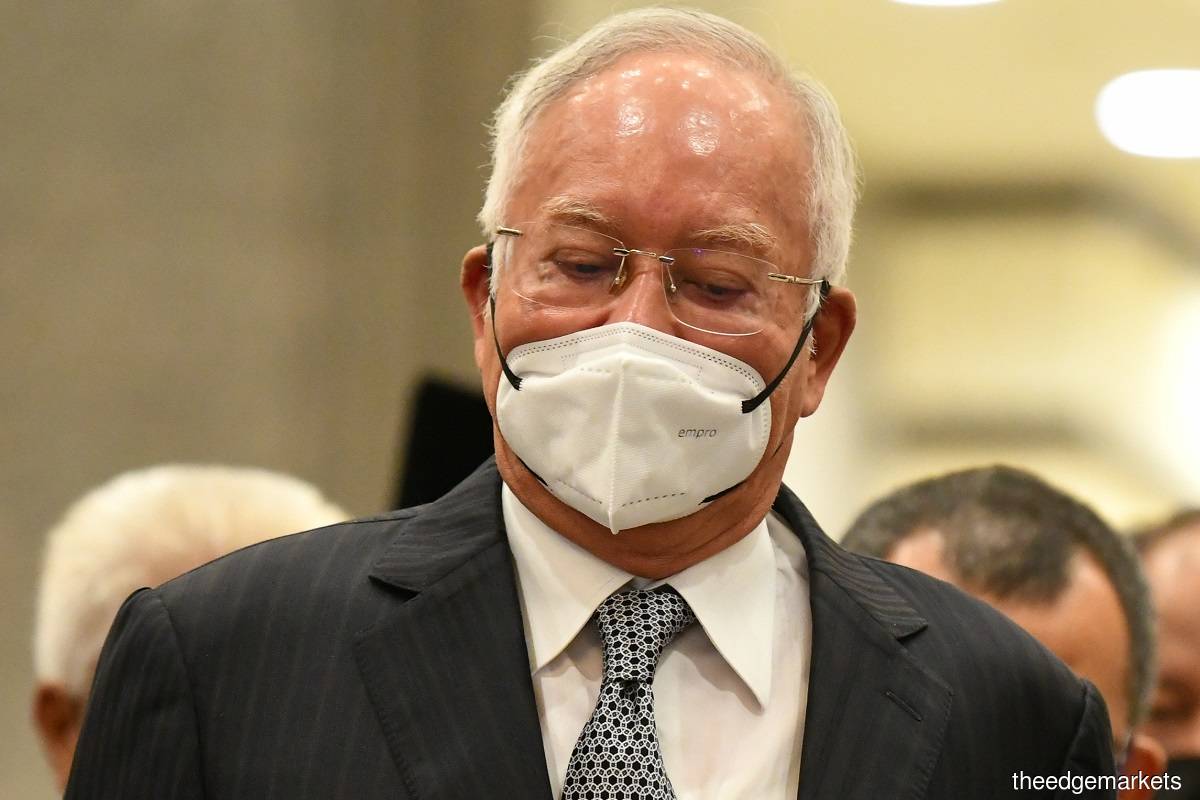 KUALA LUMPUR (Sept 13): The 1Malaysia Development Bhd (1MDB)-Tanore trial was vacated on Tuesday (Sept 13), as former premier Datuk Seri Najib Razak was hospitalised.
His lawyer Tan Sri Muhammad Shafee Abdullah informed the court of the matter, during a brief mention in the morning, before High Court judge Datuk Collin Lawrence Sequerah.
"He (Najib) is currently warded at [Hospital Kuala Lumpur or HKL]. I was told as of this morning, at 7.30am and 9.30am, the likelihood of certain tests performed on him may take him a few more days. Definitely, today is off, and there is uncertainty about tomorrow as well," Shafee said.
The senior lawyer added that there were issues with Najib's health, but the cause has yet to be determined, and the Pekan Member of Parliament will certainly be transfered from HKL to the National Heart Institute later on Tuesday.
The judge called for all parties to return on Wednesday afternoon to further assess the situation.
Speaking to the press later, Shafee said Najib is experiencing fluctuation in blood pressure for no apparent reason, and the cause is being determined.
Proceedings were also cut short on Monday, after lead prosecutor Datuk Seri Gopal Sri Ram informed the court that Najib was "adversely impacted" by a change in his blood pressure medication, and therefore needed to seek urgent medical attention.
Also on Monday, Health director-general Tan Sri Dr Noor Hisham Abdullah said that Najib was admitted to HKL on Sept 9 as an elective or non-emergency case to ensure that his health was at an optimum level.
Noor Hisham explained that the Ministry of Health is "committed and transparent in providing health services to any individual", but the ministry had to adhere to patient confidentiality.
He, however, added that detailed information on Najib's health can be provided to the court if directed.
According to the Health DG, HKL has twice organised a family conference attended by the former prime minister and his family members.
Najib's daughter Nooryana Najwa claimed earlier he had developed new stomach ulcers, was prescribed a change in medication and discharged back to the Kajang Prison.
There were also reports of Najib being hospitalised around Sept 4. However, he was able to attend proceedings the next day.
Shafee later revealed that the former prime minister did not spend the night in the hospital, but that doctors had performed some tests on him over stomach discomfort.
In this trial, Najib is charged with four counts of abuse of power in enriching himself with RM2.3 billion of 1MDB funds, and 21 counts of money laundering of the same amount. He could face a fine and up to 20 years' imprisonment if convicted.
Najib is currently serving a 12-year prison sentence, as the apex court has dismissed his final appeal in the RM42 million SRC International Sdn Bhd case.
The Edge is covering the trial live here.
Users of The Edge Markets app may tap here to access the live report.
Read also:
Najib in stable condition, to continue treatment at HKL, says Khairy
Najib needs 'proper' medical care, says daughter 
Najib's admission at HKL an elective case not an emergency, says Dr Noor Hisham
Najib present in court despite reports of hospitalisation