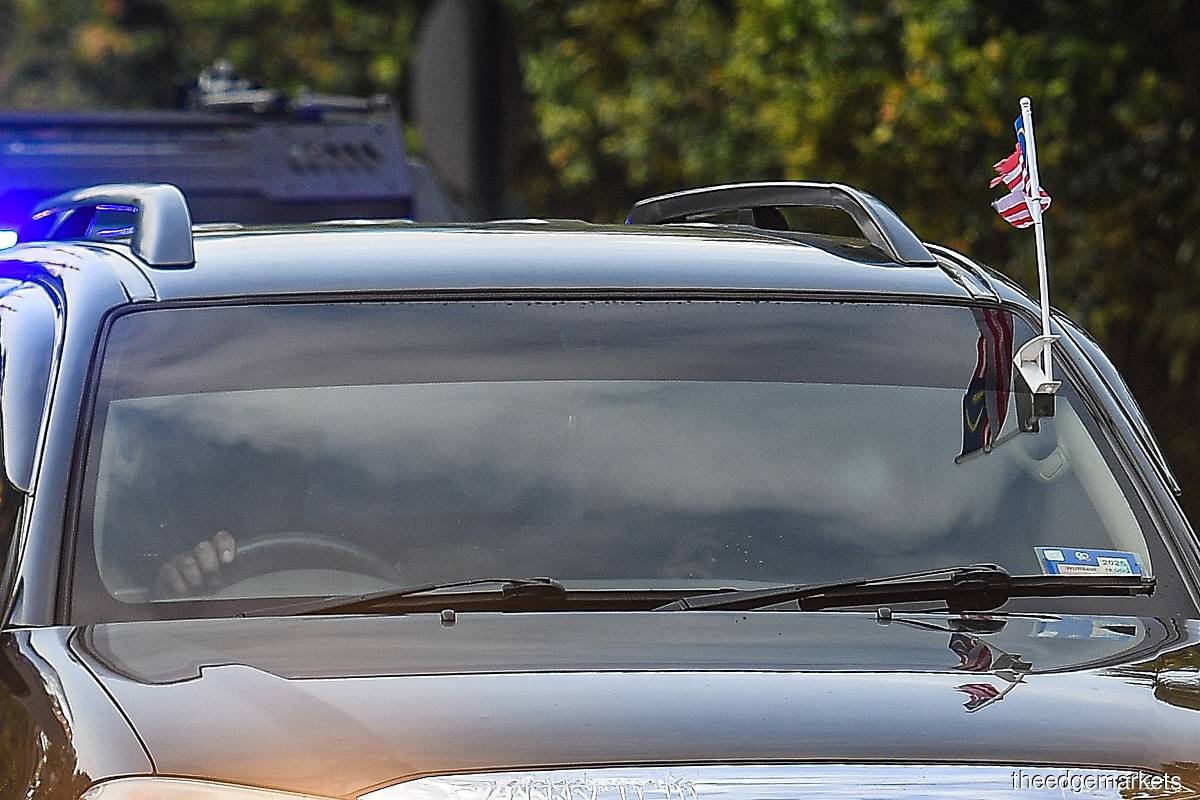 KUALA LUMPUR (Aug 25): Former prime minister Datuk Seri Najib Razak has on Thursday (Aug 25) arrived at the High Court here from Kajang Prison in Selangor under heavy escort by the police and Malaysian Prison Deparment officers to attend his 1Malaysia Development Bhd (1MDB)-Tanore trial.
On Tuesday (Aug 23), the Federal Court in Putrajaya had rejected Najib's final appeal against his conviction involving 1MDB's former subsidiary SRC International Sdn Bhd.
The Federal Court, which is Malaysia's highest court, had on Tuesday upheld the High Court and Court of Appeal's decisions which found Najib guilty of seven charges involving SRC.
On July 28, 2020, the High Court sentenced Najib to 12 years in jail and fined him RM210 million after he was found guilty by judge Datuk Mohd Nazlan Mohd Ghazali of the seven charges involving SRC.
The seven charges comprised one count of abuse of power involving Retirement Fund Inc's (KWAP) RM4 billion loans to SRC, three counts of criminal breach of trust involving RM42 million and three counts of money laundering.
On Dec 8, 2021, the Court of Appeal upheld the High Court's decision.
In the 1MDB-Tanore trial, Najib had on Sept 20, 2018 pleaded not guilty to 25 charges linked to abuse of power and money laundering over hundreds of millions of dollars of funds received in his personal bank accounts.
The charges included four counts of abuse of power involving RM2.28 billion in 1MDB funds.
Prosecutors also charged Najib with 21 counts of money laundering, comprising nine counts of receiving illegal proceeds, five counts of using illegal proceeds and seven counts of transferring the proceeds to other entities.
Prosecutors, when describing the abuse of power charges, said Najib used his position as the prime minister, finance minister and chairman of 1MDB to obtain funds totalling about RM2.3 billion between 2011 and 2014.
The money laundering charges describe how Najib received RM2.1 billion from Tanore Finance Corp, which US authorities said was used to siphon money from 1MDB.
As such, Najib's trial has been referred to as the 1MDB-Tanore trial, which is being heard before High Court judge Datuk Collin Lawrence Sequerah.
On Thursday, lawyers representing Najib are Shafee & Co lawyers Tan Sri Muhammad Shafee Abdullah, Muhammad Farhan Muhammad Shafee, Rahmat Mohamed Hazlan and Wan Aizuddin Wan Mohammed.
Also representing Najib is Tania Scivetti from law firm Scivetti & Associates.
Meanwhile, the prosecution comprises deputy public prosecutors Ahmad Akram Gharib and Mohamad Mustafa P Kunyalam.
Najib had at about 8.35am on Thursday arrived at the High Court where the 1MDB-Tanore trial began at about 10.45am when Shafee cross-examined former Finance Ministry deputy secretary general (policy) Datuk Siti Zauyah Mohd Desa, who is the 26th prosecution witness in the case.
Only Najib's family members and reporters who obtained special passes from the court were able to enter the courtroom, the entrance of which was heavily guarded by police officers.
On Friday, Najib is expected to be present at the High Court here again for the scheduled hearing of his 1MDB audit report tampering trial before judge Mohamed Zaini Mazlan.
The Edge is covering the trial live here.
Users of The Edge Markets app may tap here to access the live report.
Read also:
1MDB-Tanore trial: Defence lawyer baffled as prosecution witness says 'I don't know' about case's basic facts
Najib calm, collected as he faces 1MDB-Tanore trial as a convict