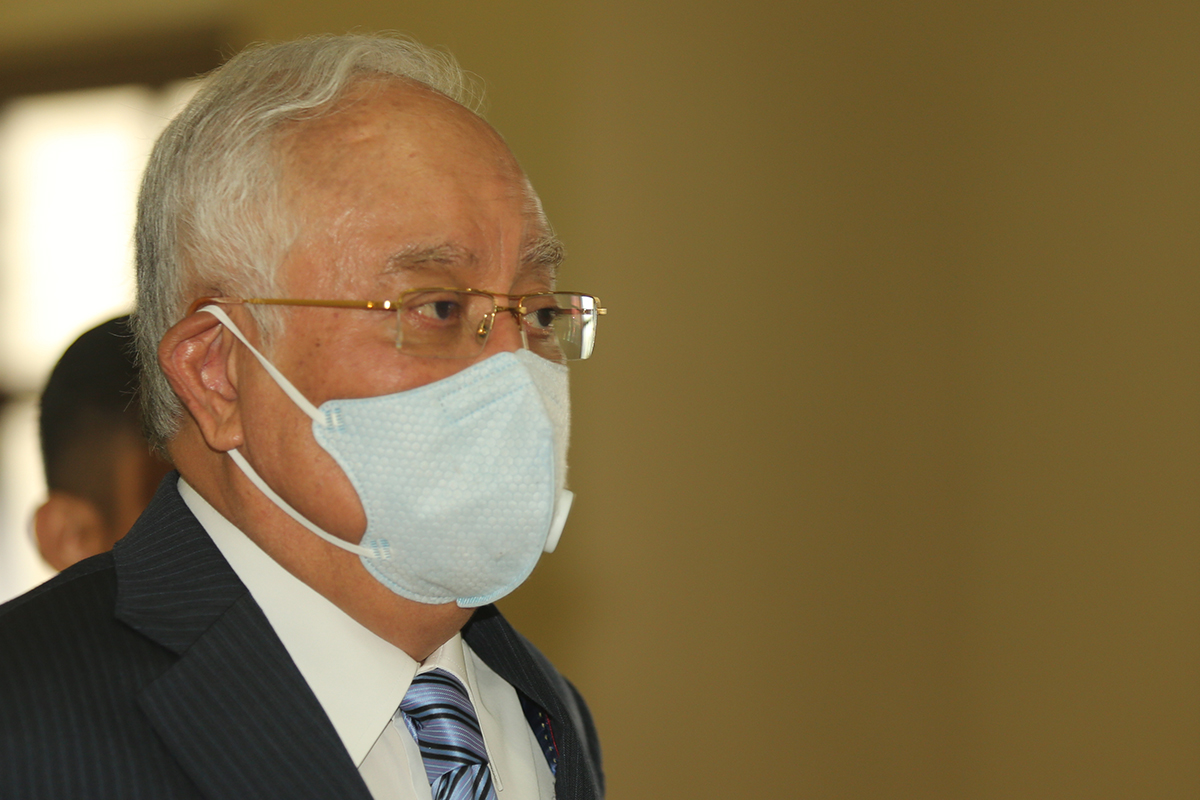 KUALA LUMPUR (Sept 29): Datuk Seri Najib Razak's Ambank account was categorised as a "sensitive account" as the former Prime Minister was a politically-exposed person (PEP), the High Court heard on Thursday.
Yap Wai Keat, the head of AmBank's private banking capital market desk, said Najib's status as a PEP, coupled with the large transactions in and out of his account, meant that the bankers had to handle the accounts "a bit more carefully" and not "talk too much" about the transactions that took place.
Yap was testifying in the 1Malaysia Development Bhd (1MDB)-Tanore trial, during cross-examination by defence counsel Wan Aizuddin Wan Mohammed.
Wan Aizuddin: Why do you say it is a sensitive account?
Yap: This account, basically like Joanna (Ambank relationship manager Joanna Yu) mentioned, belongs to [Najib]. He is PEP, which is a politically exposed person, so that is why we have to be a bit more careful in terms of handling the account, and this [account] involves a large transaction amount.
Yap also testified that funds moving in and out of the account were so large that they could potentially cause ripples in the market.
This was in reference to the US$680 million which flowed into the former prime minister's account in March and April 2013. An equally large sum of US$620 million left Najib's account in August 2013.
Wan Aizuddin: What makes it sensitive?
Yap: Firstly, Datuk Seri is our former PM. At that point in time he was the PM, and the transaction was quite large. If the market actually knew the amount, definitely the market would have taken a position ahead and that would affect the RM (ringgit) value.
He clarified that smaller amounts like US$10 million may not impact the market, but larger amounts were likely to have an impact.
"That is why I think [Yu] created [the code name] AmPrivateBanking-MR for Najib," he said, referring to the several codenames alloted to the five accounts he held with the bank at that time.
The prosecution's 38th witness also testified that the bank does not divulge clients' information to outsiders as that would violate the Banking and Financial Institutions Act 1989 (BAFIA).
Yap's duty involved providing quotations of foreign exchange rate for inward or outward remittances.
On Wednesday, Yap had, among other things, verified Society for Worldwide Interbank Financial Telecommunication (SWIFT) slips of funds in and out of Najib's account linked to the former premier's first three charges of abuse of power.
No queries from BNM over RM60 mil that went into Najib's account in 2011
Najib is facing 21 money laundering and four criminal breach of trust (CBT) charges in this 1MDB-Tanore trial.
The first CBT charge involves around RM60.3 million that flowed into the Pekan MP's account in 2011. The money was deposited in two tranches: RM30,449,929.97 in February and RM30,179,909.46 in June that year.
The defence contended that this was a donation, while Yap had verified SWIFT slips that indicated the remittances were from Saudi royalty, Prince Faisal Turki.
On Thursday, Yap testified that BNM had not contacted AmBank to query them about these two transactions. He, however, stopped short of saying that it did not raise any red flags.
Wan Aizuddin: For these two transactions in 2011, were there any queries from Bank Negara Malaysia (BNM).
Yap: Not that I can recall...If we don't get any call from BNM that means there is nothing to be alarmed about.
Wan Aizuddin: That means the transactions (didn't) raise any red flags lah?
Yap: That, I am not sure. I can't speak on their behalf.
The witness added that Yu would have to seek all necessary approvals needed for the transactions.
Yap told the court that for foreign exchange transactions, the Ringgit Operations Monitoring System (ROMS) would capture all trade transactions, which would be reported to BNM.
Amounts above RM1 million would have to be reported to the central bank on the same day. Should there be any discrepancies, BNM would require specific details on the transaction.
Defence claims Saudi Royalty gave another US$375 mil donation to Najib
On Wednesday, Yap also verified remittances amounting to RM90.9 million that went into Najib's account in 2012. The money went in by two tranches — RM15,149,963.64 in October and RM75,749,963.64 in November.
These transactions form the second CBT charge that Najib faces in this trial. The prosecution alleged that the money came from Blackstone Asia Real Estate Partners, a company linked to fugitive financier Low Taek Jho.
During Thursday's proceedings, Wan Aizuddin showed a letter dated November 2011 from the former governor of Madinah, Saud Abdulaziz Majid Al Saud, which stated that he was giving Najib another US$375 million as a "gift" for the work he had done in Malaysia in accordance to Islamic principles.
Saud also recognised Najib's Global Movement of the Moderates in dealing with extremist groups in a post-Sept 11 world.
The letter also stated that the money would be remitted to Najib "at such times and in such manner" that Saud deemed fit. The Saudi royalty further said the money would be transferred from his personal bank account through company bank accounts like Blackstone.
This letter was in addition to a similar letter from Saud to Najib in February 2011, in which he stated he was gifting Najib with US$100 million.
The claim that the money that went into Najib's account was donations has been repeated by the defence from the start of this trial — as well as throughout the SRC International Sdn Bhd case, for which Najib has been found guilty of all seven graft charges in relation to the former 1MDB unit's funds.
The trial continues before High Court judge Datuk Collin Lawrence Sequerah on Monday (Oct 3).
Read also:
Lawyer: Over RM60 mil at heart of first 1MDB-Tanore charge was part of 'gift' from Saudis to Najib