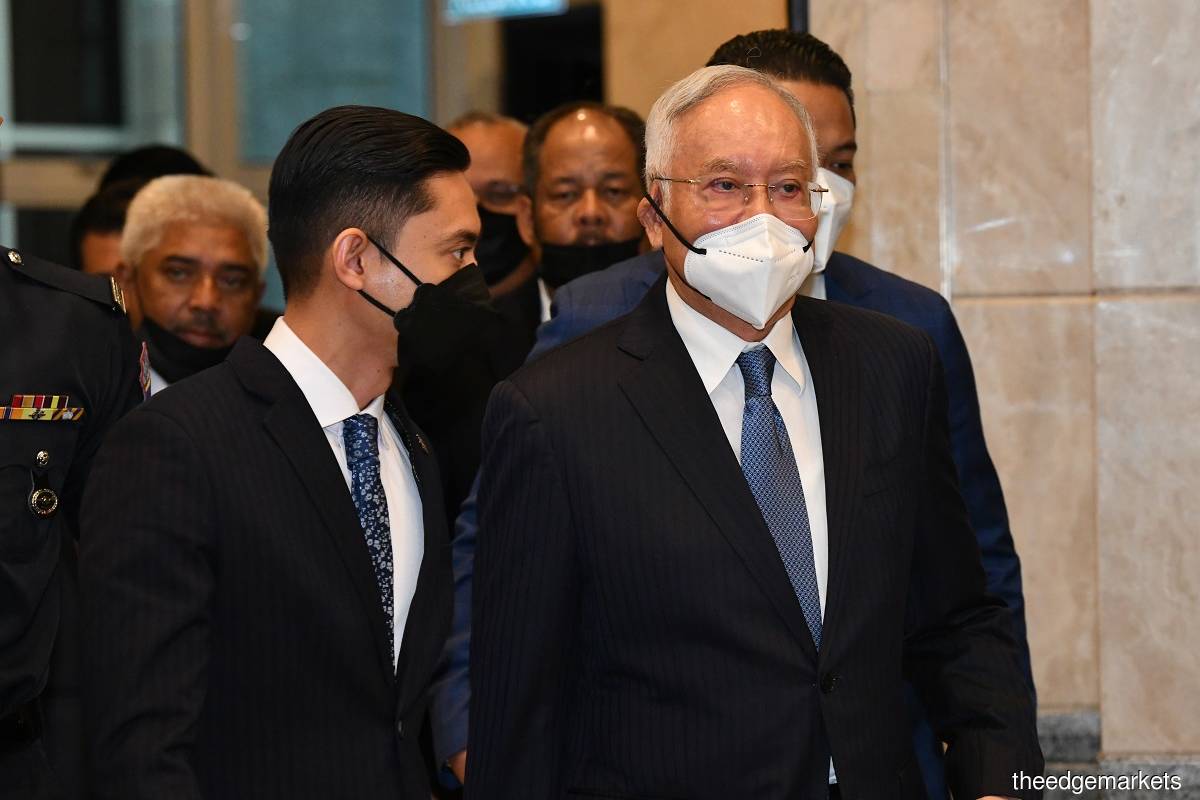 PUTRAJAYA (Aug 15): Datuk Seri Najib Razak's application to adduce fresh evidence in his SRC International Sdn Bhd trial is an attempt to delay the case's proceedings, said ad hoc prosecutor Datuk V Sithambaram.
Speaking to reporters after the hearing of the former prime minister's application at the Federal Court on Monday (Aug 15), Sithambaram said the prosecution takes the stance that the application is merely an attempt by the defence to delay the trial.
"The prosecution thinks [the defence] is delaying, but they (the defence) think otherwise. Both of us are entitled to our views," he said.
However, the prosecutor noted that their opinions are irrelevant to the question of whether there is new evidence to be considered in the case, as this will be decided by a five-member bench led by Chief Justice Tun Tengku Maimun Tuan Mat.
In Monday's hearing, Sithambaram asserted that Najib's application was made mala fide (in bad faith) with the intent to delay the conclusion of the appeal before the Federal Court.
"[The prosecution] submits that this application is devoid of merit and is at best a mere fishing expedition with the clearest intentions to delay the hearing and the delivery of the decision of the substantive appeal," he said.
Sithambaram told the apex court that the evidence the defence aims to adduce bears no relevance to SRC and the trial.
The evidence relates to trial judge Datuk Mohd Nazlan Mohd Ghazali's purported conflict of interest stemming from Nazlan's near 10-year employment with Maybank as its general counsel and company secretary from 2006 to 2015.
Najib's defence contended that Nazlan purportedly played a role in the events linked to the charges the former premier is facing, leading to the conflict of interest claim.
On July 28, 2020, Nazlan found Najib guilty of all seven graft charges the former premier faced in relation to SRC — one count of abuse of power in approving RM4 billion in loans from Retirement Fund Inc (KWAP) to SRC, and three counts each of criminal breach of trust and money laundering involving RM42 million worth of SRC's funds.
Najib was sentenced to 12 years in jail and fined RM210 million, and the conviction and sentence was upheld by the Court of Appeal on Dec 8 last year.
Joining Tengku Maimun on the Federal Court bench for Monday's hearing were Chief Judge of Sabah and Sarawak Tan Sri Abang Iskandar Abang Hashim, and Federal Court judges Datuk Nallini Pathmanathan, Datuk Mary Lim Thiam Suan and Datuk Mohamad Zabidin Mohd Diah.
The hearing of the application to adduce fresh evidence continues on Tuesday at 9.30am.
Click/tap here to follow the live report.
Read also:
Najib's affidavits to support bid to adduce fresh evidence contain only hearsay, says prosecution
Maybank's loan to 1MDB irrelevant to charges faced by Najib in SRC trial, says Sithambaram
Najib's defence: Nazlan has conflict of interest in SRC trial due to his almost 10-year Maybank link
Chief Justice leads bench in Najib's fresh evidence bid at SRC final appeal
Najib's 1MDB-Tanore trial adjourned, pending outcome of SRC appeal in apex court