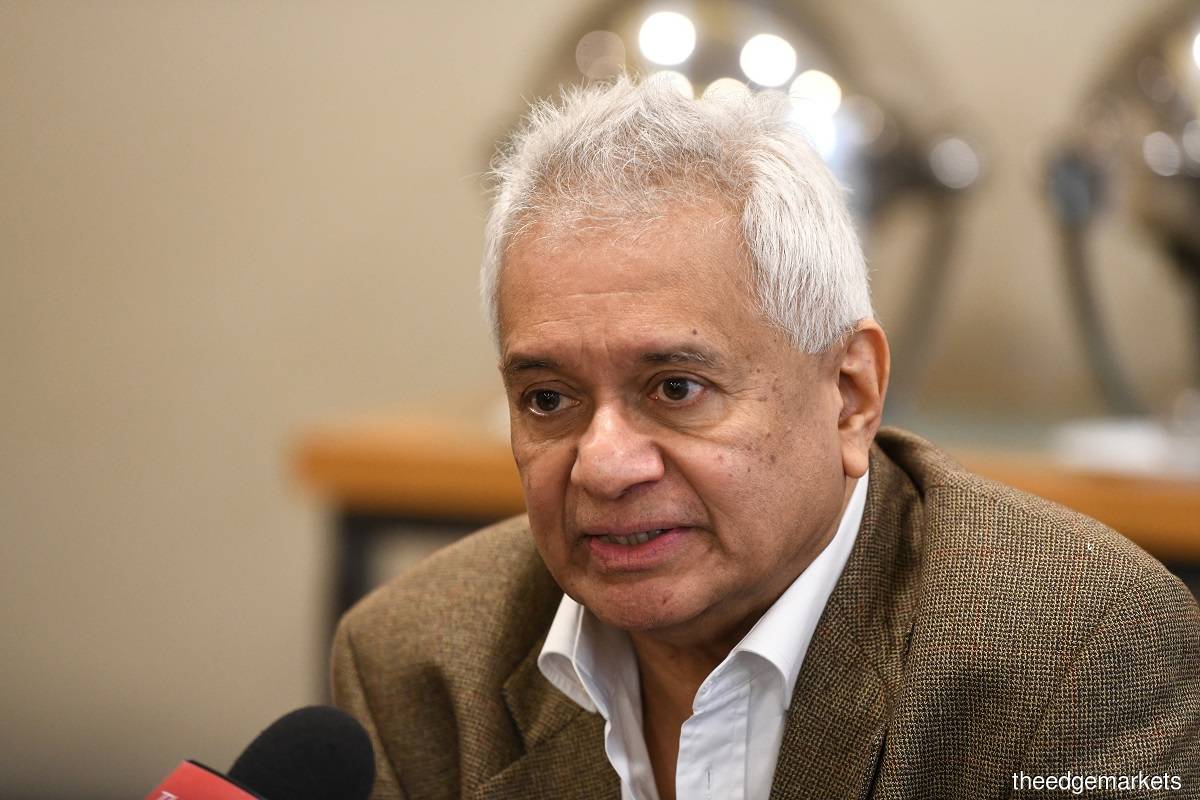 KUALA LUMPUR (Sept 9): The RM1.9 million civil suit filed by Datuk Seri Najib Razak against Tan Sri Tommy Thomas is a "collateral attack" on the former premier's ongoing cases linked to 1Malaysia Development Bhd (1MDB), the High Court heard on Friday (Sept 9).
Thomas' counsel Alan Gomez said this during the hearing of the former attorney general's application to strike out the suit, before judge Datuk Ahmad Bache.
Gomez contended that Najib's suit was vexatious, an abuse of court process and ought to be struck out.
The lawyer said the suit was a collateral attack on the ongoing cases.
"Until and unless you are acquitted, the only avenue is to quash the charges via a judicial review or you meet the charges in the criminal court. Those are the only two avenues available.
"That's why we say that this suit is an abuse, because what [Najib] will inevitably end up doing is trying those charges before My Lord in this case, and that is not allowed," he said.
Public prosecutors discretion is non-justiciable
Gomez also argued that the public prosecutor's discretion under Article 145 (3) of the Federal Constitution is non-justiciable, and judicial review on this front can only be sought in "rare and exceptional cases". He cited the case of former Asian International Arbitration Centre (AIAC) director Datuk Dr N Sundra Rajoo.
"[Najib] has conceded he is not challenging [Thomas]'s discretion or power. He is not challenging the validity or legality of the charges, or asserting that the charges were wrongfully brought," he said.
In Sundra's case the Federal Court decided that he had the privilege of immunity against prosecution from acts committed while he held his position in office as AIAC director.
However, Gomez pointed out that in this circumstance, Sundra had legal immunity, which is something Najib does not enjoy.
Four 1MDB-related trials in total, two have yet to begin
There are four 1MDB-related cases involving Najib before the High Court. The 1MDB-Tanore trial and 1MDB audit report tampering trial are currently ongoing.
In the 1MDB-Tanore trial, Najib is charged with four counts of abuse of power in enriching himself with RM2.3 billion of 1MDB funds, and 21 counts of money laundering of the same amount.
In the audit report tampering trial, the former premier is charged with abuse of power as a public officer in altering the 1MDB audit report which was to be tabled to Parliament's Public Accounts Committee in 2016 so that no action could be taken against him. Former 1MDB president and chief executive officer Arul Kanda Kandasamy is co-accused in this case.
Najib is also jointly charged with former Treasury secretary general Tan Sri Mohd Irwan Serigar Abdullah with criminal breach of trust involving RM6.6 billion of funds linked to International Petroleum Investment Co (IPIC). He also faces money laundering charges involving funds from former 1MDB unit SRC International Sdn Bhd.
These two trials have yet to begin.
'We are not challenging the 1MDB charges, we are challenging Thomas' conduct'
Najib had initially named Thomas and the government as defendants in the suit.
However, at the start of proceedings on Friday, Najib's counsel Datuk Firoz Hussein Ahmad Jamaluddin informed the court that the former prime minister had dropped his suit against the government.
Thomas now remains the sole defendant.
Firoz submitted that his client's grouses were not with the government but with Thomas' conduct while he was AG.
"We are not challenging the charge[s] itself. We accept that. [Gomez's] submission seems to paint the picture that somehow there is a collateral attack on the charges. [We are challenging Thomas'] conduct while he was the AG," he said.
He argued that the public prosecutor's power can indeed be challenged as indicated in the Sundra case.
"Now it is time for us to explore the change. What was the popular wisdom in the past is no longer true,"  he said.
Citing portions of Thomas' book "My Story: Justice in the Wilderness", Firoz argued that Thomas had already formulated an image of Najib and fugitive businessman Low Taek Jho (Jho Low) perpetrating a massive fraud even as early as 2008.
Thomas served as AG from June 2018 till February 2020.
"We already have someone who is no longer exercising an impartial mind, he has prejudged Najib to be a principal fraudster together with Jho Low," he argued.
Firoz is only half-way through his submissions and the matter will continue on Oct 21.
Lawyer Yudistra Darma Dorai also appeared for Najib.  
Najib's suit filed in October last year revolves around the charges brought against him in criminal cases linked to 1MDB. He claims that the charges are part of a "long-planned, premeditated exercise" by the then Pakatan Harapan government.
He is suing Thomas for misfeasance in public office, malicious process, and negligence.
Read also:
Najib drops RM1.9m suit against govt, maintains action against former AG
Najib: Bid by Tommy, govt to strike out suit aimed at stopping me from airing their wrongdoings
Najib's suit for 'wrongful prosecution' to gain political mileage, says Tommy Thomas
Federal Court rules ex-AIAC director has immunity from criminal charges