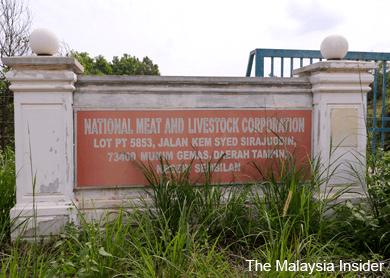 (December 11): The troubled National Feedlot Centre project has been handed over to the Negri Sembilan government, said Agriculture and Agro-based Minister Datuk Seri Ismail Sabri Yaakob, denying that the project had been abandoned.
Ismail Sabri said that from the start, the NFC had always been a private enterprise while his ministry acted in an advisory role.
He said the ministry had only given technical advice and recommendations while the project was run by the National Feedlot Corporation (NFC).
"It has never been a ministry project. It has always been a private venture," Ismail Sabri said after attending his ministry's monthly assembly in Putrajaya today.
On December 8, The Malaysian Insider had reported how the NFC site in Gemas, Negri Sembilan had fallen into disrepair despite it being touted as an ambitious attempt at making Malaysia a beef exporter.
A visit to the 2,000ha site found that the site was a ghost town with only about 10 to 20 cows wandering around aimlessly while its buildings have fallen into disrepair.
The NFC made national headlines in 2011, after Pandan MP Rafizi Ramli revealed gross mismanagement in the project which had been given a RM250 million loan from the government.
Ismail said the ministry had not received any business plans thus far from the Negri Sembilan goverment on how it wants to turn the project around.
The ministry has also not received any reports on whether some of the land on the project's site has been used to plant oil palm trees.
Ismail said however that the state government had the right to use the project's land as it saw fit.
According to interviews with workers at the project site, about 500 acres of the project's land have been used to plant oil palm trees.
"We also do not know about any oil palm plantation on the land. All that we know is that the land is still vacant... The site only has cow pens, a slaughter house and some other infrastructure," said Ismail.
"From a legal standpoint, the state government has the right. We have not received any reports about the site being turned into an palm oil plantation."
The scandal first came to light when it was highlighted in the 2010 Auditor-General's report. The AG found that the project had failed to supply 8,000 heads of cattle by 2010.
According to its original target, the feedlot was supposed to have supplied 60,000 cattle by 2015.
Subsequent investigation by Rafizi revealed that the project was headed by Datuk Seri Dr Mohamad Salleh Ismail, the husband of Datuk Seri Shahrizat Abdul Jalil.
Shahrizat was then Women, Family and Community Development minister.
The couple's children had also been made board members of NFC Corp. – The Malaysian Insider