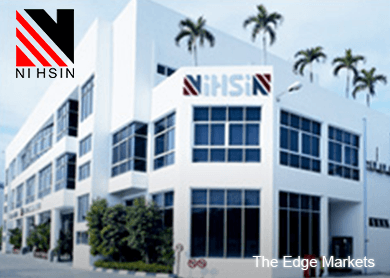 KUALA LUMPUR (Jan 22): Ni Hsin Resources Bhd (fundamental 1.45, valuation 0.6) is putting its oil and gas venture on hold, amid slumping crude oil prices.
"We have yet to see any cheap asset in the market despite the plunging oil prices over the past few months," said Ni Hsin managing director Chen Shien Yee.
"We think now is not lucrative for us to venture into the new business," he said, adding that the company would explore the possibility when it comes across cheap assets.  
The company is ready to seize on such an opportunity should it arise, he said.
Chen said Ni Hsin was still in talks with Ideal Jacobs (M) Corp Bhd as an oil and gas (o & G) partner, but declined to reveal further details.
"There is nothing concrete yet and I can't give you any further information," he said.
In a report last October, The Edge Weekly reported that Ni Hsin was diversifying into the O&G sector and talking to potential joint-venture partners, with Ideal Jacobs potentially emerging as one of them.
The report quoting Ni Hsin's newly appointed executive director Datin Ida Suzaini Abdullah said "credible" people with O&G know-how would be appointed to the board soon.
"Ni Hsin is planning to diversify into the O&G sector. We are setting up a unit to venture into E&P (exploration and production). We are also talking to several local and foreign parties to do joint ventures with us. If everything goes according to plan, we should see a deal soon and some solid projects within 12 months," she had told The Edge then.
On the solar energy venture with Helious Photovoltaic Sdn Bhd, Chen stressed that the deal was still at the preliminary stage and the company had yet to formulate the entire concept of the deal.
On the possibility Helios may emerge as a controlling stakeholder in the company, he declined to comment, saying that there are a few possibilities  but no conclusions yet.
"We have mutual understanding that they are interested in our company and we like their business," Chen told reporters here after the company's EGM.
"It is still too early to say whether Helios will be a significant shareholder, majority shareholder or take a controlling stake in the company now. It still depends on negotiation," he said.
On whether the listing status of the company would be retained after the deal, he said that would also depend on the outcome of negotiations.
"You see, the company is very huge. They can choose to inject whole assets into the company or they can cut out a portion of the company to be significant shareholding of the listed company. So, there are many variations, " he said.
On the rationale of the Helios deal, he said it was a proposed corporate exercise to put in better assets into Ni Hsin.
On Dec 4 last year, Ni Hsin said it had inked a Memorandum of Understanding (MoU) with Helios, for it to tap into the solar energy business.
Ni Hsin had said the deal would be satisfied by issuance of new shares and cash.
Helios had carried out numerous solar projects for the Federal Government including for the Ministry of Education and Ministry of Rural and Regional Development, semi-government bodies such as Universiti Malaysia Sarawak (UNIMAS), and private sector companies including SP Setia Berhad.
Meanwhile, on its core business, the steel cookware maker expects sales in its current financial year (FY15) to grow at least 10% compared to the last financial year.
The better sales number was driven by rising order from Japan, which accounted for 60% to 70% of the group total sales, Chen said.
"Aside from this, we also tap into new territories such as China, Indonesia and other South East Asian market," he said, with the result coming in the second half of this year.
As such, Chen expects the group to turn profitable in the current financial year (FY15) on the encouraging prospect and order from Japan.
Ni Hsin fell 2.27% or one sen to 43 sen with 1.14 million shares traded in the morning session on Thursday.
(Note: The Edge Research's fundamental score reflects a company's profitability and balance sheet strength, calculated based on historical numbers. The valuation score determines if a stock is attractively valued or not, also based on historical numbers. A score of 3 suggests strong fundamentals and attractive valuations.)