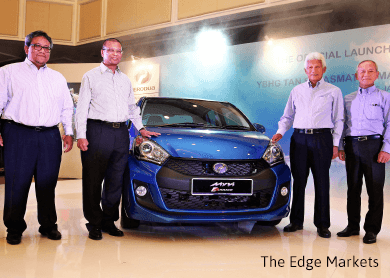 KUALA LUMPUR: Perusahaan Otomobil Kedua Sdn Bhd (Perodua) is targeting its total sales to grow 6.3% to 208,000 units this year from 195,600 units in 2014, driven by continued demand for its newly-launched models, said president and chief executive officer (CEO) Datuk Aminar Rashid Salleh.
"We believe that our Axia and the new Myvi models will boost sales growth this year, despite operating in a challenging environment. This, I hope, will strengthen our share in the already crowded market," Aminar told reporters after announcing Perodua's sales performance in 2014 yesterday.
He noted that 66,400 units of its Axia model have been booked since Aug 15 last year, of which Perodua has delivered 29,000 units. This saw the group's market share in the second half of 2014 (2H14) jump 7%, while total bookings and total registrations increased by 23% and 7% respectively.
"Axia has been well received and we expect the new Myvi to get a strong demand. The new Myvi should generate sales of 6,000 units monthly," he said. Both models should up their production volume by 7.4% to 211,000 units this year from 198,400 units in 2014.
Last year's production volume  dipped 1% from 198,300 units  in 2013 on parts quality issues, internal processes rationalisation and discontinued production of its Viva model in June 2014.
On its performance, Aminar noted that Perodua's sales were flat at 195,600 units last year from 196,100 units in 2013, partly due to flooding in some states. The flat sales caused its market share to slip to 29.4% from 29.9% in 2013. Segmentally, Perodua sold 82,400 Myvi units, 55,300 Alza units, 29,100 Axia units, and 28,800 Viva units in 2014.
Aminar said Perodua has allocated a capital expenditure of RM632.1 million from RM1.32 billion in 2014 to improve production facilities.
On foreign exchange (forex) fluctuations, Aminar said it has no significant impact on Perodua as the group has minimal forex exposure and imports.
"We are not exposed to the US dollar, but we do have exposure to the yen, as some components are imported from Japan. With high local content, which is more than 85%, forex volatility is irrelevant to us," he said.
As for exports, Aminar said Perodua will not be aggressive in selling its vehicles overseas — at least for the next two years — as it faces after-sales support challenges and trade regulation issues in certain geographical markets.
"We won't be focusing on exports in the second phase of our transformation plan, which begins this year until 2019. We plan to retain our strong foothold in the domestic market," he said, adding that Perodua's export volume will continue to remain at around 5,000 units per year.
On whether Perodua will introduce a car allowance rebate system — also known as "cash for clunkers" — Aminar said the group is still in talks with the government.
"There are still unclear answers as to who will bear the cost, the age of the cars, and the effectiveness of the scrappage mechanism. I fully support this idea [cash-for-clunkers] but only if there is a clear direction and proper mechanism in place," he added.
Malaysia Automotive Institute CEO Mohamad Madani Sahari revealed on Monday that the government was in the final stages of discussion with car manufacturers to re-introduce the rebate system, potentially from March onwards.
The government in 2009 introduced the scheme for Perusahaan Otomobil Nasional Sdn Bhd and Perodua at a cash rebate of RM5,000 per vehicle to avoid a crippling plunge in sales.
This article first appeared in The Edge Financial Daily, on January 16, 2015.