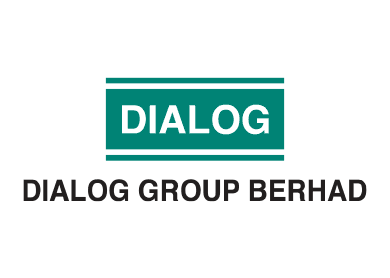 KUALA LUMPUR (Nov 14): Dialog Group Bhd will hold a 25% equity stake in the regasification terminal that will be built to serve the massive Pengerang Integrated Complex — a massive downstream petrochemical complex project undertaken by Petroliam Nasional Bhd (Petronas).
In an announcement to Bursa Malaysia, Dialog said its two wholly-owned subsidiaries, namely Dialog LNG Sdn Bhd (Dialog LNG) and Pengerang LNG (Two) Sdn Bhd (PLNG-2), have entered into a shareholders' agreement with Petronas Gas Bhd (PGas), to form a joint venture to undertake a RM2.7 billion regasification terminal development at Pengerang deep water terminal.
PLNG-2 will be the special purpose vehicle for the project that includes a development of Liquefied Natural Gas (LNG) regasification facilities, comprising of a regasification unit and two units of 200,000 m³ LNG storage tanks.
PLNG-2 will be restructured, whereby PGas will acquire 65% in PLNG-2 with Dialog LNG holding a 25% and the State Secretary, Johor (Inc) owning the remaining 10% in the special vehicle, the filing reads.
"Dialog's eventual equity investment in PLNG-2 is to be determined later, upon the finalization of the project cost and financing structure of PLNG-2," Dialog said in the announcement.
In a separate announcement, PGas noted that the joint venture was set up for the purpose of constructing, ownership and operation of the regasification terminal.
PGas said in the announcement that its portion of the project cost is about RM2 billion.
Also, PGas announced to Bursa Malaysia that it has signed into the engineering, procurement, construction and commissioning (EPCC) agreement for the regasification terminal project with Samsung C&T Corp, in consortium with Whessoe Engineering Ltd, Science-Tech Solutions Sdn Bhd and Samsung C&T (KL) Sdn Bhd, for US$486.6 million (RM1.5 billion).
The contract period for the EPCC is for a period of fifty five (55) months, commencing Oct 15 this year.
The regasification terminal will function to receive and store LNG unloaded from LNG carriers into the abovementioned two storage tanks, and convert them into gaseous form through a regasification process which will mainly supply the Pengerang Integrated Complex, its fuel requirement.
On top of that, PGB also said the gas can also be injected into the Penisular Gas Utilisation pipeline system, for the purpose of national energy security supply, according to Dialog announcement.
The initial capacity will be 3.5 million tons per annum (equivalent to approximately 490 million standard cubic feet per day) of natural gas.