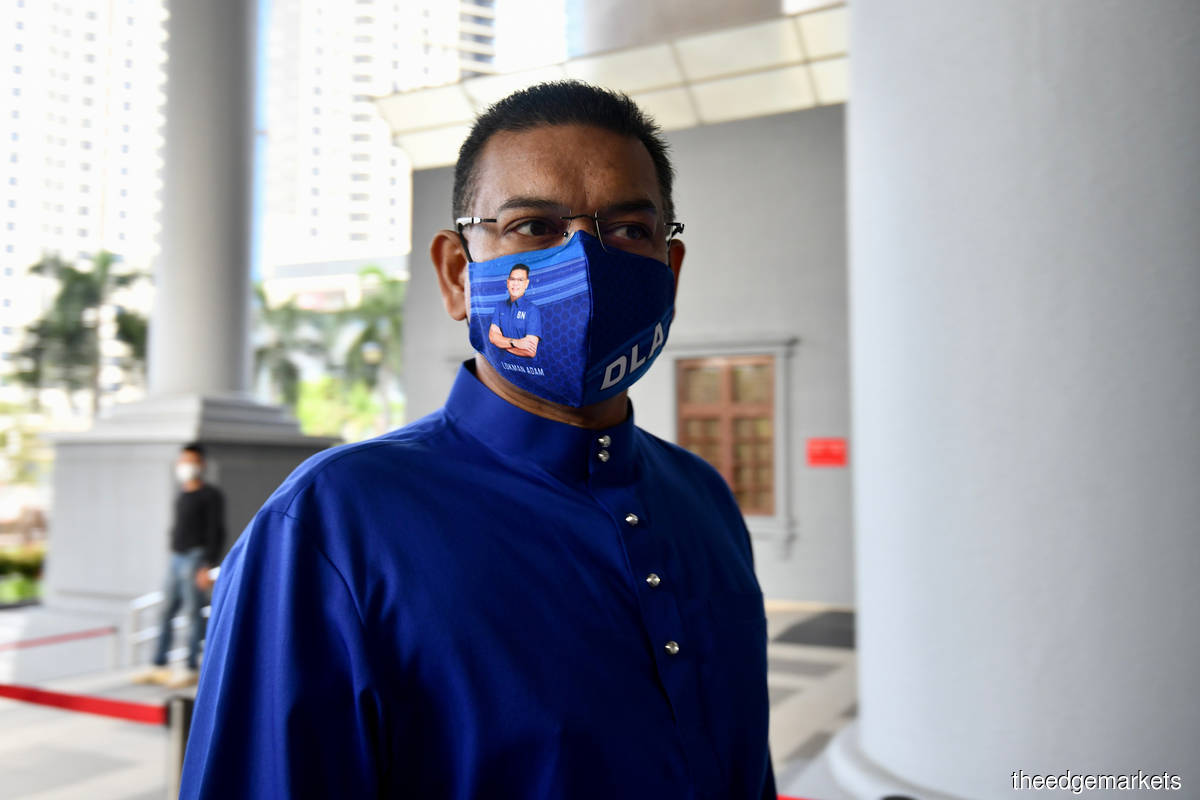 KUALA LUMPUR (Sept 12): Prime Minister Datuk Seri Ismail Sabri Yaakob has filed a defamation suit in his personal capacity against former Umno Supreme Council member Datuk Lokman Noor Adam over a video Lokman posted, titled "Bila Presiden Umno panggil tak datang! Tapi PM ada masa jumpa Mahathir" (When the Umno president called [to meet] you, you did not come! However, you had time to see Mahathir).
Ismail filed the suit through Messrs Kesavan at the High Court last Thursday (Sept 8).
In the suit, Ismail sought for an injunction to be imposed by the High Court, to stop Lokman or Lokman's agents from repeating defamatory allegations or claims made against him (Ismail), and also to take down the video.
In his statement of claim, Ismail, who is the Bera Member of Parliament and Umno vice-president, alleged that the statement made by Lokman — that he (Ismail) conspired with former premier Tun Dr Mahathir Mohamad, to "fix" Datuk Seri Najib Razak — is not only false, but also defamatory, and mala fide (made in bad faith).
He said the statement made in the video was false, as he never met Dr Mahathir on Aug 22, or any days surrounding it.
Ismail also complained that the words uttered by Lokman also meant that he was insincere, cunning, and only had his self-interests in mind to maintain his post as PM, and that he was insincere to Umno.
The words, Ismail claims, also meant that he was a traitor for allegedly conspiring with Dr Mahathir and other political parties that are against Umno, so that he remains as PM. Ismail also claims that the allegation that he had offered Mahathir's son, Datuk Seri Mukhriz Mahathir, the deputy prime ministership in return for getting Mahathir's support, was also defamatory.
Ismail said the words alleged by Lokman also meant that he was cruel, tyrannical and evil.
In the video, Lokman had made claims that Ismail had abused his power as the PM for his own personal interests — to remain as the premier — and that Ismail had made moves to prevent the dissolution of Parliament to make way for the 15th general elections, so that he could remain as PM.
Ismail also said that in the video, Lokman had made allegations that he (Ismail, as the PM) had interfered in the legal proceedings against Najib, to ensure Najib's conviction and imprisonment, and that he was willing to abuse his power to charge certain individuals who may threaten him as PM, and that he had abused his power in not allowing former Bank Negara governor Tan Sri Zeti Akhtar Aziz and Low Taek Jho to be charged.
The Bera MP said such allegations made by Lokman against him are not only defamatory, but also untrue, as they were not substantiated.
Damages sought by Ismail
Ismail said the postings made by Lokman had hurt his feelings and caused unnecessary mental and emotional pressure on him.
He added that his solicitors had issued a letter of demand on Lokman on Aug 25, requesting an apology and for the video containing the allegations to be taken down. However, Lokman had not responded to it, resulting in this suit being filed.
Hence, Ismail is seeking general, aggravated, and exemplary damages, along with costs of the action, in addition to the injunction that he is seeking against Lokman.
It was also reported that on Sept 1, Lokman was charged at the Sessions Court here under Section 233(1)(a) of the Communications and Multimedia Act 1998, for making allegations against and insulting Ismail in the blog posts. Lokman claimed trial to the charge, and should he be convicted, he could get one year's jail, or a RM50,000 fine, or both.
Injunction obtained
Today (Monday, Sept 12), Ismail obtained an ex-parte injunction (one-sided order) against Lokman that was granted by High Court judicial commissioner Roz Mawar Rozain.
This was confirmed by Ismail's counsel Ragunath Kesavan when contacted by theedgemarkets.com.
Ragunath said the injunction required Lokman to take down the video and not repeat the allegations that Ismail is a traitor for meeting with Dr Mahathir, that he had offered Mukhriz the No. 2 post, that he had abused his power for personal interests, and that he had abused his power in not allowing Zeti or Low to be charged.
The injunction also bars Lokman from repeating his allegation that Ismail had abused his power to intervene in Najib's proceedings, resulting in the former premier being convicted and jailed, the allegation that Ismail had allegedly protected certain individuals, and that he had abused his power to charge individuals who are seen as a threat to him.
Ragunath added that Roz Mawar fixed Sept 26, at 3pm, for inter-partes (between parties) hearing.