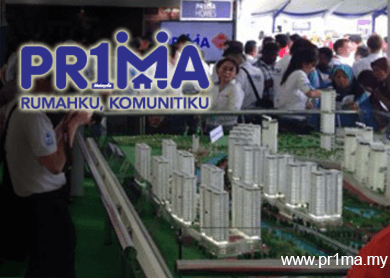 KUALA LUMPUR (Jan 22): Perbadanan PR1MA Malaysia (PR1MA) believes it can rope in more private developers to build affordable homes, as the local economy and property market start to embrace more challenges.
In a briefing today, PR1MA CEO Datuk Abdul Mutalib Alias said he looked at the government's budget revisions positively, in light of what was happening in the domestic and global economy, notably the impact from the sharp drop in crude oil prices.
"We felt that the situation would create opportunities for PR1MA on two fronts. Firstly, consumers would realise that they better start registering with PR1MA [in order to qualify for the affordable homes].
Secondly, some of the private developers, who have embarked on their own development initially, may now choose to work together with PR1MA, said Abdul Mutalib.
PR1MA has three business modules in making sure it meets the mandate of delivering 80,000 units of affordable homes per year, and with each units priced below RM400,000.
The most popular module is to work together with the private developers.
Under this module, the developer will build the houses, and PR1MA will buy the houses en-bloc, this would shield the developer from financial risk. However, the developer would have to offer a price that is 20% lower than market price.
The other two modules are: PR1MA becomes the developer itself and hires contractors to build homes on government land; while the other is PR1MA enters into joint-ventures with other developers to build homes.
When asked on the tightening loan criteria by banks, Abdul Mutalib said that it might not be difficult for buyers to get a loan to buy PR1MA homes, citing that measures announced under the budget revision includes stimulating local demand which make banks an important component in this measure.
Abdul Mutalib said that there would be 300 units of PR1MA homes in Kuala Betil, Kedah and Bertam, Penang respectively that would be delivered to consumers this year.
According to him, there are seven PR1MA projects opened for registration since Jan 15, and the reception has been overwhelming.
He urged the public to register at the PR1MA website so that they could participate in the balloting process for the seven projects which would be carried out until March.
Meanwhile, another 14 projects will be opened for registration in the second and third quarter of this year.
For the first phase of the 27 projects launched, PR1MA has obtained a RM3 billion loan from Malayan Banking Bhd to build some 36,000 units in total.