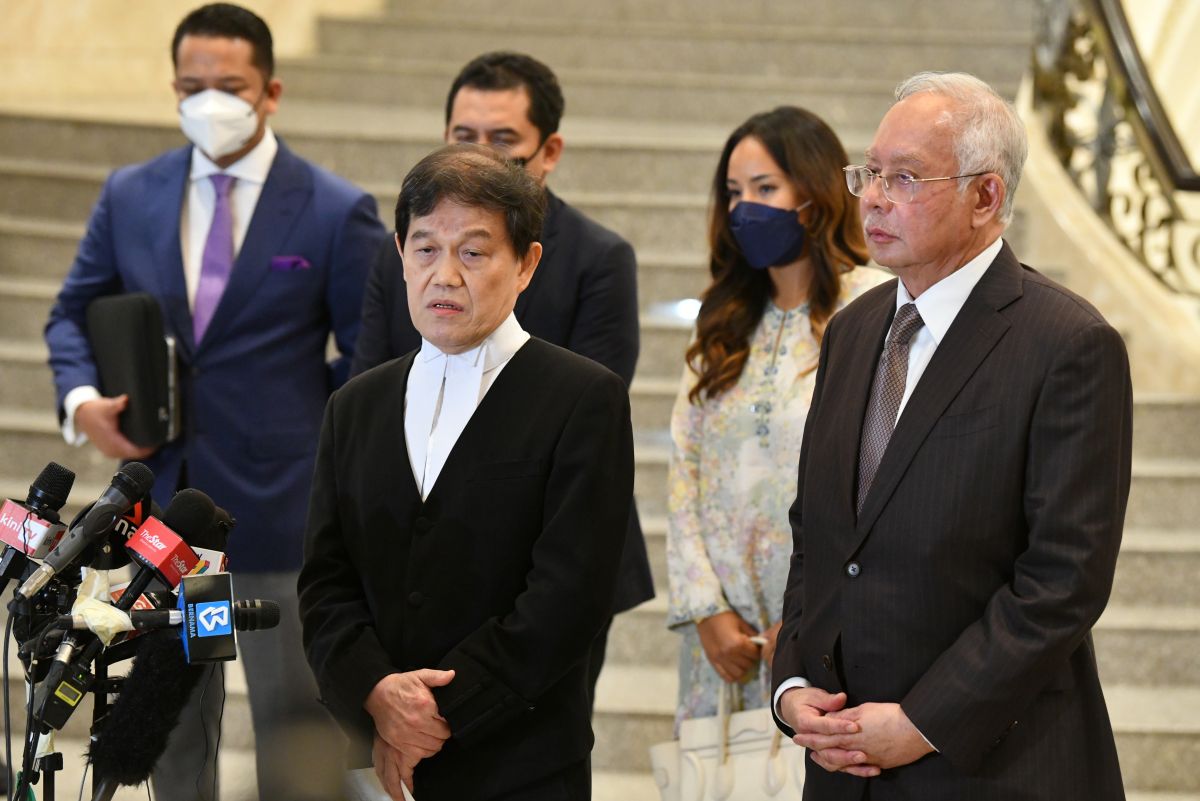 PUTRAJAYA (Aug 19): The Federal Court can proceed to deliberate for a decision for Datuk Seri Najib Razak's final appeal against his SRC International Sdn Bhd conviction with the absence of the former premier's fresh written or oral submissions, said ad hoc prosecutor Datuk V Sithambaram.
Citing case law, Sithambaram submitted to the five-member panel led by Chief Justice Tun Tengku Maimun Tuan Mat that there is precedent for the court to "proceed accordingly", as the defence has stated that they do not plan to file any fresh submissions for the appeal.
In the instance where there are no fresh submissions, the five-member panel is to decide on the merits of the 94 grounds of appeal based on the written submissions by Najib's prior counsels — Messrs Shafee & Co — filed in the lower courts, namely the High Court and the Court of Appeal.
Pursuant to Section 313(2) of the Criminal Procedure Code, the court may consider Najib's appeal and may make an order even if the appellant does not appear to submit arguments in his appeal.
However, Sithambaram humbly conceded that the court has the absolute discretion to grant the defence an adjournment for them to prepare written submissions.
The prosecution then concluded their submissions for the appeal.
Sithambaram's submission to the court was in response to Najib's lead defence counsel Hisyam Teh Poh Teik applying for an adjournment of proceedings until Thursday (Aug 25), as he will be occupied with Umno president Datuk Seri Ahmad Zahid Hamidi's graft, money laundering and criminal breach of trust trial (CBT) at the Kuala Lumpur High Court.
This request for adjournment was also rejected by the Chief Justice, adding that the appeal's proceedings are to continue on Tuesday (Aug 23) as previously scheduled.
On July 28, 2020, the High Court found Najib guilty of all seven charges in relation to SRC and was sentenced to 12 years in jail and a RM210 million fine.
The charges comprise one count of abuse of power in approving RM4 billion in loans from KWAP to SRC, and three counts each of CBT and money laundering of RM42 million of SRC funds.
The conviction and sentence were upheld by the Court of Appeal on Dec 8 last year, which resulted in this final appeal at the Federal Court.
Hisyam maintains position not to file fresh submission
As proceedings came to the close on Friday, Najib's lead defence counsel Hisyam maintained that he is not planning to file any fresh submissions to the court to defend the former premier in his final SRC appeal in proceedings next week.
Hisyam: I have no submissions to make.
Tengku Maimun: Not even oral?
Hisyam: Not even oral.
Tengku Maimun: Even on Tuesday?
Hisyam: Even on Tuesday.
The Chief Justice highlighted that the defence has three days — Saturday, Sunday and Monday — to prepare its submissions, and told Hisyam: "Don't tell us that you are not prepared to even submit on any of the 94 grounds in the petition of appeal?"
Hisyam maintained that the defence will not be making any submissions, to which Tengku Maimun remarked that it is their liberty to do so.
Tengku Maimun added that when proceedings resume on Tuesday, the panel will "deal with the matter".
On Thursday (Aug 18), Hisyam had initially stated that the defence were planning to file fresh submissions to the court, but puzzlingly, as proceedings on that day neared the end, the defence counsel walked back on his statement, informing the five-member panel that he was no longer planning to do so.
After being appointed weeks prior to the appeal hearing following Najib's decision to replace Messrs Shafee & Co with Hisyam and Messrs Zaid Suflan TH Liew at the 11th hour, the defence had sought a three- to four-month adjournment to prepare its submissions as well as amend the grounds of appeal.
However, the Federal Court rejected the application, stating that Najib had chosen to change counsels despite being well aware of his appeal dates.
Hisyam would later attempt to discharge himself as the former premier's lead defence counsel, but this was also denied by the apex court.
A day after, Najib discharged his newly appointed solicitors Messrs Zaid Suflan TH Liew and Partners.
Tengku Maimun is joined by Chief Judge of Sabah and Sarawak Tan Sri Abang Iskandar Abang Hashim, and three Federal Court judges, namely Datuk Nallini Pathmanathan, Datuk Mary Lim Thiam Suan and Datuk Mohamad Zabidin Mohd Diah on the Federal Court quorum in Najib's final SRC appeal.
Earlier, Hisyam indicated to the apex bench that Najib had discharged his solicitors from Messrs Zaid Ibrahim Suflan TH Liew and Partners from representing him in the final appeal.