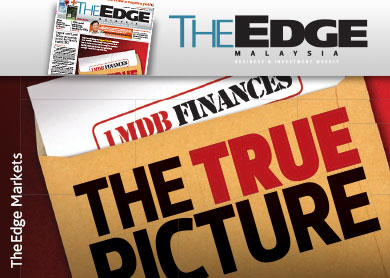 KUALA  LUMPUR (Nov 15): Land revaluation gains, and goodwill had supported 1Malaysia Development Bhd's (1MDB) financials in the past four fiscal years, The Edge Malaysia business and investment weekly (Edge Weekly) reported in its latest November 17-23 issue.
Edge Weekly, which has analysed 1MDB's numbers for financial years ended March 31, 2011 (FY11) to 2014 (FY14), said the government's 100%-owned entity had relied on some RM5.03 billion in land revaluation gains largely due to 1MDB buying land cheap from the government. 
1MDB also registered RM3.3 billion goodwill from overpayment for power assets it acquired, according to Edge Weekly.
Edge Weekly's analysis showed that 1MDB would have been loss-making in FY11 to FY14 without the RM5.03 billion land revaluation gains.
In FY14, the RM896.8 million land revaluation gain only managed to reduce 1MDB's net loss from RM1.56 billion to RM665.36 million, Edge Weekly said. 
"There must be good reason why no less than former prime minister Tun Dr Mahathir Mohamad is calling for a special audit on 1MDB, which has expanded aggressively using expensive debt these past five years.
"And while 1MDB supporters say the Ministry of Finance's 100%-owned sovereign development fund would not require any government bailout as it has some RM10 billion worth of assets in excess of its RM41.9 billion debt, is that really the case?,"Edge Weekly said.
1MDB's debt profile has been in the global investment spotlight. Edge Weekly said foreign investors were closely monitoring 1MDB because the implied government support for 1MDB's debt might have a broader impact on Malaysian policy makers financials.  
"1MDB is no longer just a financial and systemic concern. It has become a heated political issue," Chua Hak Bin, head of emerging Asia economics at Bank of America Merrill Lynch was quoted as saying.
Chua described 1MDB as an atypical sovereign entity that "can readily tap the government's balance sheet and guarantees" and compete directly with the private sector as it invested heavily in power assets and real estate.
For a better understanding on 1MDB's financia profile and its impact on goverment finances and taxpayers money, kindly pick up and read the latest issue of the Edge Weekly.