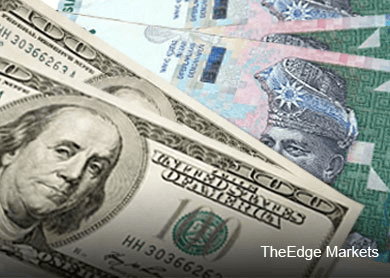 KUALA LUMPUR (Jan 15): Malaysia's ringgit rose the most this year after an overnight rally in crude prices tempered concern that the oil-exporting nation will see revenue fall.
A drop in the dollar also supported demand for Asian currencies after data showed U.S. retail sales declined in December by the most in almost a year. That prompted investors to pare bets for a Federal Reserve interest-rate increase, with futures indicating a 64 percent chance of a move by June versus 73 percent a week ago. Brent gained 4.5 percent yesterday, the biggest advance since June 2012.
The ringgit's gains were driven by "the overnight rebound in oil prices," said Gao Qi, a strategist in Singapore at Royal Bank of Scotland Group Plc. "There's broad dollar weakness on the back of poor retail sales in the U.S."
Malaysia's currency appreciated 0.6 percent, the biggest advance since Dec. 18, to 3.5742 a dollar as of 9:38 a.m. in Kuala Lumpur, according to data compiled by Bloomberg. It earlier rose as much as 0.9 percent to 3.5633. The ringgit fell to 3.6045 yesterday, the lowest since April 2009.
The currency weakened 2.2 percent in the past month, the worst performance in Asia, on concern that the slump in energy prices will make it more difficult for the government to meet its fiscal deficit reduction target.
Malayan Banking Bhd. cut its first-quarter ringgit forecast to 3.70 from 3.50, and its year-end estimate to 3.50 from 3.45, due to the decline in oil and increased market volatility, analysts led by Saktiandi Supaat wrote in a report yesterday.
The ringgit's one-month implied volatility used to price options is the highest after Indonesia's rupiah in Southeast Asia at 9.53 percent.
The yield on Malaysia's 10-year sovereign bonds was little changed at 3.98 percent after declining 29 basis points, or 0.29 percentage point, in the last five days, data compiled by Bloomberg show.