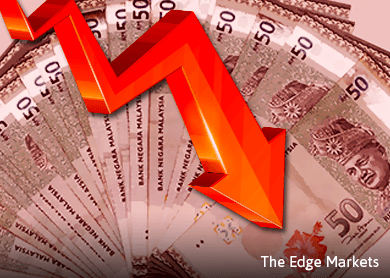 KUALA LUMPUR (Jan 21): The ringgit weakened further against the US dollar and Asian currencies amid a spectre of slower Malaysian economic growth as lower crude oil prices hit government income and deficit levels.
Yesterday, Prime Minister Datuk Seri Najib Tun Razak said the government had revised the country's 2015 fiscal deficit higher at 3.2% of gross domestic product (GDP) under the restructured Budget 2015. This compares to the earlier-estimated 3% deficit.
Najib said the government was confident of achieving GDP growth of 4.5% to 5.5% this year, which is lower than the earlier forecast of between 5% and 6%.
Today, the ringgit weakened to a fresh level at 3.6277 versus the US dollar before changing hands at 3.6215 at 1.04pm.
Against the Singapore dollar, the ringgit was traded at 2.7115 before being transacted at 2.7087 at 1.05pm. The ringgit also weakened against the Thai baht at 0.1108 and versus the Indonesia rupiah at 0.2889.
Economists said Malaysia's revised budget had not convinced foreign investors.
"The announcement by Najib on the revised Budget 2015 could not convince foreign investors and pushed up (weakened) the ringgit.
"However, revisions in the budget will be beneficial for the domestic market, with measures such as the postponed scheduled electricity tariff and gas price hikes for the industrial sector in 2015," BIMB Securities Sdn Bhd economist Imran Nurginias told theedgemarkets.com today.
Acccording to Imran, the ringgit had also weakened against the US dollar after the International Monetary Fund (IMF) upgraded its US economic growth forecast.
The IMF forecasted that US economy would expand 3.6% in 2015, up from its earlier 3.1% growth projection done in October 2014. Anticipation of better economic numbers led to higher US interest rate expectation, which in turn, generated demand for US dollar-denominated assets.
"IMF's upgrade on the US economy had strengthened the US dollar, and therefore, resulted in the weaker ringgit.
"The upcoming policy meetings of the European Central Bank and Bank of Japan will also impact the ringgit's performance," he said.