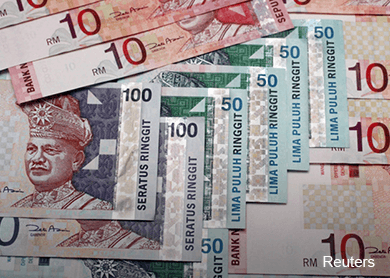 KUALA LUMPUR (Jan 22): The ringgit is likely to drop further against the US dollar (USD), if the Euro were to fall sharply following the European Central Bank (ECB)'s upcoming decision on quantitative easing (QE), according to a report by AmBank FX Research.
The research firm said a QE in the Eurozone is expected to generate huge swells and volatile shifts in sentiment, and that every one percentage point drop in the Euro's value against USD is also likely to cause a 0.44 percentage point drop in ringgit's value against the greenback.
The impact of the ECB's policies will reach beyond the shore of Euro, including Asian currencies.
Based on AmBank FX's regression analysis, the Korean won is likely to be least affected, followed by the Taiwanese Dollar.
"The PHP, THB and Singapore Dollar (SGD) will likely be most vulnerable to Euro's depreciation," it said.
For every one percentage point drop in Euro, AmBank FX said the PHP will likely fall by 0.61 percentage points against the USD, while the THB is expected to fall 0.6 percentage points and the SGD, 0.51 percentage points against the greenback.
"This is a reflection of the trade relationship that Europe is an exceedingly important market for Asia, if not on par with the US," it added.