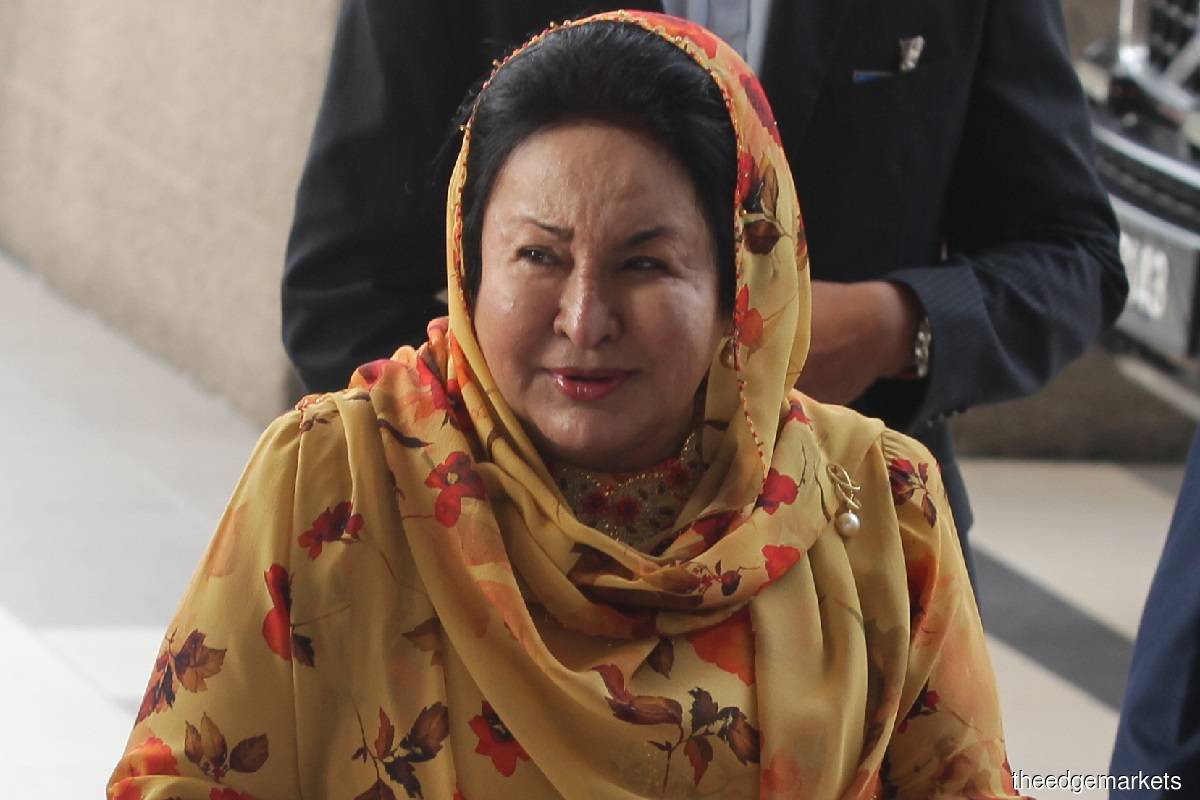 KUALA LUMPUR (Sept 17): There were about 30 to 40 cyber troopers working for Datin Seri Rosmah Mansor between 2012 and 2018, who were allocated RM100,000 a month, said her former aide Datuk Rizal Mansor.
Rizal, the 21st prosecution witness, told the High Court that he did not know if the funds for the cyber troopers came from the Prime Minister's Department, but he did receive the money directly from her.
"They [were] paid between RM2,000 [and] RM4,000 a month and I prepared the budget [for which] RM100,000 was given every month by her.
"I do not know whether the budget came from the Prime Minister's Department, but I got the amount directly from her every month. The cyber-trooper team was set up in 2012 and ceased in 2018," he said when responding to questions during cross-examination by Rosmah's counsel Datuk Jagjit Singh.
Umno and Barisan Nasional lost the 14th general election in May 2018.
Prior to this, Rizal testified on Monday that he helped set up a cyber-trooper team for Rosmah in 2012, with RM100,000 allocated every month to counter the purported allegations and slander against her.
When asked by Jagjit if the set-up of a cyber-trooper team showed that Rizal was not competent in his role of countering the allegations, the witness disagreed and said that it was a subjective question.
He also strongly denied the senior counsel's suggestions that he had pocketed some of the RM100,000 allocated for the cyber troopers as Jagjit asserted that according to the defence's calculations, the monthly payments did not amount to RM100,000.
The witness even offered to show the list of cyber troopers allegedly under the payroll.
When asked by Jagjit to produce receipts of payments to the cyber troopers, Rizal admitted no receipts were issued.
"Some of the payments are made to one person who then [distributed] it to others who [were active] on Facebook," he said, adding some of the cyber troopers included Papagomo and Parpukari.
Jagjit then named two to three cyber troopers whom the defence claimed had not received payments from Rizal. The witness later admitted that some did not receive their compensation, but reiterated that sometimes payments were made to an individual who later distributed them to others.
"If you want, I can prepare a list of those [cyber troopers] as they [were] under two categories," he added.
Rizal again denies RM5 million bribe was for him
Rizal again denied Jagjit's suggestion that the RM5 million which Jepak Holdings Sdn Bhd had paid in cash was actually meant for him and not Rosmah.
This comes as Jagjit said that Jepak's former managing director, Saidi Abang Samsudin, claimed that he had put two bags containing the money into a Toyota Vellfire, but the vehicle that allegedly delivered the money to Seri Perdana was a Toyota Alphard belonging to Rizal.
The senior lawyer suggested that the vehicles were switched and in actuality, the money was not meant for his employer but for the witness.
Rizal maintained that the money was delivered to Rosmah even after Jagjit pointed out that he himself had testified that Rayyan Radzwill Abdullah, who was Jepak's consultant, wondered if the RM5 million was delivered to Rosmah, and sought a meeting to ensure this.
"Yes, I did arrange a meeting for him (Rayyan) and Saidi with Rosmah in August and again in September 2016," he said.
Despite continued assertions by Jagjit, Rizal maintained that he did not strike a deal with the prosecution to implicate her employer Rosmah, in order for himself to be acquitted of four graft charges following the inconsistencies in the evidence.
Rizal was initially slapped with four counts of soliciting and receiving bribes for himself and Rosmah amounting to RM5.5 million involving the project to supply and instal solar energy for rural schools in Sarawak. Rizal was charged under Section 16(a)(A) of the Malaysian Anti-Corruption Commission Act 2009.
Rosmah herself is facing three graft charges including one for soliciting RM187.5 million from Saidi and getting a total of RM6.5 million bribe from Jepak.
The hearing before Justice Mohamed Zaini Mazlan continues this afternoon.
Read also:
Rosmah spent RM100,000 a month on cybertroopers to defend reputation — ex-aide