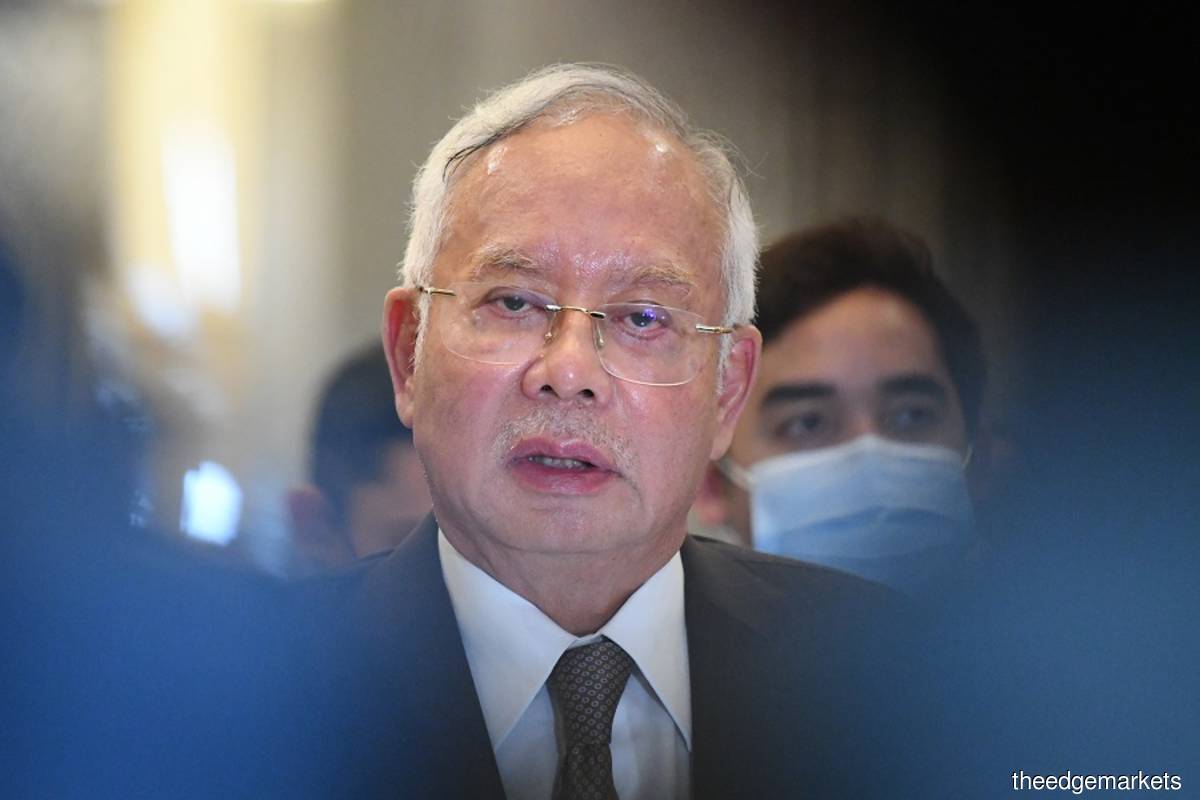 PUTRAJAYA (Aug 19): The Federal Court heard on Friday (Aug 19) that RM42 million from SRC International Sdn Bhd was transferred into Datuk Seri Najib Razak's personal bank accounts after the former premier instructed fugitive businessman Jho Low, his late former principal private secretary Datuk Azlin Alias and former SRC managing director Nik Faisal Ariff Kamil to ensure there were sufficient funds for his use.
Addressing Najib's claim that Jho Low was the one who manipulated the SRC funds into his personal accounts, ad hoc prosecutor Datuk V Sithambaram told the five-member apex court bench led by Chief Justice Tun Tengku Maimun Tuan Mat that it was Najib who had instructed the trio to top up his accounts, and added that the former premier never questioned where the money came from.
"If the appellant expects Jho Low to put in the money, where would the money come from? Surely as the PM (prime minister) and finance minister, you should know where it is coming from. You cannot be reckless about it," Sithambaram said.
Sithambaram said Jho Low was just following Najib's instructions, and Najib's claim that the financier was manipulating his accounts does not hold water.
"This follows that Najib himself had trusted Jho Low and Nik Faisal to make sure there were sufficient funds for his usage. 
"Najib himself cannot answer as to why Jho Low had done this (transferred the RM42 million). The only reason is that the appellant, being the most powerful man in the country, was using Jho Low for his own benefit," he contended.
The ad hoc prosecutor also rebutted Najib's claim that he had no knowledge of the funds entering his accounts.
Sithambaram explained that Jho Low used instant messaging app Blackberry Messenger (BBM) to communicate with former Ambank relationship manager Joanna Yu Ging Ping about transactions into Najib's accounts.
"Jho Low, together with Azlin, were to ensure there is sufficient money in the accused's accounts (for the issuance of cheques)," he said, adding that similar messages would be relayed to Najib to inform him on how much he could spend.
The ad hoc prosecutor noted that Najib made no qualms over the transactions and did not take any legal action against Ambank. 
Touching on Najib's claim that the RM42 million came from donations from Arab royalty, Sithambaram called the former premier's allegation "absurd", as the ad hoc prosecutor said it meant that the royals would have had to monitor Najib's accounts, and pumped in money whenever the accounts ran low on funds.
The RM42 million SRC funds transferred into Najib's accounts via three tranches — RM27 million, RM5 million and RM10 million respectively — from Ihsan Perdana Sdn Bhd (IPSB) and Gandingan Mentari Sdn Bhd, as a conduit, sits centre-stage in relation to Najib's three criminal breach of trust (CBT) charges.
"The money trail shows that RM42 million originates from SRC's Ambank account. It does not matter where SRC got the money, but the evidence showed that it was the SRC funds that entered into Najib's accounts," Sithambaram explained, accompanied by a bank statement as evidence.
The prosecution then proclaimed to the Federal Court panel that then High Court judge Datuk Mohd Nazlan Mohd Ghazali, who has since been elevated to the Court of Appeal, was right in his judgement that Najib had failed to raise reasonable doubt and was guilty of the three CBT charges.
Najib is before the Federal Court to have his final appeal on the SRC matter be heard. The former premier was found guilty on July 28, 2020 by trial judge Mohd Nazlan, of all seven charges in relation to SRC, a verdict which was upheld by the Court of Appeal on Dec 8 last year.
The charges involved one count of abuse of power in approving RM4 billion in loans from Retirement Fund Inc (KWAP) to SRC, and three counts each of CBT and money laundering of RM42 million SRC funds. As a result of being found guilty of these charges, the High Court sentenced Najib to 12 years in jail and a fine of RM210 million.