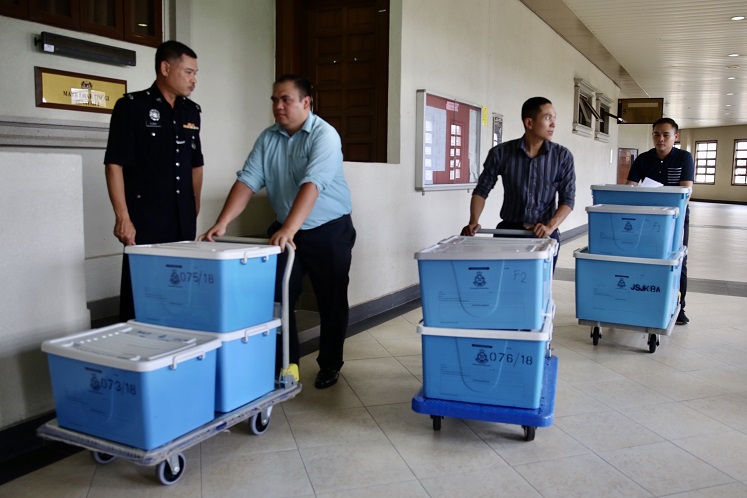 KUALA LUMPUR (March 11): The High Court today allowed an application by former premier Datuk Seri Najib Razak's wife Datin Seri Rosmah Mansor to physically inspect close to 12,000 jewellery items, over 300 handbags and other valuables worth more than RM600 million. 
The order was made by Justice Datuk Muhammad Jamil Hussin after hearing the submission by Rosmah's lawyer, Iskandar Shah Ibrahim, and objection by Deputy Public Prosecutor Fatin Hadni Khairuddin.
Justice Jamil ordered that the inspection be carried out within 30 days from today in a controlled environment to be decided by the prosecution.
"The applicant (Rosmah) can make the inspection on one day only and be accompanied by a lawyer," the judge said.
Fatin objected to the physical inspection on the grounds that it involved more valuable items compared with an earlier application for inspection that was allowed by Justice Mohamed Zaini Mazlan last month.
"It took us 26 days to prepare that matter and the volume in this matter is much bigger. There are close to 12,000 pieces of jewellery, which alone are worth more than RM400 million.
"Can the court imagine the difficulty that the prosecution and police may face," she said.
Besides Rosmah, Najib also had made a similar application, but it would only be heard on March 25, as his counsel, Tan Sri Muhammad Shafee Abdullah, had sought a delay, saying he had to prepare for Najib's 1Malaysia Development Bhd (1MDB) case and also because he was having knee pain.
Before the trial, police had lifted 14 plastic boxes of pictures of the jewellery, handbags and other valuable items to be shown to the applicants. Fatin had previously suggested that this should suffice and there was no need for a physical inspection.