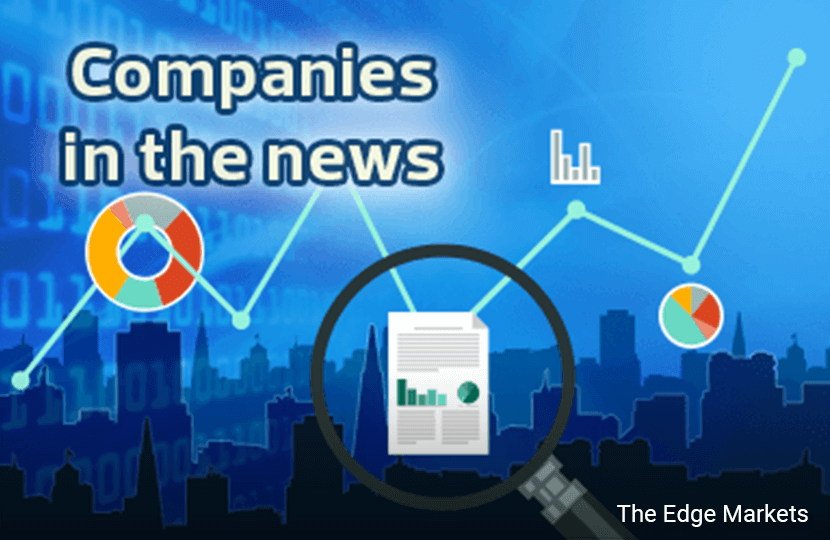 KUALA LUMPUR (Aug 27): Based on corporate announcements and news flow yesterday, the companies that may be in focus today (Aug 27) could include: Sime Darby, UMW Holdings, MSM, KUB, Tambun Indah, Parkson, XingHe, Cahya Mata, Hap Seng, IHH Healthcare, Tune Ins, Tanjung Offshore and TNB.
Sime Darby Bhd expects crude palm oil (CPO) prices to remain dampened in the near-term, forecasting the commodity to trade between RM1,900 and RM2,000 per tonne up to end-September 2015.
"We believe CPO will be trading at the RM1,900 to RM2,000 levels between now and the end of September. Beyond that, it's difficult to predict because of the uncertain outlook," said Sime Darby president and chief executive Tan Sri Mohd Bakke Salleh.
At the time of writing, November CPO futures contracts was traded at RM1,892 per tonne, according to Bloomberg.
Mohd Bakke was speaking to the media yesterday at a briefing on the group's results for the fourth quarter ended June 30, 2015 (4QFY15).
He said the weakness in CPO prices had impacted the performance of Sime Darby's (fundamental: 0.8; valuations: 1.4) plantation division, as CPO prices averaged lower during the quarter, at RM2,242 per tonne.
Mohd Bakke said the dampened commodity prices will continue to pressure the plantation division's performance, as the group incurs about RM1,450 per tonne in cost of sales.
For 4QFY15, Sime Darby's net profit fell 17% to RM988.67 million from RM1.19 billion in the previous year, on lower crude palm oil (CPO) prices and lower income from its industrial equipment and automotive units. Revenue climbed to RM12.86 billion (4QFY14: RM12.51 billion).
For the full year, the group's net profit fell to RM2.31 billion from RM2.35 billion a year earlier, on the back of lower revenue of RM43.73 billion, compared to RM43.91 billion.
UMW Holdings Bhd saw its net profit tumble 51.8% to RM68.44 million or 5.86 sen per share for the second quarter ended June 30, 2015, (2QFY15) from RM141.96 million or 12.15 sen per share a year ago, as a result of lower revenue contributions from all its business segments.
Revenue for 2QFY15 dropped 12% to RM3.49 billion from RM3.97 billion for 2QFY14.
In a filing with Bursa Malaysia yesterday, UMW Holdings said the automotive segment recorded revenue of RM2.73 million in 2QFY15 compared to RM2.9 million registered in 2QFY14. 
"Toyota's core vehicle models faced stiff competition from the new model launches by other players in the market," it said.
Consequently, the segment registered a lower profit before taxation of RM263.4 million for the quarter. The weakening of the ringgit has also affected the profit for the segment unfavourably, it added. 
MSM Malaysia Holdings Bhd, the country's largest refined sugar producer, said while it is enjoying lower raw sugar prices, it is not enough to offset the impact of weaker ringgit against the US dollar.
"Global raw sugar prices are expected to decline further in the next one to two months. We like that because the bulk of our imported raw sugar are transacted in US dollars," MSM president and group chief executive officer Datuk Dr Sheikh Awab Sheikh Abod told reporters after signing an agreement in relation with the group's third refinery in Tanjung Langsat, Johor yesterday.
"However, the fall in ringgit's value is more. While raw sugar prices have come off by about 13% in the past one year, ringgit has weaken by about 23%," he said.
To mitigate the impact of the ringgit depreciation, Sheikh Awab said MSM is proposing to traders to make its future payments in ringgit rather than US dollar.
"That is why we need to venture into the upstream business (and) source (raw sugar) internally," he added.
MSM plans to invest up to US$130 million in the upstream business in Indonesia should it win a tender for the mill development project there.
Sheikh Awab said the group is confident of bagging the said project – which it is proposing a build-operate-transfer model – from its Indonesian counterpart, which involves the refurbishment and development of a 20-hectare sugar cane plantation site.
Tambun Indah Land Bhd plans to launch two new projects in mainland Penang with a combined gross development value (GDV) of RM300 million in the second half of 2015.
Raintree Park 2 comprises duplex villas, 2-storey terraced and semi-detached houses with RM205 million in GDV, while Avenue Garden features 17-storey serviced apartments with 312 units worth RM95 million in GDV.
"The high take-up rate of 89.2% across our ongoing projects of RM1.2 billion, especially in the challenging environment, demonstrates the sustained demand for affordable properties in mainland Penang," its managing director Teh Kiak Seng said in a statement yesterday.
Encouraged by this, Teh expressed his optimism that the new launches would be taken up positively by prospective buyers.
Tambun Indah is also expected to start reaping rental income from GEMS International School next month, which will complement the billings from its property development segment.
Tambun Indah yesterday reported a 32.8% decline in net profit for the second quarter ended June 30, 2015 (2QFY15) to RM17.09 million or 4.05 sen per share, from RM25.44 million or 6.34 sen per share a year ago, on the back of lower revenue of RM60.01 million compared with RM127.96 million in 2QFY14.
KUB Malaysia Bhd (KUB) fell into the red in the three months ended June 30 (2QFY15) with a net loss of RM2.76 million compared with its net profit of RM2.44 million in the same period a year ago, as its revenue shrunk 33%.
Its revenue came in at RM114.65 million from RM170.69 million, largely dragged by weaker revenue in its energy, agriculture (agro), and engineering and construction (EC) sectors, its filing to Bursa Malaysia showed.
Meanwhile, its six months cumulative (1HFY15) net profit more than doubled to RM7.66 million compared to RM3.33 million a year ago, largely due to its cost optimisation exercise, and higher other income received. 
Its 1HFY15 revenue howeve fell 37.5% to RM220.13 million from RM352.46 million in 1HFY14.
Parkson Holdings Bhd, whose share price touched a nine-year low yesterday, has swung into losses in the fourth financial quarter ended June 30, 2015 (4QFY15) on lower retail sales and loss on exceptional items. 
It posted a net loss of RM90.95 million or 8.75 per share as compared to a net profit of RM26.76 million or 2.56 sen per share last year, according to the department store retailer's filing with Bursa Malaysia.
This is despite revenue for 4QFY15 rising 5.2% to RM859.04 million from RM816.51 million last year, largely from slightly better figures from China, Vietnam, Myanmar, and Indonesia. 
The group told Bursa Malaysia yesterday its retailing division registered a weaker set of results with revenue increasing only marginally by 4% to RM3.64 billion while operating profit contracted by 41% to RM190 million compared to a year ago. 
Parkson said its operation in Malaysia saw same store sales (SSS) contracting 4.5% for FY15 as consumer sentiments were affected by rising cost of living and the depreciating ringgit.
China-based edible oil manufacturer XingHe Holdings Bhd's net profit came in at RM41.95 million (1.79 sen per share) for the three months ended March 31, 2015 after its reverse takeover (RTO) by Supreme Global Group Ltd.
Its revenue for the period came in at RM388.24 million. There is no actual comparative figure as the corresponding period last year was prior to the completion of the RTO - when it was still known as Key West Global Telecommunications Bhd - on April 29, 2014.
Additionally, its financial year-end was changed from Jan 31 to Dec 31.
In its filing to Bursa Malaysia, XingHe said the group's gross profit margin for the latest quarter was 17.5%, an improvement over that of 15.8% for the calendar year 2014 and was achieved on the back of higher average selling prices of branded products (+5.1%) and non-branded ones (+7.1%).
In ringgit terms, they were 15.4% and 17.6% respectively, due to the appreciation of renminbi against the local currency.
Cahya Mata Sarawak Bhd (CMS) saw its net profit shrink 38.5% to RM40.66 million, or 3.80 sen per share, for the second quarter ended June 30, 2015 (2QFY15) from RM66.12 million, or 6.39 sen per share a year ago, dragged by weak performance in the cement division and the property development division.
Quarterly revenue came in marginally lower by 1.7% at RM376.86 million from RM383.36 million in 2QFY14, a filing to Bursa Malaysia showed.
The cement division recorded a 34% decrease in pre-tax profit (PBT) of RM25.22 million in 2Q15 over RM38.33 million in 2QFY14, due to higher repair and maintenance cost and costly raw materials as a result of higher US dollar exchange rates and additional port discharging cost since end-April 2015.
The property development division's PBT slipped 84% to RM3.37 million from RM20.50 million in 2Q14. The higher PBT in 2Q14 was due to the land sales recognised.
Hap Seng Consolidated Bhd's second quarter ended June 30, 2015 (2QFY15) net profit doubled to RM557.04 million, from RM245.21 million a year ago, boosted by an approximate gain of RM508.8 million from the disposal of Hap Seng Capital Pte Ltd.
Thus, earnings per share (EPS) jumped to 25.91 sen from 12.25 sen during 2QFY14, according to Hap Seng Consolidated's quarterly report to Bursa Malaysia.
It also declared a 10 sen special interim dividend, payable on Sept 30. Year-to-date, its dividends declared stood at 20 sen, compared to 10 sen in the previous year.
Excluding the one-off disposal gain, the group's operating profit shrunk 67% to RM120.51 million in 2QFY15 from RM368.23 million last year.
Hap Seng Consolidated said this was mainly attributable to lower profits from its plantation, property, and quarry and building materials divisions.
Its automotive division, however, saw significant improvement with a 163% jump in operating profit to RM8 million (2QFY14: RM3.1 million).
IHH Healthcare Bhd's second quarter net profit rose 9% from a year earlier on higher revenue from its existing global hospitals. Lower taxes and minority interest also supported profit growth.
In a filing with Bursa Malaysia, IHH (fundamental: 1.65; valuation: 0.7) said net profit rose to RM228.11 million in the second quarter ended June 30, 2015 (2QFY15) from RM209.1 million. Revenue increased to RM2.09 billion from RM1.87 billion.
IHH said the better performance was attributed to organic growth of existing operations and the commencement of operations at the Acibadem Atakent Hospital in Turkey, Pantai Hospital Manjung in Perak, and Gleneagles Kota Kinabalu in Sabah.
For the six months, IHH reported a net profit rise of RM399.59 million from RM368.16 million a year earlier. The group registered a RM4.1 billion revenue compared RM3.62 billion.
IHH managing director and chief executive officer Dr Tan See Leng said the acquisition of Continental Hospitals in India had further widened its footprint in that key market.
Despite present economic uncertainties and currency volatility, particularly in Asia, Tune Insurance Holdings Bhd (Tune Ins) is maintaining its double-digit growth projection for its top-line in the financial year ending Dec 31, 2015 (FY15).
Tune Ins (fundamental: 2.7; valuation: 0.35) chief executive officer Junior Cho said the group remained optimistic because empirical data on its forward sales indicate that double-digit growth seems reasonable.
This is coupled with strong double-digit growth for the first half of the year, with its general insurance outpacing the industry average in Malaysia, and its travel insurance achieving over 20% top-line growth.
"We remain confident because we look at our forward sales as an indicator of what the second half is going to look like.
"[Still], it's hard not to ignore what is going on -- the political uncertainties, the gloomy economic outlook, the volatility of the currencies in the region.  [But] in terms of where we stand right now, we remain confident of our outlook," Cho told reporters after the group's extraordinary general meeting (EGM) yesterday.
Tanjung Offshore Bhd has returned to profitability with a net profit of RM1.74 million or 0.46 sen per share in its second quarter ended June 30, 2015 (2QFY15) on lower operating expenses.
The group posted a net loss of RM1.21 million or 0.33 per share in the last corresponding quarter, its filing with Bursa Malaysia showed.
Revenue for the quarter came in 55.51% lower at RM15.37 million from RM34.55 million due to the completion of various engineering equipment packages in 2015.
For the cumulative six months (1HFY15), the oil and gas player, however, posted a small loss of RM229,000 or 0.06 sen per share versus a small profit of RM882,000 last year.
Revenue decreased 65.83% to RM23.51 million from RM68.81 million a year ago.
Looking forward, Tanjung Offshore said it will focus on the oil and gas business and will also look into new ventures for potential business growth.
Tenaga Nasional Bhd (TNB) has signed a supplemental power purchase agreement (PPA) with Jimah East Power Sdn Bhd that governs obligations of the parties to sell and purchase electricity generated from the coal-fired power plant in Jimah, Negeri Sembilan.
In a filing with Bursa Malaysia yesterday, Tenaga said the supplemental PPA governs the obligations of the parties to sell and purchase the daily available capacity and, to the extent despatched, the net electrical output generated by the facility for 25 years in accordance with the agreed terms.
The supplemental PPA is expecting commercial operation dates of June 15, 2019 and Dec 15, 2019 respectively.
This follows the execution of the share sale and purchase agreement between TNB and 1Malaysia Development Bhd (1MDB) for the acquisition of a 70% stake in Jimah East for RM47 million on July 3.
Prior to that, TNB and JEP had on July 22, 2014 executed a PPA for the development of two 1,000MW coal-fired power plants in Jimah.