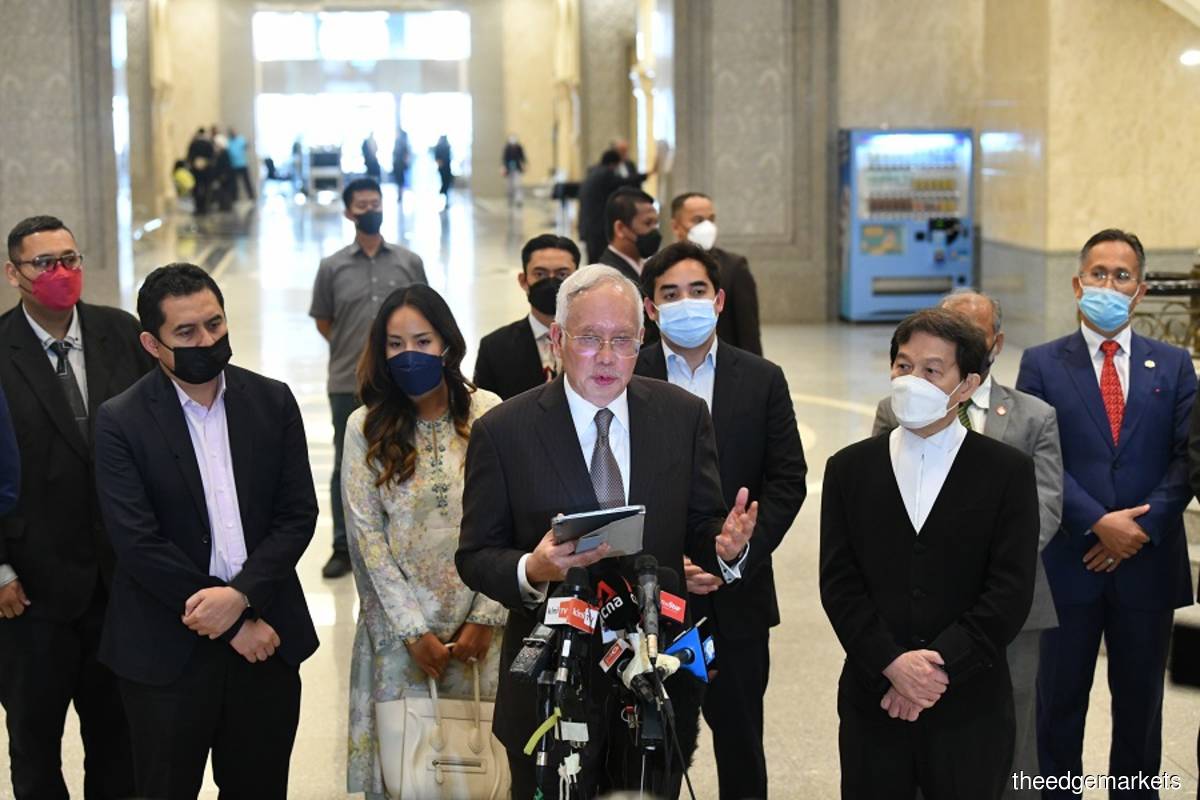 PUTRAJAYA (Aug 18): The Federal Court heard on Thursday (Aug 18) that all it took for the approval of RM4 billion in loans from Retirement Fund Inc (KWAP) to SRC International Sdn Bhd was a single letter from then prime minister Datuk Seri Najib Razak.
Ad hoc prosecutor Datuk V Sithambaram kicked off the prosecution's submissions in Najib's final SRC appeal by detailing Najib's "hands-on" approach to securing the two tranches of loans given by the pension fund to SRC, which amounted to RM4 billion.
He told the apex court that initially, the Economic Planning Unit (EPU) of the Prime Minister's Department had suggested that the funding for SRC be sourced from commercial banks and financial markets, which was also accepted by Najib and then minister in charge of the EPU, Tan Sri Nor Mohamed Yakcop.
However, Najib subsequently in his capacity as the prime minister and finance minister, requested for approval for funds of RM3.95 billion from KWAP ― instead of sourcing the money from commercial banks and financial markets ― for SRC to pursue its objectives in renewable energy resources, Sithambaram submitted.
He said Najib had, on June 5, 2011, written a minute on an SRC letter addressed to then KWAP CEO Datuk Azian Mohd Noh, reading: "YBhg Datuk Azian, bersetuju dengan cadangan ini" ("Datuk Azian, agree with this proposal").
"The CEO of KWAP then asked for the fixed income department of KWAP to process this loan application from SRC.
"Eventually, the KWAP Investment Panel approved a financing of RM2 billion in 2011, and an additional RM2 billion in 2012, as a result of interference by the appellant," Sithambaram submitted.
Relying on just one letter to approve RM4 billion in loans was "ridiculous", the ad hoc prosecutor stressed. While he was submitting this, Najib was seen nonchalantly looking at his mobile phone.
The federal government, as the guarantor of the RM4 billion loans, had earlier this month confirmed that it has paid the debts to the pension fund in full.
The hearing of the appeal at the Federal Court finally began after the former premier's lead counsel Hisyam Teh Poh Teik's request to discharge himself was denied by a five-member quorum.
Two other matters which were addressed prior to the main appeal were bids for adducing fresh evidence, as well as a three- to four-month adjournment, both of which were also dismissed by the Federal Court.
Najib is before the Federal Court to have his final appeal on the SRC matter, be heard. He was found guilty on July 28, 2020 by the High Court of all seven charges, and was sentenced to 12 years in jail and RM210 million in fines.
The verdict and sentence were upheld by the Court of Appeal on Dec 8 last year.
The charges comprise one count of abuse of power in approving RM4 billion in loans from KWAP to SRC, and three counts each of criminal breach of trust and money laundering of RM42 million of SRC funds.