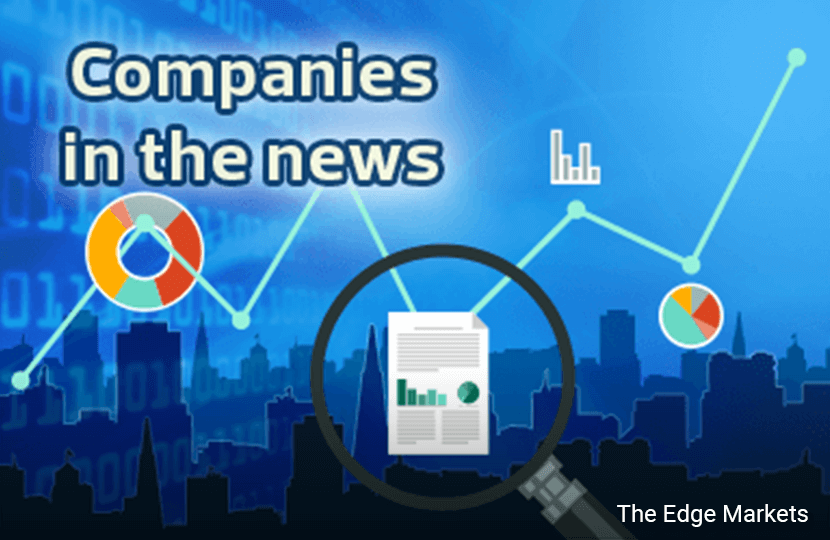 KUALA LUMPUR (Sept 10): Based on corporate announcements and news flow today, companies that may be in focus tomorrow (Friday, Sept 11) could include the following: SP Setia, Berjaya Auto, SapuraKencana, Supermax, Asian Pac, IOI Corp and Focus Dynamics.
SP Setia Bhd's net profit for the third quarter ended July 31, 2015 (3QFY15) jumped 153% to RM261.79 million or 10.18 sen a share, from RM103.32 million or 4.12 sen a share a year ago.
The better profit was on the back of increased revenue and profit recognition from the sales achieved to date and the timely staged handovers of its maiden property project, Fulton Lane in Australia.
Revenue for the quarter was up 81% at RM1.63 billion from RM902.66 million a year ago.
SP Setia acting president and chief executive officer Datuk Khor Chap Jen said in a statement today SP Setia's foray into the Australian market has borne well for the group amidst the current challenging property market.
"Fulton Lane's timely handover has helped the group to register strong revenue and profit recognition while the SP Setia Brand has begun to register with the Australian market as evident from our two sold out projects in Melbourne.
"We will continue to seek new ventures in the land Down Under to further expand our portfolios overseas," he added.
Khor said the group achieved RM744 million in sales during the third quarter, adding that as at July 31, 2015, the group's total sales for the first nine months of the current financial period totalled to RM2.54 billion.
The group's international projects also posted sales growth of 15.5% from the previous quarter, with sales from the Battersea Power Station Project and Singapore projects recording an improvement of 7.7% and 65% respectively, he said, noting that local projects' sales of RM573 million contributed significantly to overall sales during the quarter.
Berjaya Auto Bhd's net profit dipped 6.94% to RM52.2 million or 4.58 sen per share against a marginally higher revenue of RM512.5 million in its first quarter ended July 31, 2015 (1QFY16) as a result of higher spending on advertising and promotion expenses.
In a filing with Bursa Malaysia, Berjaya Auto recommended a first interim single-tier dividend of 2.25 sen to be payable on Oct 21, 2015 for the financial year ending April 30, 2016. The ex-date is on Oct 6 while the entitlement date is Oct 8.
The group is primarily engaged in the distribution of Mazda vehicles in Malaysia and the Philippines; retailing of Mazda vehicles; and provision of after sales services for Mazda vehicles in Malaysia.
Berjaya Auto acknowledged its performance might be affected by regulations and policies governing the importation of completely built-up (CBU) vehicles and completely knocked-down (CKD) parts into Malaysia, as well as foreign exchange fluctuations; changes in consumer preferences and spending trend; unfavourable economic social and political conditions in countries where it operates or obtains its supplies of vehicles; and global market and credit market volatility.
In a statement, Berjaya Auto said the implementation of the goods and services tax (GST) in Malaysia on April 1 had also impacted its revenue as sales is now recorded net of GST.
The group pointed out that both its local and Philippines operations continued to record double-digit growth in sales volume of Mazda vehicles in 1QFY16.
SapuraKencana Petroleum Bhd and glove manufacturer Supermax Corp Bhd will be closely watched after Standard & Poor's (S&P) downgraded Brazil's credit rating to junk grade.
SapuraKencana offers support services to Brazil's national oil company Petroleo Brasileiro SA (Petrobras) while Supermax operates in Brazil via Supermax Brasil Importadora S/A.
In Malaysia, SapuraKencana shares declined as much as six sen or 3% to RM1.76 before the stock pared losses at RM1.80 at 3.45pm. The stock saw some 6.5 million shares changed hands.
Supermax had earlier fallen as much as three sen or 1.4% to RM2.05. At 3.46pm, the stock traded unchanged at RM2.08 with 438,500 units traded.
S&P downgraded Brazil after the South American economy fell into recession. Reuters reported that S&P downgraded Brazil's credit rating to junk grade on Wednesday, further hampering President Dilma Rousseff's efforts to regain investors' trust and pull Latin America's largest economy out of recession.
S&P cut Brazil's rating to BB-plus, the highest junk rating, from BBB-minus, based on the mounting political problems that have muddled economic policy.
Asian Pac Holdings Bhd's unit Taman Bestari Sdn Bhd (TBSB) is buying a 6.7-ha leasehold land in Papar Road, Papar District, Sabah, for RM21.8 million for a mixed development project.
In a filing with Bursa Malaysia, Asian Pac announced that TBSB had entered into a conditional sale and purchase agreement (SPA) to acquire the 99-year lease unencumbered land expiring on June 28, 2924 from vendor Lee Wat Lan.
"The proposed acquisition enables Asian Pac to continue undertaking property development in Sabah which is in line with our business plan to strengthen our visibility in East Malaysia," it said.
The proposed acquisition is expected to be completed in the fourth quarter for the financial year ending March 31, 2016.
The company also said it is in the preliminary stage of planning of a mixed development comprising commercial and landed residential units on the said land. It added that the total development cost and expected profits from the proposed project is being finalised.
TBSB is a wholly-owned subsidiary of AGB Properties Sdn Bhd, which is wholly-owned by Asian Pac.
IOI Corp Bhd is acquiring two oleochemical product manufacturing plants in Germany for RM433.3 million cash.
In a filing with Bursa Malaysia today, the plantation giant said the two oleochemical business' production facilities are located at Arthur-Imhausen-Strasse (Witten Plant) and Zur Hafenspitze (Wittenberge plant) in Germany.
IOI Corp got into the deal through its indirect wholly-owned subsidiary, Alstersee 217 VV GmbH (Alstersee). The latter had entered into a conditional asset purchase agreement (APA) with Cremer Oleo GmbH & Co KG (Cremer) yesterday for the proposed acquisition.
Under the agreement, Alstersee, which is to be renamed IOI Oleo GmbH, is to acquire Cremer's entire oleochemicals business for €89.4 million (RM433.3 million).
Focus Dynamics Technologies Bhd has proposed to reduce the par value of its shares by cancelling five sen out of the par value of every existing ordinary share of 10 sen each to pare down its accumulated losses.
According to its filing with the stock exchange today, Focus Dynamics' issued and paid-up share capital as at Sept 9, 2015 was RM70.55 million, with 705.5 million existing shares.
The sum is not inclusive of its outstanding warrants and employees' share option scheme (ESOS).
According to the energy-efficient electrical control products manufacturer, the proposed par value reduction will give rise to a credit of between RM35.28 million under the minimum scenario and RM67.41 million under the maximum scenario, which will be utilised to set off against the accumulated losses of the company.
It plans to eliminate its audited accumulated losses as at Dec 31, 2014 of RM5.41 million and unaudited accumulated losses (as at June 30, 2015) of approximately RM6.37 million, respectively via the proposed par value reduction.
The remaining balance after offsetting its accumulated losses will be credited to the capital reserves of the company and may be utilised as and when the board deems fit.
According to its six-month period unaudited consolidated statements ended June 30, 2015, the company will then be back to a net cash position of between RM28.91 million (minimum scenario) and RM61.04 million (maximum scenario).
The proposals are subject to its shareholders' approval at an extraordinary general meeting to be convened.
(Note: The Edge Research's fundamental score reflects a company's profitability and balance sheet strength, calculated based on historical numbers. The valuation score determines if a stock is attractively valued or not, also based on historical numbers. A score of 3 suggests strong fundamentals and attractive valuations.)