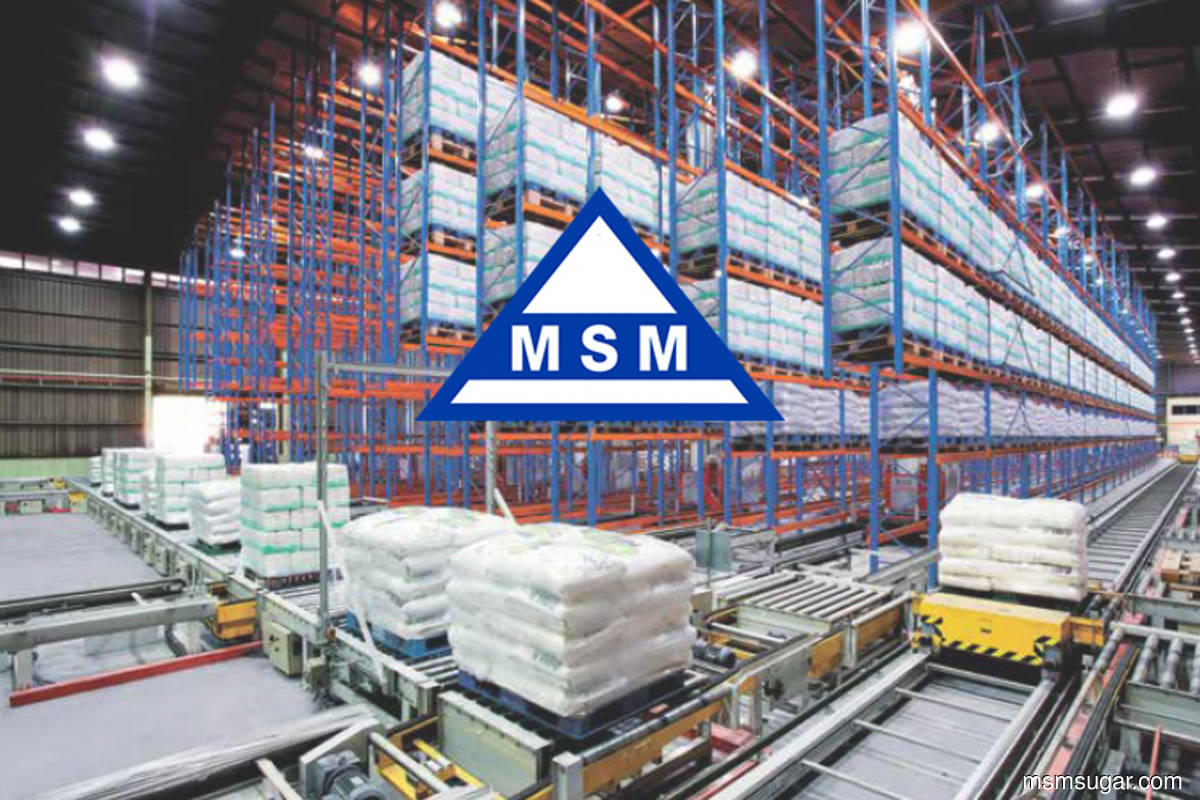 KUALA LUMPUR (May 20): MSM Malaysia Holdings Bhd has warned that the sugar producer's profit margins will be challenged as it anticipates a prolonged high cost environment due to higher expenses for raw sugar, shipping, fuel and as the company takes into account foreign exchange movements at a time when MSM continues to ensure food security for Malaysia.
In an emailed reply to enquiries by theedgemarkets.com on Friday (May 20), MSM group chief executive officer Syed Feizal Syed Mohammad said most countries have switched to looking inward to ensure food security regardless of commodities in times of crises and inflation.
Syed Feizal is also mindful of the situation in major sugar producer Brazil where any sugar shortage will put pressure on global markets, hence, causing a price increase for raw sugar, which MSM imports to produce white sugar. "About 70% of global sugar comes from Brazil and sugar millers are also faced with higher ethanol price parity opportunity due to high [crude] oil prices besides weather and lower crop quality of late," he said.
Syed Feizal also fielded reporters' questions at MSM's Hari Raya Aidilfitri celebration event here on Friday.
He said MSM is requesting the Malaysian government to review prices of sugar sold in the country due to the higher cost pressure faced by the industry.
According to him, sugar prices in Malaysia were last reviewed in 2011 during which the price increase for the commodity was only one sen a kilogramme.
Syed Feizal said the current selling price of sugar in Malaysia is RM2.85 a kilogramme.
"Our guarantee is for the country and the rakyat (people) but at the same time we also need to operate profitably. At least a 30% [sugar price] increase.
"[Nevertheless,] we are always in dialogue with the government so they understand the cost pressure [from] freight shipping, gas energy as well as on foreign exchange [movements].
"If based on the calculation of RM2.85 [a kilogramme], a 30% increase is around RM3.50 [a kilogramme] but we are not saying it will be that. So it is up to the government to decide but we provide cost justification," he said.
MSM's financials have improved. For the financial year ended Dec 31, 2021 (FY21), MSM's net profit stood at RM125.35 million compared with a net loss of RM71.23 million a year earlier, according to MSM's Bursa Malaysia filing on Feb 22, 2022.
MSM said FY21 revenue rose to RM2.26 billion from RM2.18 billion a year earlier.
At 5pm on Friday (May 20, 2022), MSM's share price finished down 0.5 sen or 0.55% at 90 sen, which brings the company's market value to about RM632.68 million.
MSM has 702.98 million outstanding shares, according to the company's latest annual report.
Plantation company FGV Holdings Bhd owns a collective direct and indirect 51% stake in MSM, according to MSM's annual report.