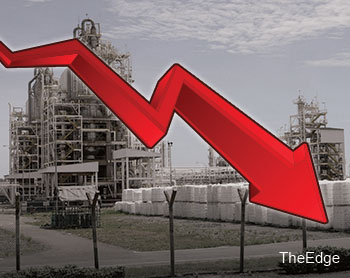 KUALA LUMPUR (Nov 14): TA Securities Holdings Bhd downgraded its recommendation for the Malaysian oil and gas (O&G) sector and lowered its target prices (TP) for shares of companies under its coverage.
In a report today, TA said it downgraded its recommendation for the O&G sector to "neutral" from "overweight". TA said this was due to risks of capital expenditure (capex) slowdown and project delays on the back of crude oil price uncertainty.
TA noted that new project launches had been few and far in between. This has prompted TA's concern that national oil company Petroliam Nasional Bhd's RM300 billion capex program would be backloaded or stretched over an extended period.
"Given uncertain oil prices, we prefer to be selective with preference for O&G players with shallow water exposure, long-term contracts, and big caps with robust balance sheet," TA said.
TA has owered its TPs for O&G stocks under its radar. These include SapuraKencana Petroleum Bhd, UMW Oil & Gas Corp Bhd (UMWOG), Perisai Petroleum Teknologi Bhd and Pantech Group Holdings Bhd.
TA cut its TP for SapuraKencana to RM4.30 from RM5.71 and downgraded its fair value (FV) for UMWOG to RM3.66 from RM4.82.
Perisai saw its TP downgraded to 96 sen from RM1.15 while Pantech's FV was cut to RM1.10 from RM1.32.
 
TA, however, retained its "buy" calls on SapuraKencana, UMWOG, Perisai and Pantech.
"We expect earnings and orderbooks of these companies to be resilient despite lower oil prices," TA said.