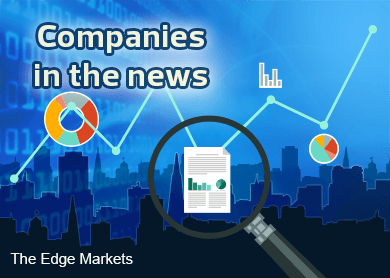 KUALA LUMPUR (June 18): Based on corporate announcements and news flow today, companies in focus tomorrow (Friday, June 19) are Tenaga Nasional, Tropicana Corp, Berjaya Sports Toto (BToto), Felda Global Venture (FGV), Kossan Rubber Industries and Lysaght Galvanised Steel.
Tenaga Nasional Bhd, which share price had taken a beating today, is expected to be in the limelight on news the utility group would take over a power plant project, called Project 3B, from 1Malaysia Development Bhd (1MDB).
Energy, Green Technology and Water Minister Datuk Seri Maximus Ongkili said the Cabinet gave its nod for Tenaga Nasional Bhd (TNB) to take over 1Malaysia Development Bhd's (1MDB) Project 3B — a 2,000-megawatt (MW) coal-fired power plant in Jimah, Negri Sembilan — for an undisclosed sum.
Ongkili said the Cabinet gave its approval to TNB's takeover deal, after the national utility expressed its interest, and "having considered all factors".
"We could have gone for an open bidding, (but) because the project has been delayed, it needs to be given priority," he told reporters at Parliament lobby today.
However, Tenaga (fundamental: 1.3; valuation: 1.8) said it has yet to receive any official notification from the government, in relation to the takeover.
Tenaga said it remains committed in maximising its shareholders' value by seeking business opportunities with strong commercial sense and in doing so, shall comply with the applicable laws, rules and regulations, as well as upholding the highest standard of corporate governance.
Tycoon Tan Sri Danny Tan Chee Sing, the founder and group executive vice chairman of Tropicana Corp Bhd, is stepping down from his role effective today.
Tan will pass on the reins to his son Datuk Dickson Tan, who is the deputy group chief executive officer (CEO); and group chief executive officer (CEO) Datuk Yau Kok Seng, who will be in charge of day-to-day operations.
Under Tan's guidance, Tropicana has made its place among the top 10 property developers in Malaysia, with a record revenue of close to RM2 billion and total assets of over RM7.2 billion as at FY14.
Tan, the controlling shareholder of Tropicana, said both Dickson and Yau have been instrumental in formulating and leading the transformation journey of the group. He said together with the other board members and senior management team, he has "full confidence" they can effectively lead Tropicana.
Meanwhile, the group has streamlined its board, which will see four out of 10 directors in Tropicana becoming independent non-executive directors.
The streamlining sees Tan's daughter Diana Tan Sheik Ni stepping down as the group's executive director, while Datuk Francis Ng Tian Sang and Datuk Seri Panglima Mohd Annuar Zaini have also retired as independent non-executive directors of Tropicana.
Meanwhile, the group has appointed Datuk Seri Mohamad Norza Zakaria as independent non-executive deputy chairman of Tropicana.
Dion Tan Yong Chien, the third son of Tan, has been appointed as executive director. Datuk Larry Gan Nyap Liou will assume the role of senior independent non-executive director of Tropicana.
Berjaya Sports Toto Bhd (BToto) saw its net profit jump 11.8% to RM77.51 million or 5.77 sen a share for its fourth financial quarter ended April 30, 2015 (4QFY15), from RM65.36 million or 5.25 sen a share a year ago, on higher contributions from its principal subsidiary, Sports Toto Malaysia Sdn Bhd and its UK-based luxury car arm, H.R. Owen Plc.
Revenue also rose 7.6% to RM1.46 billion, from RM1.36 billion in 4QFY15.
In a filing with Bursa Malaysia, the number forecast operator said Sports Toto reported a 13.6% increase in pre-tax profit in 4QFY15, despite a drop in revenue of 4.1%, mainly due to lower prize payouts.
H.R. Owen also registered improved pre-tax profit and revenue of 8.5% and 31.5% respectively, thanks to higher new car sales resulting from launches of new models by few manufacturers, as well as higher used car sales in 4QFY15.
BToto also declared a fourth interim dividend of 5 sen per share, amounting to RM67.2 million, payable on Aug 6, 2015.
For full year FY15, BToto's net profit rose 9.6% to RM360.15 million or 26.75 sen share, from RM328.71 million or 24.66 sen a share in FY14, mainly due to the refund of the RM18 million stamp duty paid pursuant to the rescission of the share purchase agreement, which resulted from the aborted listing of Sports Toto Malaysia Trust on the Singapore Exchange.
Revenue for FY15 grew 21.8% to RM5.29 billion, from RM4.34 billion in FY14, mainly due to the consolidation of H.R. Owen's 12-month results in the current year versus six-month results consolidated in the previous financial year.
The Employees Provident Fund (EPF) sold some shares in Felda Global Venture Bhd (FGV) after the latter's proposed stake buy in Indonesia's PT Eagle High Plantation Tbk for US$680 million — a price that the provident fund finds too steep.
A filing with Bursa Malaysia showed EPF sold some 8.2 million shares, about 0.22% stake, in FGV (fundamental: 1.15; valuation: 2.0) on June 15. The provident fund has ceased to be substantial shareholder, after the share sales.
The transaction price was not disclosed in the filing.
The proposal to buy a 37% equity stake in Eagle High had sent FGV share price to record low of RM1.65 on Monday (June 15), as analysts commented the plantation group had overpaid for the non-controlling stake.
Kossan Rubber Industries Bhd has earmarked RM600 million for capital expenditure (capex) in the next five years. A significant portion of the capex will finance construction of new factories to double the rubber glove manufacturer's output capacity.
According to Kossan's (fundamental score: 2.1; valuation: 0.5) managing director Datuk Lim Kuang Sia, the group currently runs 15 plants at an 85% utilisation rate. These factories can collectively produce 22 billion pieces of gloves a year.
"Our expansion plans for next five years include organic growth, through the construction of new plants, but our main focus will be on technology and quality of our products, which will be the driver towards doubling our production capacity within the next five years," Lim told reporters after the company's annual general meeting here today.
Hence, automation will form a crucial component of Kossan's holistic growth plans to improve the quality of its operations.
Lim said approximately RM50 million of the capex allocation would go towards automation.
The High Court of Kuala Lumpur has ordered Lysaght Galvanised Steel Bhd to adjourn the re-election of its directors and election of its new directors, slated to be held at the company's annual general meeting (AGM) next Monday (June 22), to June 30.
In a filing with Bursa Malaysia, Lysaght (fundamental: ; valuation: ) said it has received a court order that the chairman of the company's 36th AGM declared the re-election of Lysaght managing director Liew Hoi Foo and four directors be adjourned "with immediate effect" to June 30, at a time and place to be determined by Lysaght.
Liew and the four directors — Datuk Hamzah Hasan, Datuk Wan Razali Wan Muda, Aik Siaw Kong and Wee Kee Hong — are slated for retirement.
The court had also ordered the eligible candidates proposed by two shareholders for Chua Tia Bon, board member of holding company Lysaght (Malaysia) Sdn Bhd and Ee Beng Guan, former head of legal department at Lion Group, vying for director positions in the elections to also be held at the adjourned AGM.
The court had declared that Lysaght will be able to proceed with the Proposed Ordinary Resolutions 1, 2 and 8 contained in the AGM notice, as planned.
(Note: The Edge Research's fundamental score reflects a company's profitability and balance sheet strength, calculated based on historical numbers. The valuation score determines if a stock is attractively valued or not, also based on historical numbers. A score of 3 suggests strong fundamentals and attractive valuations.)