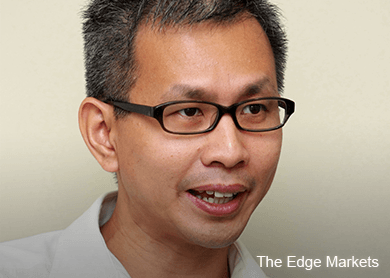 KUALA LUMPUR (Jan 20): DAP has slammed Prime Minister Datuk Seri Najib Razak for not tabling the budget revisions in the Parliament today, but in an event where the Pakatan Rakyat members of Parliaments were shut out.
"Instead of being answerable to the Parliament, Datuk Seri Najib Razak made the announcement in a hall of invited guests comprising of diplomats, the business community, non-governmental organisations as well as the members of Parliament from Barisan Nasional. The Pakatan Rakyat members of Parliament were completely ignored on such an important government decision," said Tony Pua, DAP National Publicity Secretary, in a statement.
According to Pua, the decision by the Prime Minister leaves the members of Parliament with no avenue to debate and decide on the changes made by the Prime Minister on the Budget which the Parliament has earlier approved.
"It also only proved the BN government's utter contempt and disdain for the Parliamentary institution, whose sole role to them is to rubber stamp the decisions of the dictatorial executive," Pua said.
The outspoken MP also said Najib has taken "the easy way out" by deflecting the economic situation squarely on external factors such as falling crude oil prices and its consequent impact on the ringgit, which were beyond the government's control.
While saying that the Prime Minister was spot on to emphasise and prioritise an "orderly financial market" as well as the need for the return of a stable currency, Pua stated that Najib "had failed to address the local and international financial communities' concern over the RM42 billion debt load of 1Malaysia Development Bhd (1MDB)". 
"The failure of the troubled investment firm to repay a RM2 billion loan in November 2014 has also hit 1MDB's bonds and fuelled investors' concerns about Malaysia's economy," Pua said.
In addition, according to Pua, the Prime Minister also failed to highlight the fact that the federal government's rising debt amounting to RM569 billion was substantially held by foreigners. 
As at June 30, 2014, foreigners held 30.3% of the ringgit and US Dollar denominated bonds and securities issued by the government, making Malaysia highly susceptible to global financial fluctuations and instability, he added.
"The persistent selling of foreign holdings of both our government and private sector debt has been one of the key causes of the sharp decline of the Ringgit over the past 60 days," he said.
The ringgit which depreciated more than 12% to RM3.59 to US$1 from RM3.20 was the worst hit of Southeast Asian currencies over the past six months. This afternoon, the ringgit fell as much as 0.9% to 3.6030 per dollar, its weakest since April 2009.
"The ominous omission of 1MDB's debt crisis from his speech will certainly not lend any confidence to the financial markets on the government's ability to ensure an 'orderly financial market', meet its revised budget commitments and the 3.2% deficit target," Pua concluded.