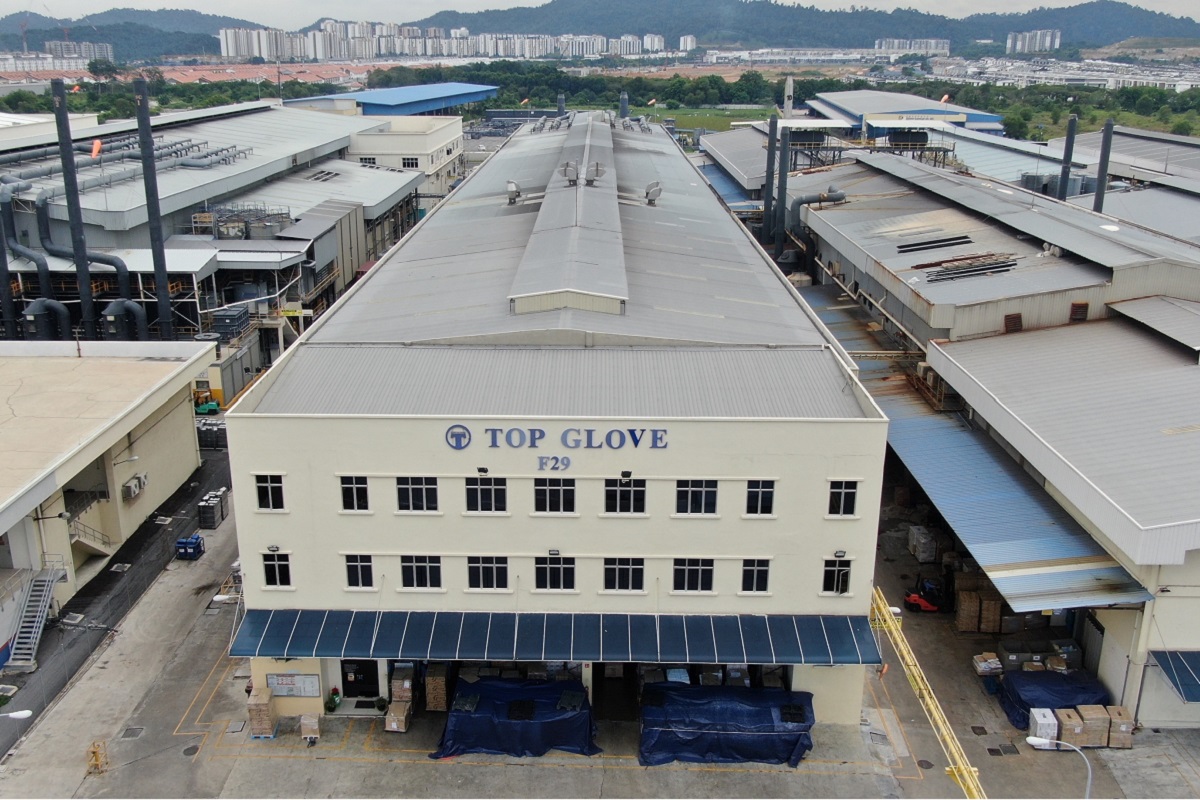 KUALA LUMPUR (Sept 20): Top Glove Corp Bhd shares lost their footing today, falling as much as 26 sen or 8.5% to RM2.80 — the lowest level since May last year — following target price (TP) cuts and rating downgrades against a backdrop of earnings that missed expectations. The stock eventually gained one sen to close at RM2.81, but still down 25 sen or 8.17% from last Friday's close of RM3.06.
Analysts covering the counter have downgraded their earnings forecasts for Top Glove as they expect glove average selling prices (ASPs) to drop further, affected by factors such as normalised demand due to increasing vaccination roll-outs around the globe and rising Chinese competition, which will weigh on the group's ASPs.
CGS-CIMB Research downgraded its TP for the stock to RM3 from RM3.48 previously, and said Top Glove's final core net profit of RM7.8 billion for the full financial year ended Aug 31, 2021 (FY21) missed estimates due to a lower-than-expected sales volume, owing to lower production output during the enhanced and full movement control orders (MCOs).
"Going forward, we expect Top Glove to continue posting weaker quarter-on-quarter (q-o-q) results due to weaker ASPs from incoming new global glove supply and slower customer buying patterns.
"According to Top Glove, its September 2021 ASP (per 1,000 pieces) is US$40 (about RM167.70) to US$45 for nitrile (the fourth quarter ended Aug 31, 2021 or 4QFY21: US$58) and US$35 to US$40 for natural latex (4QFY21: US$42). It expects ASPs to continue to decline by 8% to 10% monthly up until January 2022," it said.  
In light of the downtrend in glove ASPs, the research firm cut its earnings per share (EPS) forecasts for the glove maker by 22.6% for FY22, 18.2% for FY23 and 7.7% for FY24. It previously projected for ASPs to drop to US$32 in FY22, US$29 in FY23 and US$28 in FY24.  
Despite weaker earnings prospects, the research house maintained its "hold" call for Top Glove as it opined that the group's current valuations will be supported by inelastic global glove demand, its position as the largest global glove maker and its strong fundamentals (total cash and investment securities of RM2 billion at end-4QFY21).
Similarly, AmInvestment Bank Research — which lowered its fair value (FV) to RM3.10 from RM3.77 previously — also reduced its FY22 and FY23 earnings estimates by 34% and 10% to reach RM1.86 billion and RM1.37 billion respectively due to a reduction in ASP assumptions. Its assumptions for blended gloves ASPs are US$26.20 for FY22 and US$23.90 for FY23, down from projections of US$30.50 and US$25.60 previously.
AmInvestment Bank Research also expects the downtrend in glove ASPs to continue in 1QFY22 but stabilise in 2QFY22.
On a positive note, the research firm said it expects the group's sales volume to improve in 1QFY22 as the company has been allowed to resume exporting its gloves to the US effective Sept 10.
Nonetheless, it maintained its "hold" recommendation for Top Glove to reflect its improved environmental, social and governance (ESG) outlook and strong net cash position of RM2.05 billion or 26 sen per share.
Lowest TP at RM1.68 from Maybank IB
Maybank Investment Bank (IB) Research had the most bearish view on Top Glove among the research houses covering the counter, slashing its TP to RM1.68, down from RM3.98 previously. It now has a "sell" call on the stock versus "hold" previously.
"We lower our FY22/FY23 earnings forecasts by 75%/53% to factor in lower blended ASPs by -46%/-35% for FY22/23. We now assume FY22/FY23/FY24 ASPs of US$25.5/US$21.4/US$21.4 per 1,000 pieces and a lower number of shares of 8,207 million (-7%) after the suspension of its Hong Kong listing," it noted.
Maybank IB Research forecast a lower core net profit of RM1.26 billion for FY22 and RM1.02 billion for FY23 — significantly lower compared to the cumulative 12-month net profit of RM7.87 billion for FY21.
It also projected for the group to deliver full-year revenue of RM8.66 billion and RM9.36 billion for FY22 and FY23.
Other research firms that have downgraded their TPs include Kenanga Research (which lowered its TP to RM3.60 from RM3.06 while maintaining its "outperform" call) and MIDF Research (which reduced its TP to RM3.23 from RM4.55 previously, while maintaining its "neutral" call).
Last Friday, Top Glove said its net profit slumped 70.14% to RM607.95 million for 4QFY21, compared with RM2.04 billion for the immediate preceding quarter. Revenue almost halved to RM2.12 billion from RM4.16 billion for 3QFY21.
Both earnings and its top line also dropped on a year-on-year (y-o-y) basis. Net profit plunged 48.37% from RM1.18 billion for 4QFY20, while revenue declined 31.95% from RM3.11 billion.
Full-year net profit for FY21 surged 349.1% to RM7.87 billion from RM1.75 billion for FY20. Revenue more than doubled to RM16.41 billion, compared with RM7.24 billion previously.
S Kanagaraju & Surin Murugiah