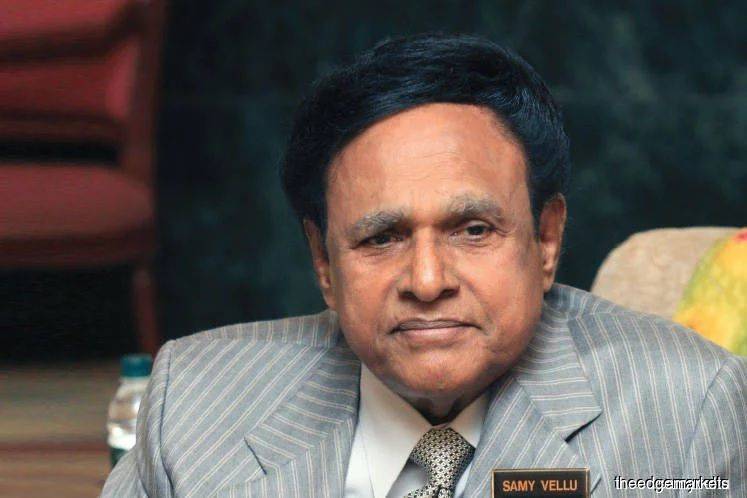 IPOH (Aug 14): The High Court here has today allowed Datuk Seri S Vell Paari's application for a stay of proceedings of a suit filed by a 'companion' of his father Tun S Samy Vellu, pending the disposal of his application to ascertain the mental health of his father.
The decision was made by Justice Datuk Hashim Hamzah today, Vell Paari's counsel David Matthews confirmed to theedgemarkets.com today.
Justice Hashim also fixed Oct 22 for case management.
Matthews appeared with Cheryl Choong, while Datuk Prem Ramachandran appeared for Samy Vellu.
Meanwhile, lawyers Ramesh Sivakumar and Jelutong MP and lawyer RSN Rayer came for Meeriam Rosaline Edward Paul, who is the 'companion' of Samy Vellu.
According to Matthews, the court also refused an oral application from Meeriam seeking interim access to the 82-year-old.
Last December, theedgemarkets.com reported that Meeriam, 60, filed a suit at the High Court there to declare that she has been in a quasi-spousal union with the former works minister and engaged in an ala-matrimonial relationship since Aug 23, 1981.
She is also seeking unpaid living costs from the former MIC president and Vell Paari amounting to RM191,107.35, which she claimed is owed to her when she was cut off from July 2018.
She also sought a High Court order to allow her to see Samy Vellu and a one-off payment of RM20 million as lifetime living costs, besides a monthly stipend of RM25,000.
Besides this, the former nurse is also seeking a declaration that she was cared for and supported by Samy Vellu for almost 40 years, an injunction against Vell Paari or his agents not to prevent her from seeing the former minister and another injunction to prevent Vell Paari from controlling his father's finances.
Meanwhile, Vell Paari had filed an originating summons at the KL High Court last December wanting the court to conduct an inquiry under Section 52 of the Mental Health Act, to determine his father's mental health and capability to manage his own finances.
Following Vell Paari's summons, Meeriam had applied to intervene in the KL case.
Read also:
Lawyers question Samy Vellu's mental fitness report
Samy Vellu's mistress says want to intervene in mental health case
Samy Vellu's 'mistress' seeks RM20m, declaration over 'union'
Mental check on Samy Vellu