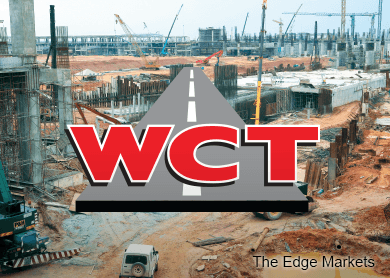 PETALING JAYA (Jan 23): WCT Holdings Bhd's plans to set up its first real estate investment trust (REIT) will likely take another year to realise, said its executive director Wong Yik Kae.
"Depending on market conditions, we have to find the right timing in order to launch the REIT," he told reporters after a signing ceremony to mark the appointment of New World Hotels & Resorts to manage its soon-to-be-completed hotel dubbed "New World Hotel Petaling Jaya" here today.
The hotel is part of WCT's RM1.8 billion Paradigm Integrated Commercial Development here.
Wong said the process could take up to another year or so to finalise.
"The plans are still in the very initial stage, but it is something that we're definitely looking into," he added.
The property developer had in February last year said that it wanted to have at least four shopping malls and two hotels in its portfolio by the first quarter of 2018, as it explores the possibility of setting up its first REIT to raise recurring income.
According to a note by Kenanga Research in November last year, the assets to be injected into the REIT would include the Bandar Bukit Tinggi Shopping Mall in Klang, the Paradigm Mall here and the Gateway Mall at klia2 in Sepang. The three properties are said to have an estimated property value of more than RM2 billion.
On the group's tenderbook this year, Wong said it is targeting jobs worth RM1 billion from Malaysia and RM1 billion from the Middle East.
"As a construction company, we're tendering on a periodic basis to secure new projects. When we secure any projects, we will make the (necessary) announcement," he said.
Wong is confident that the group's presence of over 12 years in the Middle East places it in good stead to secure more jobs.
On the domestic construction market, Wong said WCT might still be able to capitalise on the sub-contracting jobs in the country.
"The expenditure in terms of development by the government has not stopped and we can still be a sub-contractor to a bigger project. It does not mean that WCT has to be the main contractor all the time," he said.
Wong said the group is also looking to further diversify into the property investment and property management areas.
"The property investment and management expansion is one of our diversifications from core business and construction. The business should contribute about 15% to our bottomline in the near future," he said.
Wong added that WCT is looking to expand its property business into the northern region particularly Penang, although "deluxe" prices on the island have proved to be a barrier for the time being.