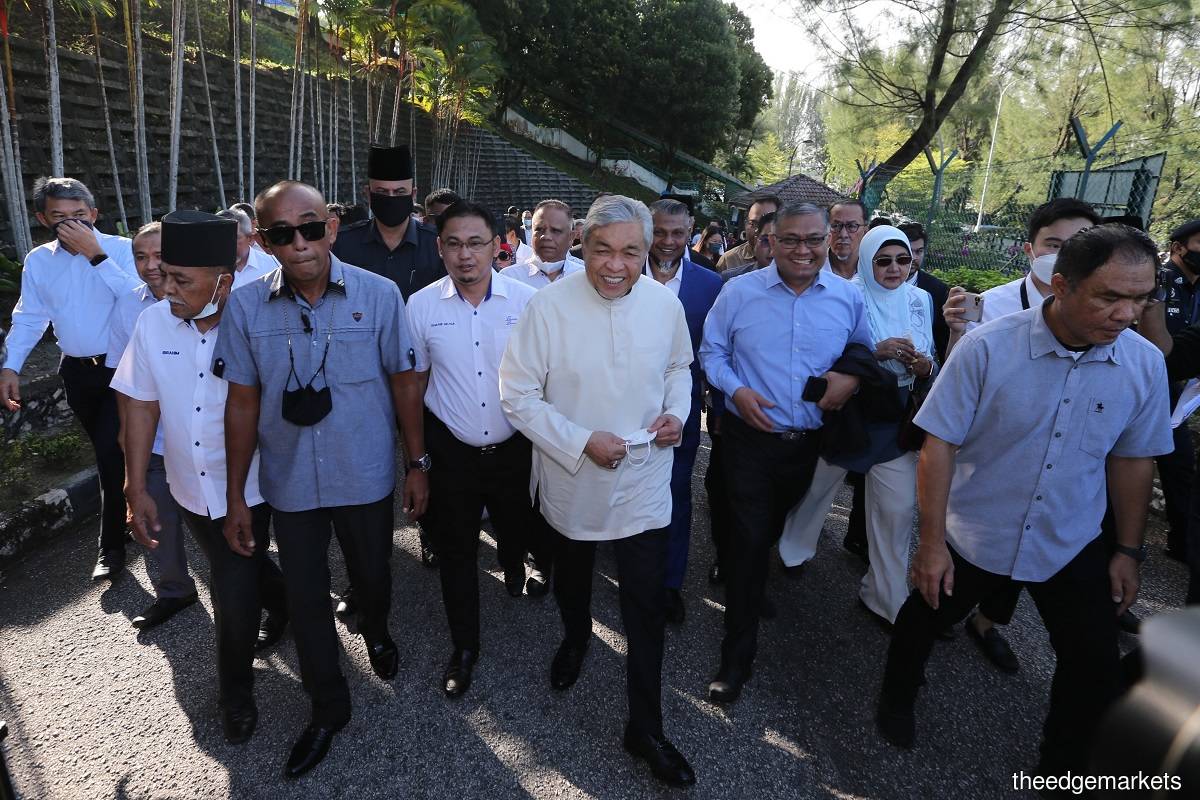 SHAH ALAM (Sept 23):Former deputy prime minister Datuk Seri Dr Ahmad Zahid Hamidi said that as a result of the 40 charges that he had been acquitted of, he had been "diaibkan, dimalukan dan ditelanjangkan" (humiliated and stripped) in the court of public opinion.
However, Zahid said he thanked God because on this holy Friday, the public could see that he had been acquitted and vindicated, which showed that the rule of law had been upheld in his case.
"I faced this challenge steadfastly as Barisan Nasional chairman. This showed the success of Umno and BN's struggle.
"I have been humiliated, shamed and placed in a state of undress and convicted in the court of public opinion. However, the rule of law had been upheld in this case (as I am acquitted)," he added after the decision.
Zahid, who is also Umno president, thanked each of his lawyers, led by Datuk Hisyam Teh Poh Teik, Datuk Ahmad Zaidi Zainal, and Hamidi Mohd Noh, who had acted professionally in the matter.
He further thanked his family members and the supporters who had come and followed him in court.
"I know who my true friends are," he said, adding that he also thanked the media for the fair coverage of him throughout the trial.
Also present with Zahid were Umno deputy president Datuk Mohamad Hasan, who is Rantau assemblyman, Umno secretary general Datuk Ahmad Maslan and former Selangor menteri besar Dr Mohd Khir Toyo.
Earlier, High Court judge Datuk Mohd Yazid Mustafa had acquitted Zahid of all 40 graft charges either under Section 16(a)(B) of the Malaysian Anti-Corruption Commission Act or Section 165 of the Penal Code.
He ruled that the prosecution had failed to prove a prima facie case, or a case for Zahid to answer based on the 40 charges due to questionable credibility and reliability of three crown witnesses, namely former Ultra Kirana Sdn Bhd (UKSB) directors Harry Lee Vui Khiun and Wan Quoris Shah Wan Abdul Ghani and former administrative manager David Tan Siong Sun.
Zahid was charged with 33 counts of graft for allegedly receiving S$13.56 million (RM43.39 million) from UKSB to facilitate the company's foreign visa system (VLN) and one-stop services (OSC) in China. These charges are under Section 16AB of the MACC Act.
He was also on trial for seven other bribery charges in his capacity as home affairs minister then, being alleged to have obtained for himself bribes denominated in different currencies comprising S$1.15 million, RM3 million, €15,000 (RM67,032) and US$15,000 (RM67,548) from UKSB under Section 165 of the Penal Code.
The purported offences took place at the Deputy Prime Minister's official residence, the Seri Satria in Putrajaya, and his private residence in Country Heights between October 2014 and March 2018.
Read also:
Zahid acquitted of all charges in VLN case 
C4 Center unconvinced at the government's anti-corruption commitment following Zahid's acquittal