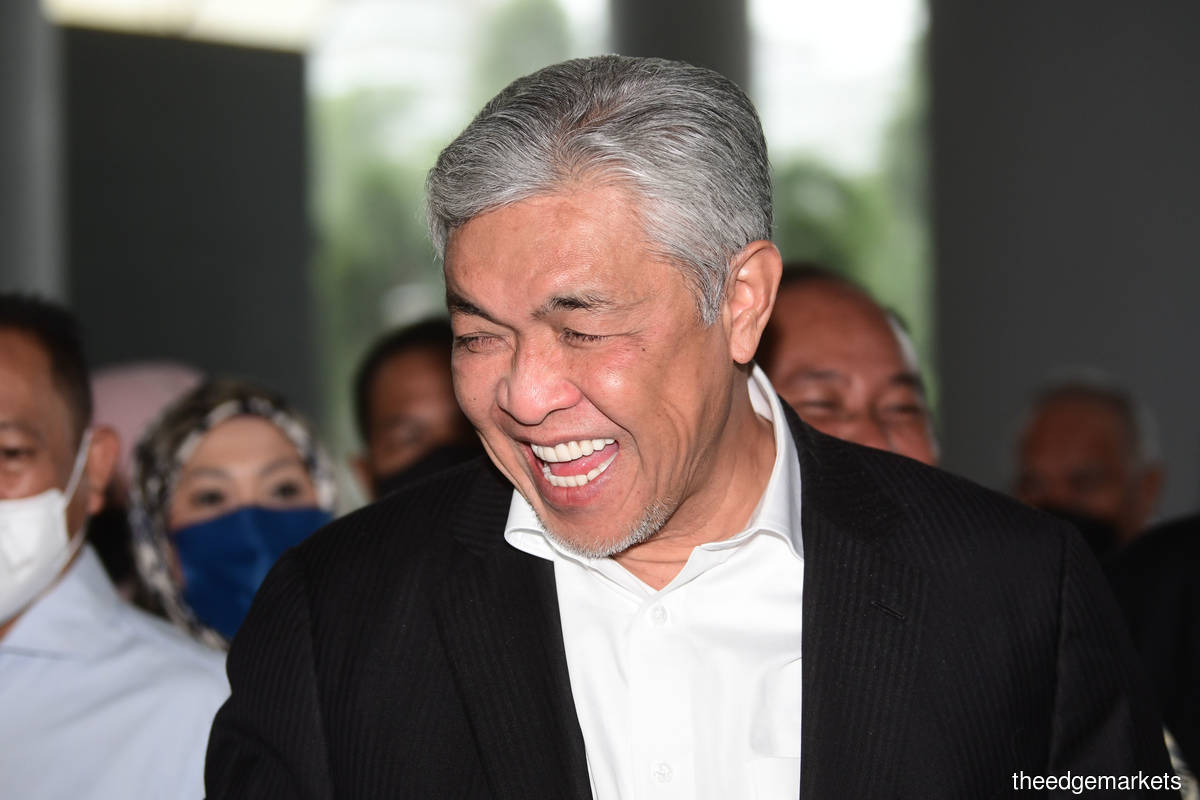 SHAH ALAM (Sept 22): After finishing testifying in his defence in the Kuala Lumpur High Court to his 47 criminal breach of trust, money laundering and graft charges last Aug 30, former deputy prime minister Datuk Seri Dr Ahmad Zahid Hamidi will know on Friday (Sept 23) whether he would be called to enter his defence or be acquitted of another 40 graft charges.
This second trial the Umno president is facing is with regard to purported graft in receiving monies in foreign currency over the one-stop centre and foreign visa system that was awarded, and then the extension of the contract to Ultra Kirana Sdn Bhd (UKSB).
Judge Datuk Mohd Yazid Mustafa fixed the date, after hearing submissions from Zahid's defence team led by Datuk Hisyam Teh Poh Teik, Datuk Ahmad Zaidi Zainal and Hamidi Md Noh, with the prosecution led by deputy public prosecutors Datuk Raja Rozela Raja Toran, Datuk Wan Shaharuddin Wan Ladin, Abdul Malik Ayob and Zander Lim Wai Keong.
Should Zahid be ordered to enter his defence, like in his first case, he has three options.
Firstly, he can choose to testify on the witness stand, where he could be cross-examined by the prosecution. Secondly, he can testify from the accused dock, where he would not be cross-examined. Finally, he can choose to keep silent.
Should he be acquitted of all of his charges, he would remain free of the 40 charges unless the prosecution files an appeal within 14 days of the decision, which would have to be heard in the Court of Appeal.
In deciding whether to call his defence to be entered, Yazid must decide whether the prosecution has a prima facie case or, in other words, Zahid has a case to answer in rebutting the charges or allegations made against him.
A total of 18 prosecution witnesses have testified in the trial, and among them were former senior officers of the Home Ministry where Zahid was the minister, like former secretary-general Tan Sri Alwi Ibrahim, and UKSB witnesses, namely former directors Harry Lee Vui Khiun and Wan Quoris Shah Wan Abdul Ghani and former administrative manager David Tan Siong Sun.
Zahid is facing 33 counts of allegedly receiving S$13.56 million (RM43.39 million) from UKSB to facilitate the company's one-stop centre and foreign visa system in China.
He is also on trial for seven other bribery charges in his capacity as the home minister then, being alleged to have obtained for himself bribes denominated in different currencies comprising S$1.15 million, RM3 million, €15,000 (RM67,032) and US$15,000 (RM67,548) from UKSB.
The purported offences took place at the former deputy prime minister's official residence, the Sri Satria in Putrajaya, and his private residence in Country Heights, Kajang between October 2014 and March 2018.
Read also:
Court allows prosecution to begin impeachment proceedings against Zahid's witness
Zahid to know on Sept 23 whether defence will be called in second graft case