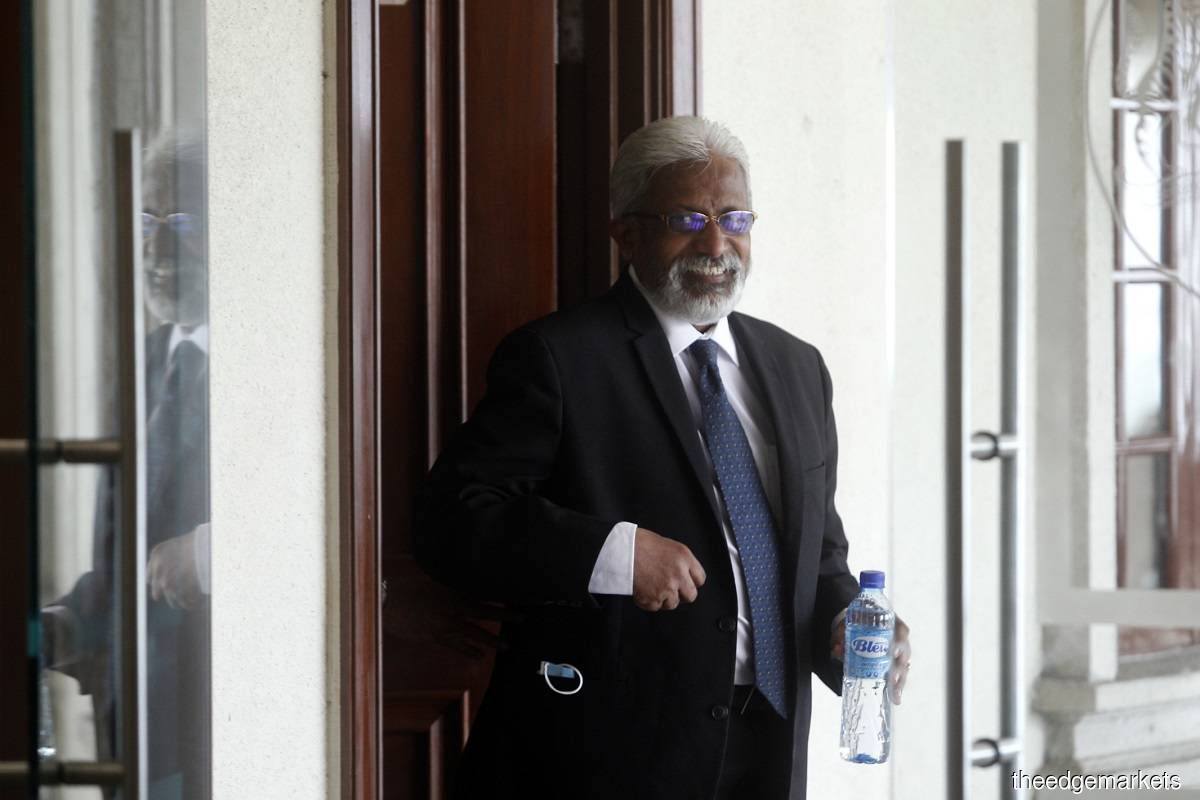 KUALA LUMPUR (Aug 12): Former deputy prime minister Datuk Seri Dr Ahmad Zahid Hamidi handed over 92 cheques totalling more than RM76 million to Yayasan Al-Falah from 2016 to 2018 via law firm Lewis & Co, despite not being a trustee to the foundation, a partner with the law firm confirmed in court today.
Testifying in Ahmad Zahid's corruption trial in which he is also being accused of money laundering, lawyer Muralidharan Balan Pillai said the account was opened at a bank's branch in Bangsar for running of Yayasan Al-Falah in 2016.
Muralidharan said these cheques received were handed over to his clerk (who also is a witness in the trial) to be banked into the account of their client Yayasan Al-Falah, on Zahid's instruction.
"Zahid was not our client, only Yayasan Al-Falah was. He sent cheques on a staggered basis to our firm," the witness testified before Justice Collin Lawrence Sequerah.
Muralidharan was being examined by deputy public prosecutor Datuk Raja Rozela Raja Toran on the 92 cheques given to him by Ahmad Zahid that were issued by various companies and individuals. Muralidharan said he had never had any dealings with the owners of the cheques and that all those cheques were given to him by Ahmad Zahid between May 20, 2016 and April 9, 2018.
"These cheques were all handed to me by Datuk Seri Zahid," he said.
He also said some of the cheques were given to him by hand at Ahmad Zahid's home or office, while some were sent to the law firm's office.
He said Ahmad Zahid had told him that the money from these cheques was to be used to build a mosque and a religious school in his constituency in Bagan Datuk, Perak.
"In particular, [money from] the cheques was for the construction of a mosque and a tahfiz school in Bagan Datuk — this was a religious charity purpose. I was instructed to put these cheques in a fixed deposit so that interest can be earned. They were also to be placed under Yayasan Al-Falah," Muralidharan said.
Notwithstanding that he was taking instructions from Ahmad Zahid about the funds of Yayasan Al-Falah, Muralidharan admitted in court that Ahmad Zahid was not a trustee of the foundation.
It was Ahmad Zahid's brother, Datuk Seri Mohammad Nasaee Ahmad Tarmizi, who is both chairman and trustee of the foundation.
To Raja Rozela's question on whether he had ever received instructions from Yayasan Al-Falah and Ahmad Zahid's brother, Muralidharan said no.
"It (the instructions) came from Datuk Seri Zahid, but his brother Datuk Seri Nasaee was aware of it," he said.
He said that instructions of the handling of the RM76 million also came directly from Ahmad Zahid and no one else.
Surprisingly, Muralidharan also admitted that none of these 92 cheques were made payable to Yayasan Al-Falah, but they were recorded under Yayasan Al-Falah's file as per Ahmad Zahid's instructions.
As for Yayasan Akalbudi, widely known as Ahmad Zahid's organisation for which he is the sole trustee, Muralidharan agreed that the law firm was not on the board of trustees for the organisation.
Yesterday, another partner of the law firm, Premshangar Venugopal, testified that the law firm had never been a trustee for Yayasan Akalbudi.
Ahmad Zahid, 67, is facing 47 charges — 12 for criminal breach of trust, eight for corruption and 27 for money laundering — involving tens of millions of ringgit of funds belonging to Yayasan Akalbudi.
The trial resumes tomorrow.