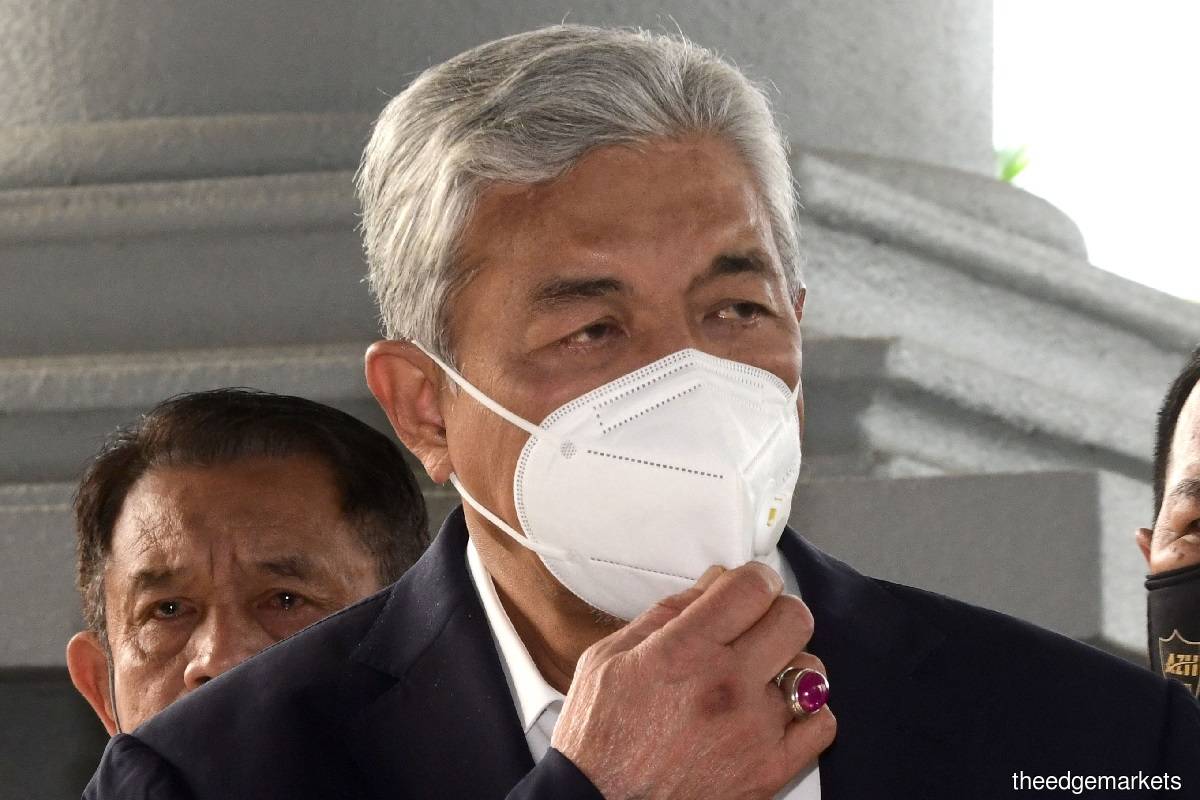 KUALA LUMPUR (Sept 20): The testimony of former deputy prime minister Datuk Seri Dr Ahmad Zahid Hamidi's press secretary is relevant and should be admitted as evidence in its entirety as otherwise it will deny the Umno president of his right to a fair trial, the High Court heard on Tuesday (Sept 20).
Zahid's lawyer, Hisyam Teh Poh Teik, submitted that Maj Gen (Rtd) Datuk Fadzlette Othman Merican Idris Merican's testimony, which is in the form of a written witness statement, is important as it would challenge the credibility of the prosecution's key witness and former executive secretary to Zahid, Major Mazlina Mazlan @ Ramly.
The prosecution in Zahid's corruption trial, led by Datuk Raja Rozela Raja Toran, made an application on Monday (Sept 19) to object to certain passages in Fadzlette's witness statement.
Raja Rozela said the paragraphs were "irrelevant" to Zahid's charges and should not be accepted by the court as evidence.
It was also "inadmissible because of collateral facts", she added.
Hisyam, however, argued on Tuesday that some of paragraphs in question are part of the narrative and are relevant to his client's defence.
He also said that Fadzlette's witness statement will show that Mazlina was "biased".
"She could not be objective, and strong inference can be made that she can't give testimony in a truthful manner," he submitted.
Hisyam said it will breach Zahid's right to a fair trial under Article 5 of the Federal Constitution if the paragraphs in question are removed.
However, Raja Rozela said Mazlina's credibility had been questioned when she was put on the stand as a prosecution witness and the defence had cross-examined her.
"They (the defence) cannot challenge her credibility because she was cross-examined and she answered and that should be sufficient for your lordship to decide if she's credible. And the buck stops there," she said.
After hearing submissions from both sides, judge Datuk Collin Lawrence Sequerah said he will give his decision on the matter at 11am on Wednesday (Sept 21).
Zahid, 69, is facing 47 charges, comprising 12 for criminal breach of trust (CBT), eight for corruption and 27 for money laundering, involving RM31 million of Yayasan Akalbudi funds.
On the 12 counts of CBT, Zahid is alleged to have used the funds to make payments for personal credit cards, insurance policies and licences for his personal vehicles, remittances to a law firm and contributions to the Royal Malaysian Police's football association.
The charges, under Section 409 of the Penal Code, each carries a maximum of 20 years in jail, whipping and fine.