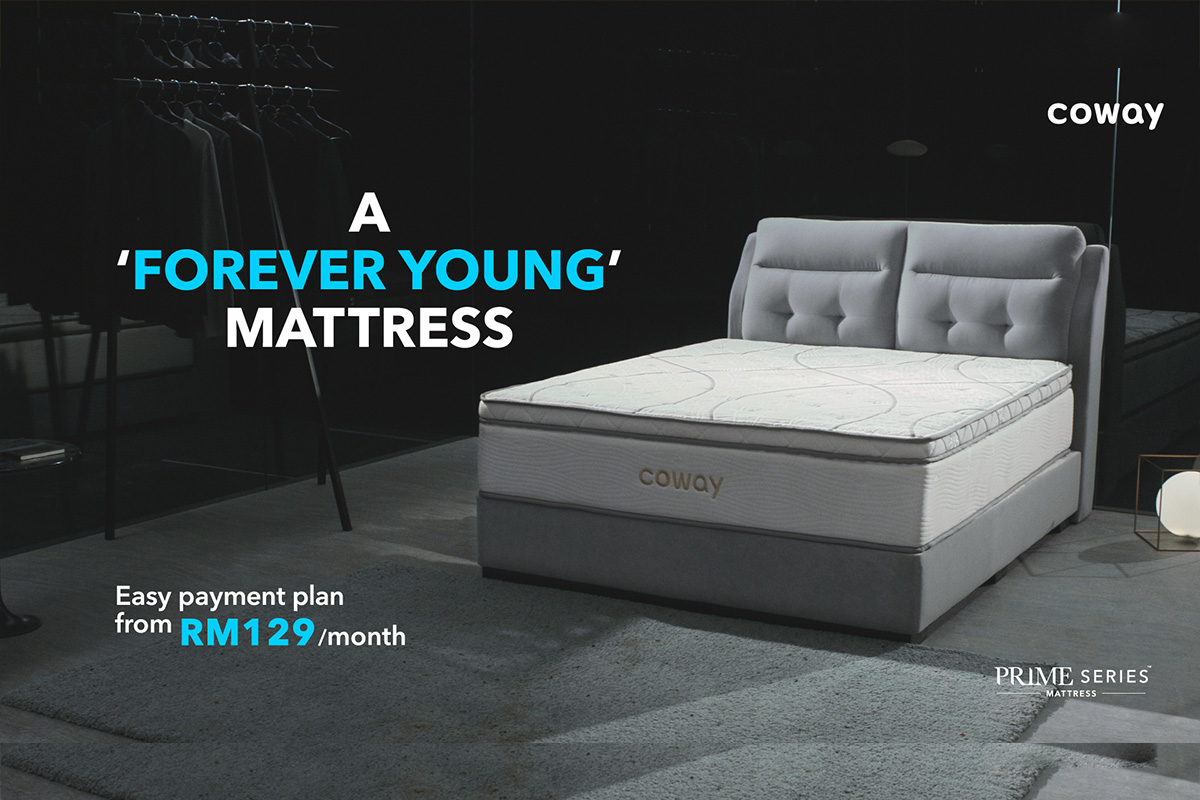 There is no denying that sleep is a vital component of health. Getting a good night's rest is essential to our well-being as it allows us to rejuvenate the mind and body. For those who think that a mattress is nothing more than a bedroom accessory you sleep on, think again. A survey conducted by the US National Sleep Foundation revealed that over 90% of respondents admitted that a comfortable mattress is key to a good night's sleep.
Sleep aids in the growth, restoration and immunity of our bodies and helps boost our memory and capacity for learning. This is why it is important to get the right mattress, as it makes all the difference in getting good quality sleep.
For those looking to improve and enhance their sleep quality, Coway has the solution with its PRIME Series Mattress. Made with high-quality materials and perfectly designed to accommodate different types of body shapes and weight as well as various sleeping positions, Coway's PRIME Series Mattress delivers an exceptional and enhanced sleeping experience.
High-quality sleep
Each PRIME Series Mattress is innovatively designed to help promote good sleep. Featuring a 5-zone pocket spring and memory foam, which contours to your body curves, it provides even support for the body while reducing motion transfer from your partner who is sleeping next to you. This affords the user comfort and optimal support from the head, shoulder, lumbar and hip to the leg, contributing to a deep sleep experience without disturbance. 
Additionally, materials such as 100% natural latex and coconut fibre help enhance the quality of sleep. Natural latex, with its allergen-free properties, delivers support and material breathability while coconut fibre produces moisture-absorbing properties within the mattress layer.
Designed for all kinds of sleeping positions, Coway has made the PRIME Series Mattress available in both firm and soft types to fulfil the demands of its users. The former is recommended for back sleepers while the latter is suggested for those who tend to sleep on their side. 
Waking up in the morning is also a joy with the PRIME Series Mattress' anti-static ticking. The increasing trend of prolonged use of electronic devices before bedtime is among the most common causes of sleep deprivation and insomnia. The use of fabric interwoven with carbon threads in the mattress effectively discharges body static into the air, giving users a refreshing start the moment they wake up. 
Providing optimum hygiene and quality
On average, we spend at least eight hours a day in our bed. With a third of our lives spent asleep, there is no doubt that our mattresses will wear out over time. There is also the issue of health and hygiene. Fortunately, Coway has come up with an effective way to address mattress hygiene and consistent quality.
Each PRIME Series Mattress is designed with a changeable topper that ensures you are sleeping on a mattress that is in tip-top condition and has optimum hygiene. This extra layer not only adds additional comfort and protection to your mattress but also acts as a barrier to stains and general wear and tear. 
To further extend the life of its PRIME Series Mattress, Coway provides a 7-Step Mattress Care Service to keep the mattress clean and young as always. The service includes dust level measuring, frame cleaning and wiping, side edge cleaning, mattress cleaning, dust mite repellent, and UV sterilisation for both mattress and bed frame.
The Mattress Care Service not only ensures that the mattresses are constantly kept at the optimum hygiene level but also reduces the probability of microscopic contaminants and bed bugs, which can cause allergies and other health issues that will disrupt sleep.
Coway's 7-Step Mattress Care Service (3 times a year, every 4 months) is available with every purchase of a PRIME Series Mattress. The service is also applicable for any other mattress brand with a purchase of a one-time service or a one-year subscription to the Mattress Care Service. 
With its forward-thinking design and premium materials, Coway's PRIME Series Mattress is helping to enhance the quality of sleep for consumers. However, the company has also ensured that this is not out of reach for Malaysians.
Providing consumers with a cost-effective way to obtain quality sleep, Coway has an easy payment plan, which begins from RM129 per month. Now, you can enjoy a 5-star hotel quality mattress at the comfort of your home with less than RM5 per night. Additionally, every purchase of a Coway PRIME Series Mattress is entitled to a free changeable topper in the third year*. 
As Coway is proving, owning a premium quality mattress is not an expensive affair and having a good sleep quality does not necessarily cost a fortune. By providing consumers with a quality mattress that ensures an optimal sleep experience, Coway is offering Malaysians a sound investment for sound sleep. That in itself is an investment that will continuously pay dividends on both your health and quality of life for years to come. 
To find out more about Coway's PRIME Series Mattress with its easy payment plan, click here.
To find more about Coway's 7-Step Mattress Care Service, click here.
*Terms and conditions apply.