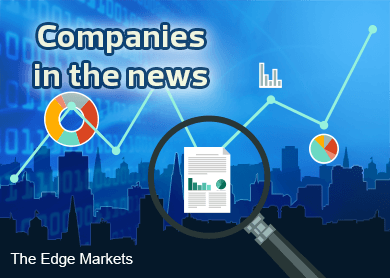 KUALA LUMPUR (June 30): Based on corporate announcements and news flow today, the companies that may be in focus tomorrow (Wednesday, July 1) could be: Kumpulan Europlus, UEM Sunrise, Daya Materials, Scan Associates, Lysaght, Tadmax, Shell Refining, Berjaya Corp, Yinson, Cypark, George Kent and Nexgram.
Granular and powder activated carbon products manufacturer Kumpulan Europlus Bhd's (KEB) 80%-owned subsidiary West Coast Expressway Sdn Bhd (WCESB) has secured RM4.74 billion debt financing facilities for the West Coast Expressway project.
In a filing with Bursa Malaysia today, it was revealed that WCESB had entered into a government support loan facility agreement with the federal government for a term loan facility of up to RM2.24 billion.
WCESB has also entered into a facility agreement with RHB Investment Bank Bhd (RHB IB), RHB Bank Bhd and Malayan Banking Bhd for a syndicated term loan facility of up to RM1.5 billion.
Additionally, WCESB entered into a guaranteed Sukuk Murabahah Programme agreement with Bank Pembangunan Malaysia Bhd and RHB IB for an Islamic medium term notes programme of up to RM1 billion to be guaranteed by Bank Pembangunan and Danajamin Nasional Bhd, pursuant to a Kafalah facility.
KEB (fundamental: 1.5; valuation: 0.3) said the fund raised constitute part of the funding requirement for the construction of approximately RM5.9 billion Build-Operate-Transfer (BOT) West Coast Expressway Project that was awarded to WCESB.
Meanwhile, the remaining balance will be funded via equity financing from WCESB shareholders, namely KEB and Road Builder (M) Holdings Bhd. Road Builder, a unit of IJM Corp Bhd, holds the remaining 20% stake in WCESB.
Property developer UEM Sunrise Bhd announced that its wholly-owned unit UEM Land Bhd and Bandar Nusajaya Development Sdn Bhd (BND) has signed a sale and purchase agreement with its major shareholder UEM Group Bhd to dispose of Imperia Building in Iskandar Malaysia, Johor, for RM137.8 million.
The disposal is part of UEM Sunrise's plan to unlock the value of its assets and to raise funds to redeem the 450 million redeemable convertible preference shares (RCPS) that was issued by BND to UEM Group, said UEM Sunrise in its filing with Bursa Malaysia today.
UEM Sunrise (fundamental: 1.5; valuation: 2.6) said the RCPS will be automatically converted into ordinary shares upon its maturity on Nov 27, 2015 if they are not redeemed, resulting in UEM Group having a direct stake in BND.
Imperia Building's selling price represents a 4.2% premium to the market value of RM124.8 million, as appraised by Knight Frank Malaysia Sdn Bhd, said UEM Sunrise in a filing with Bursa Malaysia this evening.
UEM Sunrise expects to have RM16.2 million in disposal gain, which will be reflected in its earnings for the financial year ending Dec 31, 2015. The disposal is also expected to pare down its gearing to 0.33 times from 0.37 currently.
The group expects to complete the disposal by the third quarter of 2015.
Shareholders of Daya Materials Bhd have given the company greenlight for the acquisition of Siem Daya 1, a dynamic positioning class 2 offshore subsea construction vessel, for US$120 million cash.
The purchase consideration of US$120 million would be settled with US$90 million in cash and the issuance of ringgit-denominated bonds equivalent to US$30 million in nominal value.
Daya Materials (fundamental: 0.55; valuation: 0.9) added that it has so far secured US$80 million in borrowings from a financial institution to fund the majority of the purchase, while the balance will be paid with funds generated internally.
In a statement today, the oil and gas (O&G) offshore services provider said that the acquisition will enhance the group's operating cost, which will see a positive growth in its earnings.
Its group chief executive officer Datuk Lim Thean Shiang said the acquisition cost had been renegotiated down to US$120 million from US$140 million, and by purchasing the said vessel, which save roughly US$9.8 million per year in operating costs.
Other than that, the group added shareholders have approved the disposal of 50% stake in 70%-owned Daya CMT Sdn Bhd, as part of the Daya Materials' strategy to dispose of non-core assets in order to focus on being a full-fledged O&G player.
Scan Associates Bhd's chief executive officer Datuk Dr Norbik Bashah Idris has resigned from his post with the Guidance-Note 3 (GN3) company. Norbik is also the founder of the company.
In a filing with Bursa Malaysia today, Scan Associates said Norbik, 56, resigned due to personal reasons.
The company has been in the news of late due to its dispute with Bursa Securities on its GN3 classification.
Lysaght Galvanized Steel Bhd managing director Liew Hoi Foo was re-elected as a board member during the company's annual general meeting (AGM) today.
The AGM has been closely watched amid a perceived family and board tussle over the control of Lysaght (fundamental: 1.95; valuation: 2.4).
News reports indicated Liew and his sister-in-law Annie Chew Meu Jong had disagreements over certain corporate exercises of the company, prior to the AGM.
It was reported that the corporate exercises included a share split and bonus issue.
Today, Chew refuted rumours of a family tussle over Lysaght. In a press statement, Chew said contradicting views were normal in a business.
Chew said Liew's re-election as a Lysaght director was a clear indication that there was no family feud over company matters.
Tadmax Resources Bhd clarified today that the valuation of its Pulau Indah land for sale to 1Malaysia Development Bhd (1MDB) was not subject to approval by the Securities Commission Malaysia (SC).
"Tadmax wishes to clarify that the valuation of land in connection with the company's sale of its Pulau Indah land in Selangor to Ivory Merge Sdn Bhd (IMSB) was not subject to the approval of the Property Valuation Department of the Securities Commission Malaysia," it said in a filing to Bursa Malaysia today.
The announcement was made in reference to news reports by The Malaysian Insider, The Edge and MalaysiaKini, quoting Tadmax's (fundamental: 0.6; valuation: 0.9) previous statement on June 24, that the sale price of the Pulau Indah land at RM21.80 psf was supported by a valuation carried out by an independent valuer, Azmi & Co, and subjected to approval by the Valuation Department of the SC.
Loss-making Shell Refining Co (Federation of Malaya) Bhd expects its major shareholder Shell Overseas Holdings Ltd — which holds a 51% stake — to decide whether to sell its stake or convert its refinery in Port Dickson, Negri Sembilan, in the "next few months".
According to its chairman Iain John Lo, Shell Refining hopes to arrive at the decision "soon" as it has a RM450 million debt to be paid by Dec 31, 2015, which was originally due on June 15, 2015.
To recap, the heavily-indebted Shell Refining had in 2010 obtained the RM450 million loan to be used as working capital, in which it is required to repay its interest payment via a 20 quarterly installment and a "bullet repayment" that was matured on June 15, 2015, but subsequently extended to Dec 31, 2015 after intense negotiations.
Diversified group Berjaya Corp Bhd (BCorp) has registered a bigger net loss for its fourth financial quarter ended April 30, 2015 (4QFY15) at RM274.97 million, from RM250.45 million a year ago. The wider net loss was due to the non-cash impairment in value of goodwill relating to the gaming cash generating units.
Revenue for the quarter also saw a decrease of 5.93% to RM2.33 billion from RM2.47 billion in 4QFY14, to which the group attributed to the deconsolidation of revenue from Berjaya Auto Bhd.
Nonetheless, BCorp (fundamental: 0.9; valuation: 2) posted a net profit of RM861.8 million in FY15 ended April 30, compared with a net loss of RM148.92 million in FY14.
The improvement was attributed to higher profit from its motor distribution business, and the restaurants and cafes business mainly from Berjaya Starbucks.
Revenue was up 9.96% in FY15 to RM9.6 billion from RM8.73 billion a year ago.
The group attributed the increase to the consolidation of revenue from motor distribution segment HR Owen's 12-month results versus the 6-month consolidated results in the previous financial year.
The group declared a final 1% single-tier dividend per share.
In a separate filing, the group proposed for the disposal of 100% stake in Berjaya Environmental Engineering (Foshan) Co Ltd.
BCorp said it had entered into a share transfer agreement with Foshan City Nanhai Grandblue Solid Waste Treatment Holding Co Ltd for the disposal which was priced at RMB126.75 million cash, or RM76.68 million.
The proceeds from the proposed disposal will be utilised for working capital. BCorp expects the proposed disposal to be completed by third quarter of 2015.
O&G offshore support services (OSV) provider Yinson Holdings Bhd saw its net profit for the first quarter ended April 30, 2015 (1QFY16) fall 65.51% to RM10.45 million or 1.01 sen per share from RM30.3 million or 3.19 sen per share a year ago, on foreign exchange (forex) losses from unfavourable currency fluctuations.
Yinson's (fundamental: 1.5; valuation: 1.5) forex loss widened to RM10.64 million compared to RM3.81 million a year ago due to appreciation of Malaysia ringgit against the US dollar.
On top of that, it also suffered a RM2.85 million realised loss on derivatives and a RM10.22 million fair value loss on derivatives.
Revenue for the quarter came in at RM256.6 million, 12.74% lower compared to RM294.07 million in the last corresponding quarter.
Despite the challenging global economic environment, Yinson said it will strive to end the year on a positive note.
Integrated environmental engineering and technology provider Cypark Resources Bhd posted a net profit of RM14.55 million or 7.31 sen per share in the first quarter ended April 30, 2015 (2QFY15), up 6.6% compared to 13.65 million or 7.6 sen per share a year ago.
Cypark (fundamental: 1.3; valuation: 2.4) attributed the better earnings to the additional income generated from the landscaping and infrastructure and maintenance divisions.
Revenue rose 5.85% to RM72.95 million, compared to RM68.92 million a year earlier, according to its filing to Bursa Malaysia today.
Going forward, Cypark plans to continue to optimise its business models and commercial processes and the board of directors is of the opinion that the business and performance of the group is expected to be robust and strong for coming year.
Water related products manufacturer George Kent Bhd announced that net profit rose 53% to RM9.87 million in the first quarter ended April 30, 2015 (1QFY16) from RM6.47 million a year earlier driven by lower cost at its water meter and construction divisions.
In its quarterly results released to the exchange today, George Kent (fundamental: 1.4; valuation: 1.4) said revenue dropped to RM59.03 million from RM64.86 million.
The group said it would continue to expand its order book, and enhance efficiency and productivity at its factories.
Meanwhile, group chairman Tan Sri Tan Kay Hock told reporters after the group's annual general meeting today that George Kent's order book currently stands at slightly over RM1 billion, which could last the company for two years from now.
He said the group aims to grow its order book by between RM2 billion and RM3 billion in FY16 from a tender book of about RM10 billion.
Tan explained that George Kent is bidding for water and healthcare infrastructure projects, and also railway projects. He added that the group is also bidding for some of the packages for the Mass Rapid Transit 2 (MRT2) project.
Telecommunication software services provider cum property developer Nexgram Holdings Bhd saw its fourth quarter ended Apr 30, 2015 (4QFY15) net profit shrink 77.4% to RM2.08 million from RM9.19 million a year ago, on higher operating expenses and tax.
Consequently, the group's earnings per share (EPS) fell to 0.14 sen, from 0.97 sen.
In its quarterly report to Bursa Malaysia, Nexgram (fundamental: 2.1; valuation: 1.7) posted a revenue of RM19.34 million for 4QFY15, down 12.9% from RM22.18 million in 4QFY14, mainly due to the decrease in sales of the group's products and services.
Cumulatively, Nexgram's FY15 net profit was halved to RM6.98 million, from RM14.28 million in FY14, even though revenue rose 32.6% to RM135.34 million from RM102.07 million in FY14 due to revenue generated from the acquisition of Sensorlink Group.
(Note: The Edge Research's fundamental score reflects a company's profitability and balance sheet strength, calculated based on historical numbers. The valuation score determines if a stock is attractively valued or not, also based on historical numbers. A score of 3 suggests strong fundamentals and attractive valuations.)