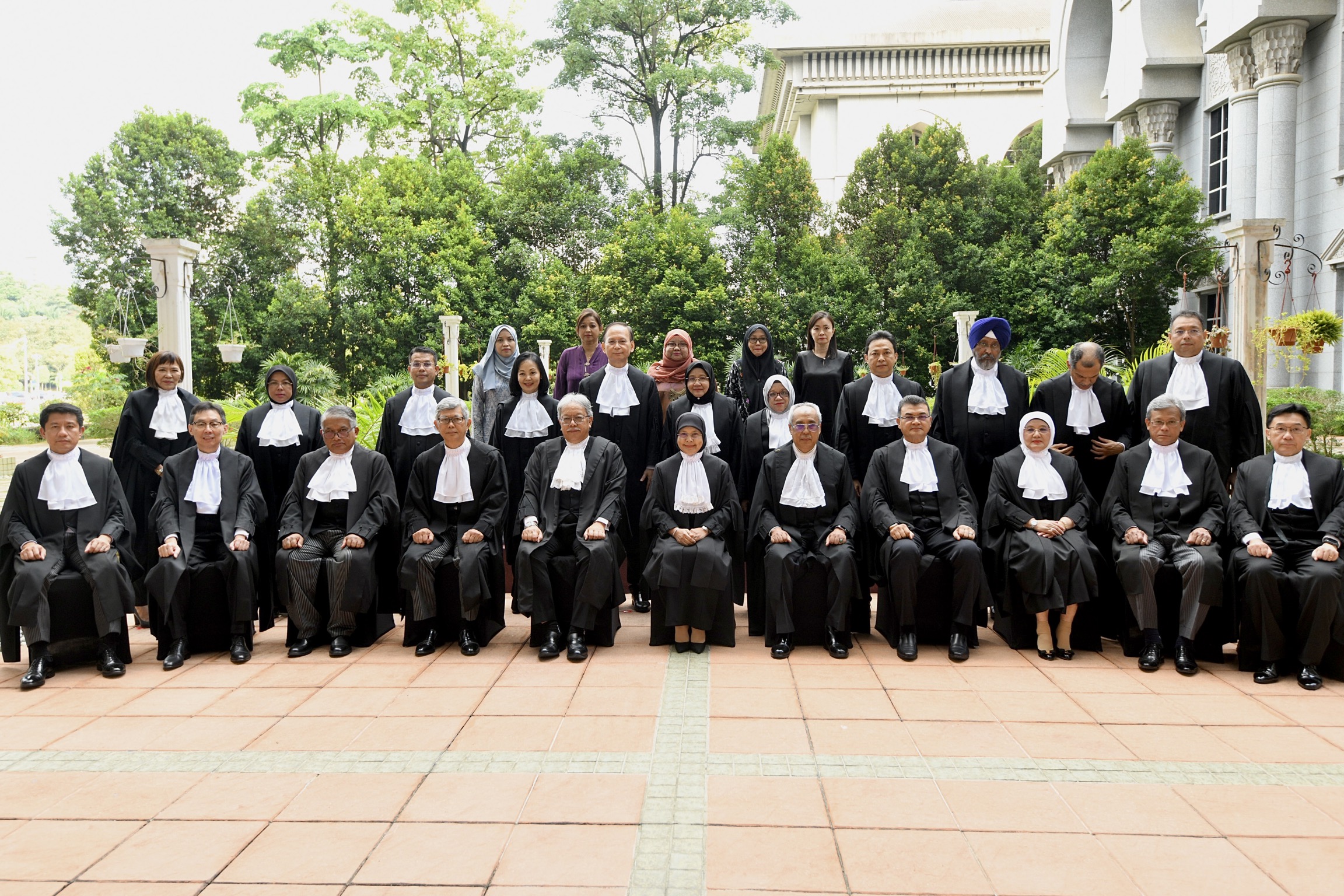 PUTRAJAYA (Jan 17): High Court judges presiding over 1Malaysia Development Bhd (1MDB)-related cases have been elevated to the appellate court on Tuesday.
Both judges Datuk Collin Lawrence Sequerah and Mohamed Zaini Mazlan of the Kuala Lumpur High Court (Criminal) division took their oaths before newly-elevated Court of Appeal President Tan Sri Abang Iskandar Abang Hashim, at a ceremony in Putrajaya.
Judge Sequerah, 62, is presiding over the ongoing 1Malaysia Development Bhd (1MDB)-Tanore trial where former premier former premier Datuk Seri Najib Razak is facing 25 graft charges — four abuse of power charges and 21 money laundering. The case is set to resume on Jan 27.
Another high-profile graft case the judge is presiding over is one involving Deputy Prime Minister Datuk Seri Ahmad Zahid Hamidi. Ahmad Zahid is facing 47 charges — 12 criminal breach of trust, 27 money laundering and eight graft charges — in the case involving Yayasan Akalbudi, a charitable foundation he set up.
Zahid who is also Bagan Datuk MP was ordered to enter his defence in January last year. The trial is set to continue in April.
As for Mohamad Zaini, 55, he found former first lady Datin Seri Rosmah Mansor guilty of all three corruption charges pertaining to a solar hybrid project for 369 rural schools in Sarawak.
Last September, the judge sentenced her to 10 years' jail, with a fine of RM970 million. She could get another 30 years' jail if she fails to pay the fine. A stay on the sentencing has been granted pending the disposal of her appeal.
In his judgement, Mohamad Zaini warned that corruption must be stamped out before becoming a widespread pandemic.  
He is now presiding over the 1MDB audit report tampering trial involving Najib and former 1MDB president Arul Kanda Kandasamy. The prosecution wrapped up its case in early September and Mohamed Zaini is slated to deliver his decision on Jan 30 on whether to acquit Najib of the abuse of power charge or call for his defence. He will also decide on whether Arul Kanda, who is accused of abetting Najib, is entitled to an indemnity.
Four other High Court judges also elevated to COA
Four other High Court judges were elevated to the appellate court on Tuesday. They were Datuk Azman Abdullah, 61; Judge Datuk Azimah Omar, 60; Judge Datuk Lim Chong Fong, 60; and Datuk Wong Kian Kheong, 58.
In May last year, Azimah dismissed former Attorney General Tan Sri Mohamed Apandi Ali's RM10 million suit against veteran politician Lim Kit Siang for allegedly defaming Apandi in an 2019 article on the 1MDB scandal.
In her ruling, Azimah highlighted that the public absolutely had the interest to know of Mohamed Apandi's "actions or inactions" which "directly and indirectly" lent a hand in covering up the 1MDB scandal. Lim, who was then Iskandar Puteri MP, merely highlighted this in his article, she said.
As for Wong, he was the lawyer who represented political analyst Abdul Razak Baginda in Mongolian Altantuya Shaariibuu's murder trial. In Oct 2008, The High Court acquitted Razak of abetment charges in her murder. Wong also represented former transport minister Tun Dr Ling Liong Sik in a cheating case over the Port Klang Free Zone (PKFZ) project.
Judge Azman is known for presiding over the High Court case in the former Deputy Public Prosecutor Anthony Kevin Morais murder trial, and the murder of the 23 tahfiz students at Keramat in 2017.
Meanwhile, Judge Lim mainly presides in construction cases and is known as one of the judges who sat in the Dhaya Maju LTAT suit against the Transport Minister Datuk Seri Wee Ka Siong, Keretapi Tanah Melayu Bhd and Opus Consultants (M) Sdn Bhd.
11 Judicial Commissioners made High Court judges
During the elevation ceremony on Tuesday, 11 Judicial Commissioners (JC) were also confirmed as High Court judges.
There were: Datuk Norsharidah Awang, Tee Geok Hock, Datuk Zaleha Rose Pandin, Alice Loke, Datuk Azhar Abdul Hamid, Dr Arik Sanusi Yeop Johari, Bhupindar Singh Gurcharan Singh, Mahazan Mat Taib, Ahmad Murad Abdul Aziz, Liza Chan Sow Keng, and Wan Muhammad Amin Wan Yahya.
Five also received their letters of appointment as High Court JCs. They were: Zaharah Hussain, M Sumathi, Dr Suzana Muhamad Said, Evawani Farisyta Mohammad and Dr Wendy Ooi Su Ghee.
The newly confirmed High Court judges and JCs took their oaths before newly-elevated Chief Judge of Malaya Datuk Mohamad Zabidin Mohd Diah.
Earlier during the ceremony, Tan Sri Abang Iskandar Abang Hashim was elevated as the CoA President.
Other notable appointments were Federal Court judge Datuk Mohamad Zabidin Mohd Diah, who was elevated to Chief Judge of Malaya; and Federal Court judge Datuk Abdul Rahman Sebli, who will now assume the role of the Chief Judge of Sabah and Sarawak.
Present at the ceremony were Chief Justice Tun Tengku Maimun Tuan Mat, other Federal Court and CoA judges, AG Tan Sri Idrus Harun, and Deputy Minister in the Prime Minister's Department Ramkarpal Singh.
Read also:
Rosmah found guilty of all charges, sentenced to 10 years' jail and record RM970 mil fine
Judge Zaini: Corruption, if not controlled, would reach every level of society
Najib, Arul Kanda to know fate in 1MDB audit tampering case on Jan 30
Khairy loses appeal against Anwar for 'main belakang' remark in 2008
No appeal against Ling's acquittal in PKFZ case