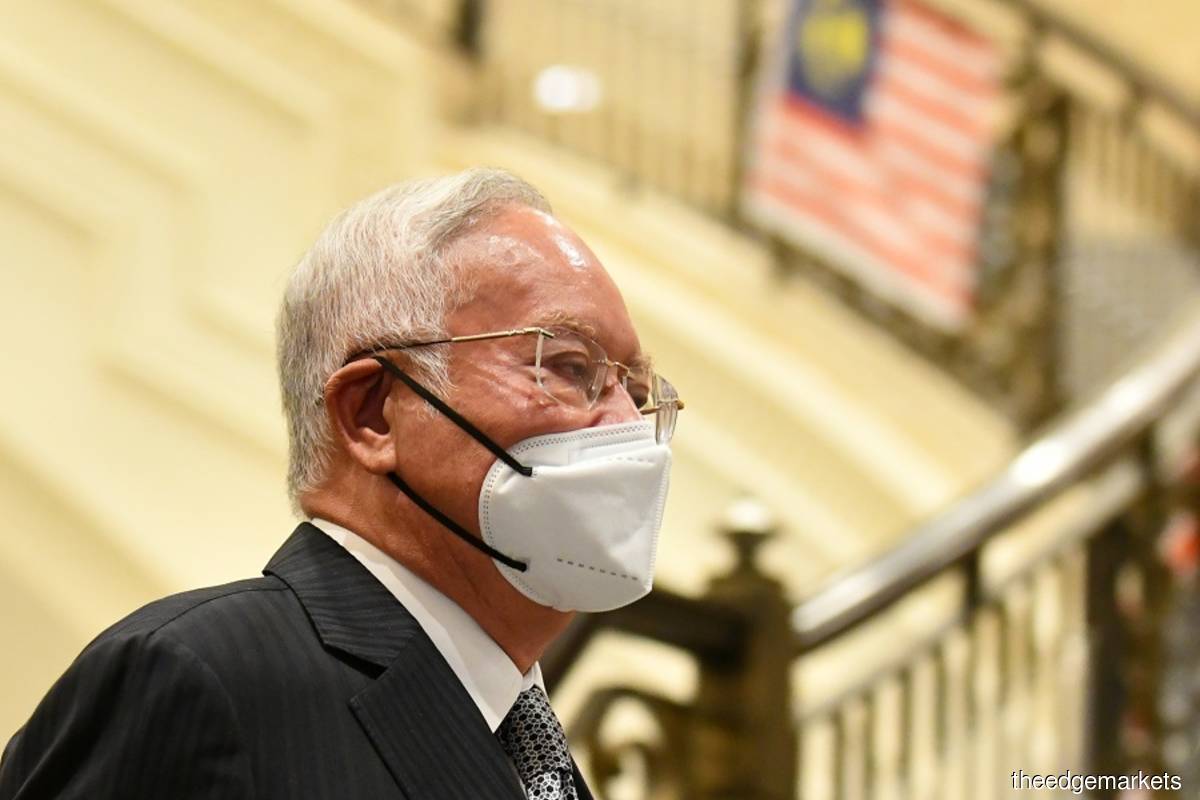 THE Federal Court will hear Datuk Seri Najib Razak's application for a review of his SRC International Sdn Bhd conviction and sentence on Thursday (Jan 19) — roughly four months after the former prime minister started serving his 12-year sentence in Kajang prison.
This is an attempt to overturn the Federal Court's decision to uphold the High Court judgement. In July 2020, the High Court convicted Najib on the charges of money laundering, abuse of power and breach of trust and sentenced him to 12 years' jail, along with a fine of RM210 million.
Najib will be represented by Tan Sri Muhammad Shafee Abdullah, who retakes the case from Datuk Hisyam Teh Poh Teik.
Shafee requested a five- or seven-member bench to hear the review.
To prove that Najib is innocent, Shafee and team have to satisfy the powers of the apex court to review under Rule 137 of the Federal Court Rules 1995.
The defence team needs to convince the bench that there was an apparent injustice and possible abuse of the court process in the August hearing led by a bench chaired by Chief Justice Tun Tengku Maimun Tuan Mat in upholding Najib's conviction and sentence.
Should leave (permission) be granted on Jan 19 by the apex court bench, then the appeal proper would be re-heard on another date, with the possibility of British King's Counsel Jonathan Laidlaw being pulled into the picture.
Laidlaw has filed an appeal on not being allowed to practise in Malaysia, and the appeal is fixed for March.
Who will form the bench?
The five- or seven-member bench hearing the review will have to be composed of newer Federal Court judges who had not heard Najib's appeal last August.
This means Tengku Maimun as well as the Chief Judge of Sabah and Sarawak Tan Sri Abang Iskandar Abang Hashim and Federal Court judges Datuk Nalini Pathmanathan, Datuk Mary Lim Thiam Suan and Datuk Mohamad Zabidin Mohd Diah will not be on the bench.
This leaves six Federal Court judges — Datuk Vernon Ong Lam Kiat, Datuk Abdul Rahman Sebli, Datuk Zabariah Mohd Yusof, Datuk Hasnah Mohammed Hashim, Datuk Harmindar Singh Dhaliwal and Datuk Rhodzhariah Bujang — who may hear the review.
Apart from these judges, the four vacancies in the apex court — the Court of Appeal president, Chief Judge of Malaya and two Federal Court judges — are expected to be filled by Tuesday (Jan 17).
This means there is a possibility of four new faces who may hear the review, other than the existing six judges.
Basis for review
Shafee has indicated four review applications that he wants the apex court to reconsider:
(i) A review of the Federal Court's earlier decision to reject the defence application to adduce further evidence concerning the SRC International trial judge Datuk Mohd Nazlan Mohd Ghazali;
(ii) A review of the apex court's decision on the same day to dismiss his bid to postpone his appeal hearing;
(iii) A review of the court's decision on Aug 23 to reject his application to recuse Tengku Maimun Tuan Mat; and
(iv) A review of the Aug 23 decision by the five-member bench to affirm Najib's conviction and sentence.
Meanwhile, in an affidavit responding to Najib's application, the prosecution states that the review has no merit and is considered an abuse of the court process, the former premier was given a fair trial and there was no pre-judgement in his appeal at the apex court last August.
If the review is dismissed, then it is considered that the conviction and sentence are intact.
Najib became the highest-ranking politician in Malaysia to be sentenced when the court found him guilty on all seven counts in the SRC case. SRC is a former subsidiary of 1Malaysia Development Bhd (1MDB).
He was found guilty of three counts of criminal breach of trust, three counts of money laundering in relation to RM42 million of SRC funds between Dec 26, 2014, and Feb 10, 2015, and also abuse of power with regard to approval of the RM4 billion loan granted by Retirement Fund Inc (KWAP) to SRC between August 2011 and March 2012.
The hearing of the review was originally fixed for three days from Jan 19, but the other two dates — Jan 20 and 26 — had to be vacated, as the judges were occupied with other cases.
The prosecution would be led by ad hoc prosecutor Datuk V Sithambaram, along with DPPs Donald Joseph Franklin, Sulaiman Kho Kheng Fuei and Mohd Ashrof Adrin Kamarul.
Apart from this review, as announced by Shafee last week (Thursday, Jan 5), his client had filed a petition to the United Nations Human Rights Council Working Group on Arbitrary Detention (UNWGAD) to seek a retrial in the SRC case or secure his release.
The petition is diff erent and separate from the Jan 19 review application and is unlikely to affect roceedings in Malaysia.
In addition to this SRC case, Najib also faces ongoing trials in four other cases, including the 1MDB-Tanore case.
This article first appeared in the Jan 16, 2023 edition of The Edge Malaysia weekly.