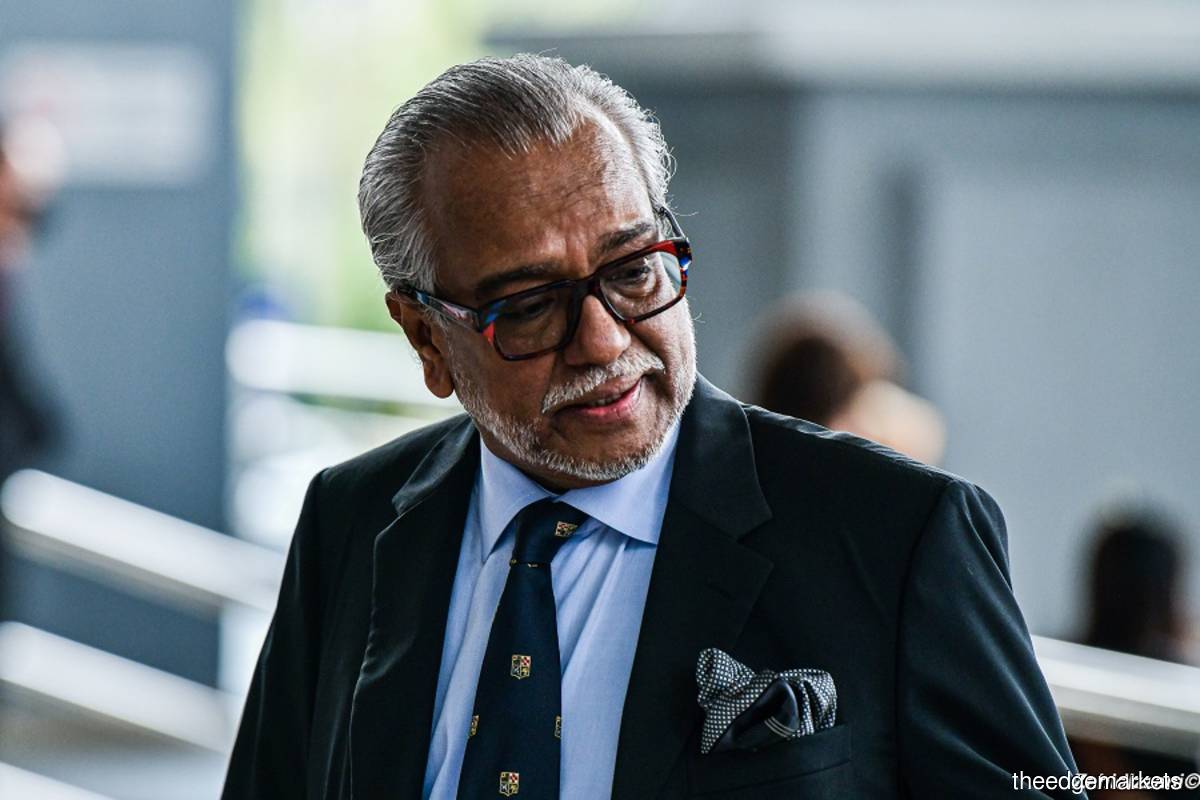 PUTRAJAYA (Jan 19): Datuk Seri Najib Razak's counsel Tan Sri Muhammad Shafee Abdullah began the review of the SRC International Sdn Bhd case on Thursday (Jan 19) by pointing out the unusual, hurried nature of the previous Federal Court bench, led by Chief Justice Tun Tengku Maimun Tuan Mat, in not allowing the adjournment to the former prime minister's application appeal hearing last August.
The dismissal of the adjournment requests follows the apex court's dismissal of Datuk Hisyam Teh Poh Teik's application to adduce further evidence on trial High Court judge Datuk Mohd Nazlan Mohd Ghazali purported's involvement in 1Malaysia Development Bhd (1MDB).
Hisyam took over the case from Shafee on July 25 last year.
Shafee said there was no ploy to delay the appeal, and this was admitted by the prosecution in Najib's change of lawyer and solicitors, with his firm being discharged on July 25 as solicitors and replaced by Zaid Ibrahim Suflan TH Liew and Partners (ZIST).
Shafee further said his firm had "an acrimonious relationship" with ZIST, whose solicitors took over the case all of a sudden.
"I also got a shock when I got to know of [my] being discharged, as I was just returning from Italy, only to be informed that my firm had been discharged and taken over by ZIST and Hisyam being the counsel on the same day," he added.
Shafee also claimed Najib had been ill-advised and hoodwinked by ZIST to take in a Singapore-based lawyer who had two disciplinary proceedings against him, and the firm itself had not done any criminal law cases before this.
Shafee said Hisyam was brought in to argue over Nazlan's purported involvement in 1MDB when Nazlan acted as general counsel for Maybank. After this matter was dismissed, Hisyam was not prepared to deal with the full appeal.
From the court transcripts of the proceeding and quoting Hisyam, Shafee said the previous lawyer (Hisyam) cited that there were 179 volumes of documents and the High Court and Court of Appeal judgement, which runs to more than 1,000 pages, are voluminous.
"It was certainly a monumental task for any lawyer who had just taken over the case for less than a month," Shafee said.
The senior lawyer added that Hisyam's monumental task of studying the voluminous appeal records within a short span of time — from July 25 to Aug 16 of last year — had been indicated to the five-member bench led by Tengku Maimun.
Shafee said that in most cases, the courts would usually allow time for the lawyers to prepare in the interests of justice, and Hisyam had only asked for three- to four months.
Shafee questioned what the hurry in the apex court was in hearing and getting rid of the appeal, as the Court of Appeal itself was given eight months to write the written judgement after hearing the appeals.
"Even when submitting at the High Court, the judge allowed us eight- to nine weeks to prepare submissions to the case. I have had discussions with my counterparts in the United Kingdom and America, who described the SRC International Sdn Bhd, along with 1MDB as one of the most complex white collar criminal cases," he added.
"Certainly, someone with Hisyam's stature should have been granted an adjournment to do justice and prepare for his client's case. However, he was not allowed the adjournment. To make matters worse, Hisyam was not allowed to discharge himself from representing Najib, but ZIST was allowed to do so," Shafee added.
He said that his client (Najib) was not seeking special treatment in the appeal but only wanted a fair trial.
Shafee further added that on Aug 19, he was specifically brought back by Najib to argue for Tengku Maimun's recusal and at that time, he (Shafee) had attended a conference in Parliament, where he chaired a panel discussion on legalising marijuana.
"I tried to ask for an adjournment before the five-member bench led by Tengku Maimun, to be given the task to submit on this issue the next day, but this was again refused by the bench," the senior lawyer added.
Shafee listed out four grounds on the appeal, namely:
A review of the Federal Court's earlier decision to reject the defence's application to adduce further evidence concerning Nazlan;
A review of the apex court's decision on the same day to dismiss his bid to postpone his appeal hearing;
A review of the court's decision on Aug 23 to reject his application to recuse Tengku Maimun Tuan Mat; and
A review of the Aug 23 decision by the five-member bench to affirm Najib's conviction and sentence.
However, in Thursday's proceeding, Shafee only dealt with the second issue of not granting the postponement.
The apex court had on Aug 23 upheld the conviction and 12-year jail sentence and RM210 million fine on the former premier, who became the highest-ranking politician in the country to be convicted.
Najib, a former Pekan member of Parliament, was found guilty on three counts of criminal breach of trust, three money laundering charges of RM42 millions of SRC International funds between Dec 26, 2014, and Feb 10, 2015, and an abuse of power charge in approving the Retirement Fund Inc (KWAP)'s loan of RM4 billion to SRC — while the fate of the fund remains unknown.
The bench, led by Chief Judge of Sabah and Sarawak Datuk Abdul Rahman Sebli, had earlier in the afternoon dismissed Shafee's application to remove Court of Appeal judge Datuk Abu Bakar Jais from being part of the five-member bench in hearing the review.
The hearing continues from Feb 20 to 22.
Read also:
Najib's objection to appelate court judge sitting on SRC review bench dismissed 
Shafee: My firm had acrimonious relationship with Zaid Ibrahim's firm
Najib's last attempt to appeal against SRC conviction