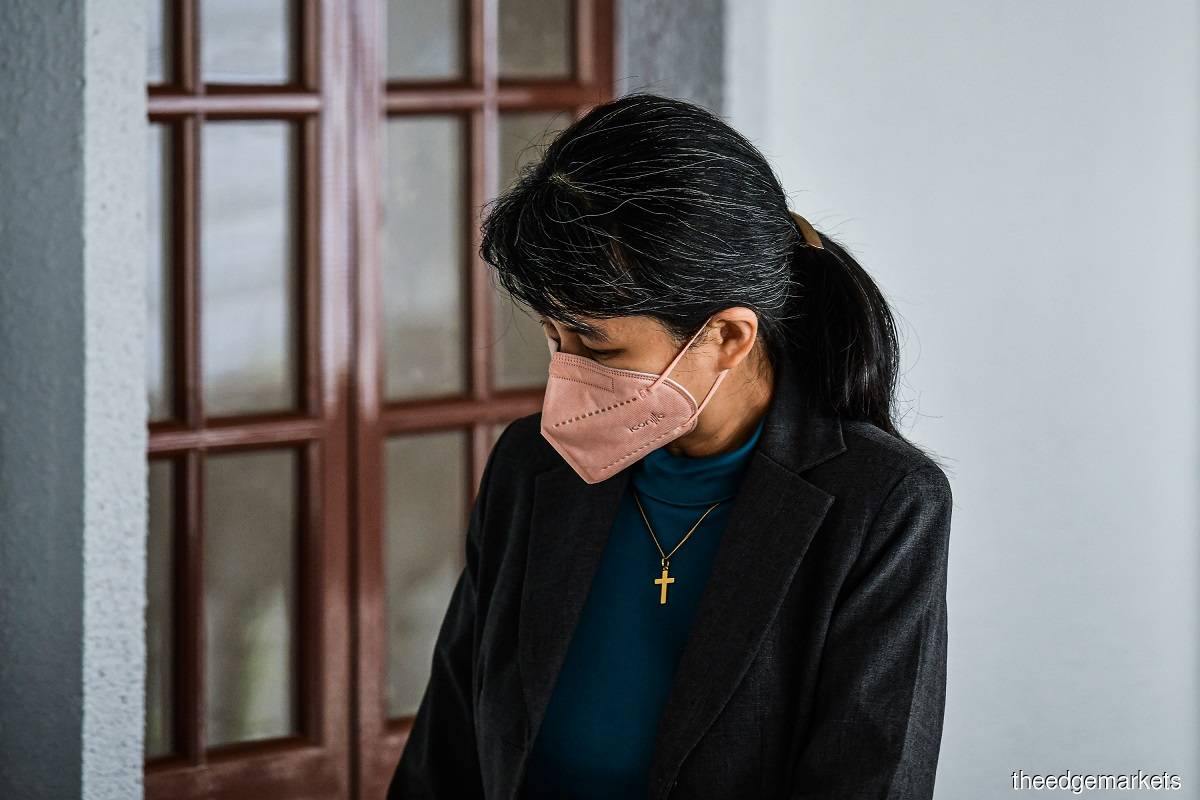 KUALA LUMPUR (Jan 27): Former AmBank customer relationship manager Joanna Yu Ging Ping admitted that it was her failure in dealing with former prime minister Datuk Seri Najib Razak's accounts through businessman Low Taek Jho, better known as Jho Low.
Testifying as the prosecution's 41st witness, she said that she dealt with Jho Low because the fugitive financier had initiated the opening of the ex-PM's accounts with the bank, and had continued dealing with him even though there was no authority from Najib for Jho Low to deal with the accounts.
Defence counsel Tan Sri Muhammad Shafee Abdullah: Wasn't that a failure on your part? Banks are very strict with these types of things. How come you took such an easy way out?
Yu: Yes, it was my failure.
On the stand on Friday (Jan 27), Yu also repeated her previous testimony that she had also dealt with Nik Faisal Ariff Kamil, 1MDB's former chief investment officer who was the mandate holder of Najib's accounts at the bank.
Either way, the bank should have got the direction from the client (Najib) or the mandate holder (Nik Faisal).
The proceedings on Friday were mostly on the US$620 million coming into Najib's account, AmPrivate Banking-MR (ending 694).
The funds were broken into smaller sums and credited into the account in March and April 2013. This was done so as to not impact the value of the currency in the market.
Yu says she was terminated without show-cause letter
Yu previously testified that she would contact Nik Faisal to inform him and confirm the exchange rate for the day, and she would contact Jho Low if she failed to get hold of Nik Faisal.
Zooming into the transaction, Shafee said that Yu breached her duty as a banker, because Nik Faisal and Jho Low were both not authorised to give instructions or confirm the exchange rate.
While contending that this was not explicitly stated in the mandate letters, Yu agreed that transactions concerning the funds would fall under Nik Faisal's mandate to facilitate the accounts' operations.
Shafee: Was this one of the reasons why you were terminated from your service?
Yu: I'm not sure what the reasons were. They had a lot of reasons.
The witness also confirmed that the bank did not give her a show-cause letter. Shafee then asked her to bring the termination letter on Monday.
Yu says she accepted representation that the monies were donations
Earlier, Shafee asked about the donation letters from former Madinah province governor Saud Abdulaziz Majid Al Saud dated between 2011 and 2014.
They stated, among others, that the donations to Najib were a gesture of "good faith" and a gift for the work he had done in governing Malaysia, in line with Islamic principles.
Shafee referred to a specific letter dated March 1, 2013, which indicated that US$800 million would be remitted to Najib through companies linked to Saud like Tanore Finance Corp.
Yu testified that she had accepted Jho Low's representation that the monies flowing into Najib's accounts were donations, and therefore was not suspicious of the large sums of money coming in.
Yu also testified that she was not sure if the central bank would have its own verification process for the funds coming into Najib's accounts.
Shafee: As far as you are aware, neither did BNM (Bank Negara Malaysia) alert [that] these monies [were] coming into the accounts. [This is the] defence as well. [There is] genuine belief that these were donations from Saudi. As far as you are concerned, no one has contradicted this claim, either from your bank (AmBank) or BNM?
Yu: I'm not [sure if] BNM did anything, but my bank did not contradict the claim that it was donation money from Saudi.
Shafee: No one had alerted Najib that these monies were not donations?
Yu: No, we didn't.
The claim that the money that went into Najib's accounts were donations has been repeated by the defence from the start of the trial — as well as throughout the SRC International Sdn Bhd case, for which Najib has been found guilty of all seven graft charges in relation to the former 1MDB unit's funds.
Najib is on trial on four counts of abuse of power and 21 counts of money laundering involving RM2.28 billion of 1MDB funds.
The trial before judge Datuk Collin Lawrence Sequerah will continue on Monday (Jan 30).
The Edge is covering the trial live here.
Users of The Edge Markets app may tap here to access the live report.
Read also:
AmBank asked Najib to name mandate holder as it had no access to him to get approvals, court told