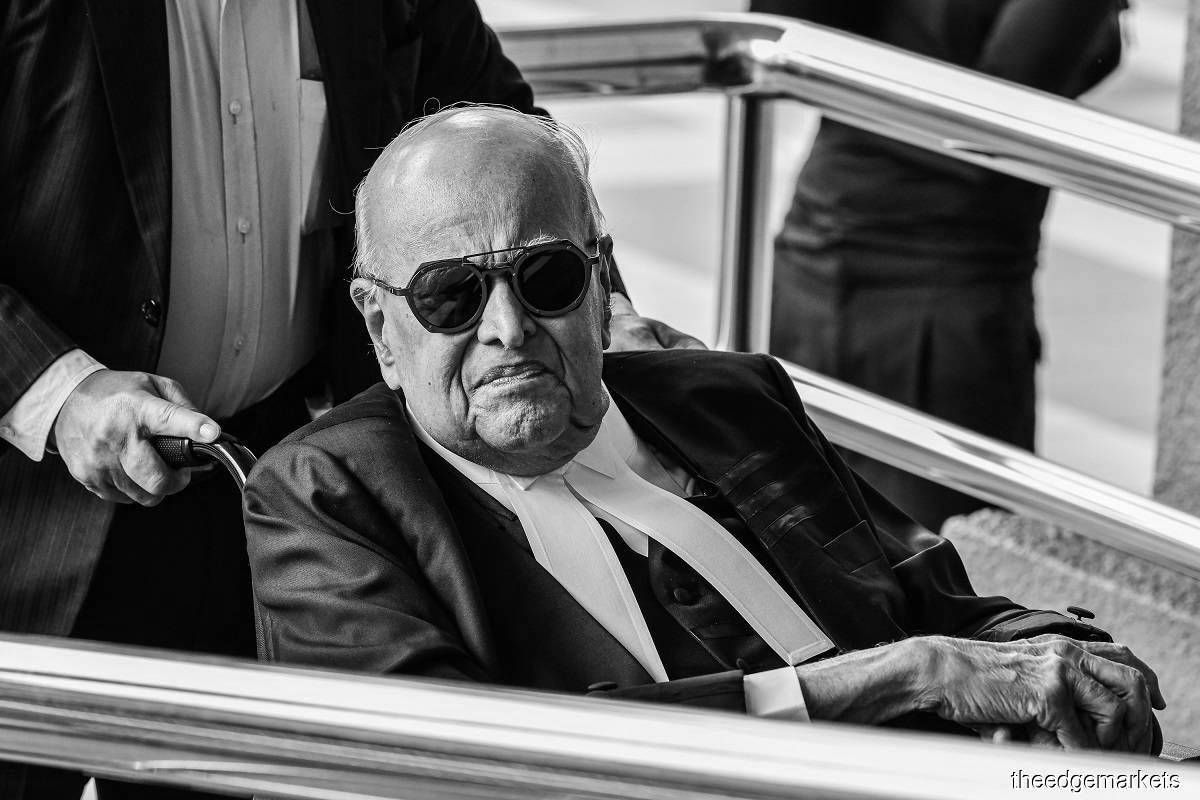 KUALA LUMPUR (Jan 30): Former senior public prosecutor Datuk Seri Gopal Sri Ram was like a father figure to the 1Malaysia Development Bhd (1MDB) prosecution team.
Deputy public prosecutor Ahmad Akram Gharib said this on Monday while asking for an adjournment for the trial following the sudden passing of the lawyer.
"Sri Ram was our team leader and he is like a father to all of us," he said during a brief mention before trial judge Datuk Collin Lawrence Sequerah.
Sri Ram, 79, a former Federal Court judge, passed away on Sunday. He was reportedly hospitalised in mid-January due to a lung infection.
The 1MDB-Tanore trial was slated to continue this week, save for Wednesday.
Ahmad Akram asked for an adjournment for Monday and Tuesday to redistribute the case workload and to attend Sri Ram's wake on Tuesday.
"Today was set for continued hearing. [But] in light of the sudden demise of [Sri Ram] we seek adjournment for two days," he informed the court.
Sri Ram's wake for non-family members to pay their respects is said to take place at Nirvana 2 Kuala Lumpur, between 8am to 1pm.
He will then be cremated at Nirvana Shah Alam.
Lead defence counsel Tan Sri Muhammad Shafee Abdullah said that he had no objections to the adjournment and extended his condolences to the prosecution team.
The trial was initially set to continue on Monday with the continued cross-examination of the prosecution's 41st witness, former Ambank officer Joanna Yu.
Muhammad Shafee informed the court that he will likely take two or three days with his cross-examination of the witness.
The trial is now set to resume on Thursday.
At the time of his passing, Sri Ram was the lead public prosecutor for the ongoing 1MDB-related cases — namely the 1MDB-Tanore trial and the 1MDB audit report tampering case — involving former prime minister Datuk Seri Najib Razak.
In a brief statement issued on Sunday, Attorney General (AG) Tan Sri Idrus Harun said that the prosecution in the 1MDB cases will continue with the prosecution team from the Attorney General's Chambers (AGC) and the Malaysian Anti-Corruption Commission (MACC).
Sri Ram was also the lead prosecutor in Datin Seri Rosmah Mansor's solar hybrid graft trial, where she was found guilty and sentenced to 10 years of jail and a RM970 million fine.
He was appointed in 2018 by then AG Tan Sri Tommy Thomas to lead the prosecution in the above-mentioned cases.
Both Najib and Rosmah's legal teams have tried to challenge Sri Ram's appointment to prosecute in the cases but failed.
Najib and Rosmah were present in court on Monday.
In this trial, Najib is on trial on four counts of abuse of power and 21 counts of money laundering involving RM2.28 billion of 1MDB funds.
Read also:
Gopal Sri Ram passes away
AG says 1MDB cases will continue with people from AG chambers and MACC
Legal luminaries pay tribute to Sri Ram's sudden passing
CJ Tun Tengku Maimun joins legal luminaries paying tributes to Sri Ram
Anwar conveys condolences to Gopal Sri Ram's family