This article first appeared in City & Country, The Edge Malaysia Weekly, on January 30, 2023 - February 05, 2023.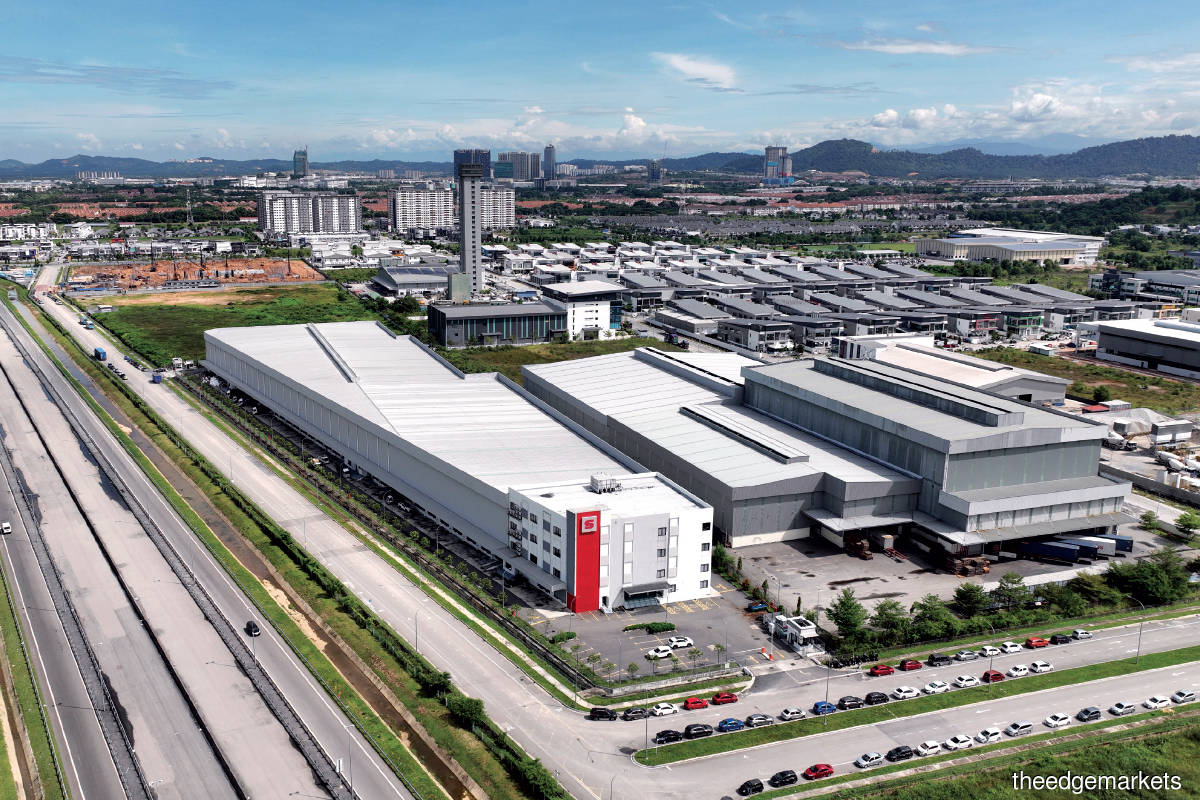 The Klang Valley industrial property segment has seen its fortunes blossom, thanks to the pandemic, which pushed the demand for such properties higher than expected. While generally not considered sexy to investors, this important subsector has been part of the Malaysian real estate landscape for decades.
According to VPC Alliance (KL) Sdn Bhd director James Wong, industrial development in the country started in the Klang Valley, referring to Kuala Lumpur and Selangor in general.
"The pioneer developer of industrial estates or parks in the Klang Valley was the public sector and mainly PKNS (Selangor State Development Corporation), which developed the Section 13 and Section 51A industrial areas in Petaling Jaya and Seksyen 15 and 16 industrial estates in Shah Alam in the 1970s and 1980s, which coincided with then prime minister Tun Dr Mahathir Mohamad's 'Look East Policy' and industrialisation programme," he says.
"Only in the 1990s did private developers come into the picture to develop industrial parks such as Subang Hi-Tech Industrial Park, Bukit Raja Prime Industrial Park and Hicom Industrial Park. Their titles are mainly freehold, and hence command higher land values and have fewer restrictions on transfers, whereas PKNS' industrial lands are leasehold."
PPC International Sdn Bhd managing director Datuk Siders Sittampalam also cites the Look East Policy as the impetus for growth in industrial properties. 
"With the separation of Singapore from Malaysia in 1965, Port Klang became the new national port, replacing the Port of Singapore. Along with it came the expansion of the Federal Highway to an expressway linking Kuala Lumpur, Shah Alam, Klang and then leading to Port Klang via Persiaran Raja Muda Musa. This led to Shah Alam being planned as a major industrial hub in the Klang Valley, attracting Japanese, Korean and Taiwanese industrial-based companies with the government adopting a Look East Policy in 1981," he says.
"With renewed interest in Shah Alam as a centre of industrial development for Selangor, demand for  and prices of industrial land increased and investors had to look at further and cheaper locations in the Klang Valley such as Bukit Raja, Banting, Rawang and Sungai Buloh. Bukit Raja was originally an oil palm plantation owned by Sime Darby and was developed into a township with planned industrial estates."
The most clustered industrial estates are in Shah Alam's Seksyen 15, 16, 22, 23, 31 and 32. These are considered the oldest and most mature industrial areas in Selangor, says Siders.
Industrial market performance
The industrial property market isn't big but plays an important role in the economy.
"Although the industrial sector is a very small subsector of the overall property market, with existing stock at only 46,316 units in the first half of 2021, the manufacturing sector contributes about 24% to the national gross domestic product and the industrial/manufacturing sector employs about one million workers," says Wong.
Data gleaned from the National Property Information Centre (Napic) shows that the volume and value of industrial properties had risen since 2017 before dipping in 2020 and rebounding in 2021, according to Wong (see Table 1). He adds that Selangor, the country's most industrialised state, is a major contributor with 34.9% of the nation's industrial volume.
Siders says, "The industrial subsector had seen a gradual pick-up since 2017 with more investment activities. In 2018, the subsector contributed about 3.3% in volume and 19.8% in value to the entire Selangor property market, with 2,029 units worth RM8.28 billion transacted. The state's property transactions stood at 61,266 units worth RM41.69 billion in 2018."
He adds that the volume and value of industrial properties continued to increase until 2019, when 2,212 units worth RM8.276 billion were transacted. However, with the outbreak of Covid-19 and the imposition of the Movement Control Order (MCO) in 2020, transaction volume and value decreased to about 27.6% and 11.9% respectively (1,601 units worth RM7.291 billion were transacted) that year (see chart).
Wong highlights the strong performance of industrial real estate investment trusts (REITs), which have offered dividend yields of 5.1% to 5.7%. He points out that the main attraction of these REITs is security of tenure, as landlords only deal with a few tenants but have long-term tenancies with fixed and secured rental rates.
Axis REIT is the largest industrial REIT. It currently owns 60 properties and is actively looking to make more acquisitions.
"Industrial REITs are expected to see the highest rental growth in the coming years and are driven by the rapid growth of e-commerce and demand for logistics facilities," Wong remarks.
Siders notes that the pandemic-induced lockdowns have changed the consumption patterns of consumers, who embraced e-commerce during the MCO, resulting in "strong demand for warehouse and logistics properties".
"The e-commerce penetration rate in Malaysia is currently the second highest in Southeast Asia. The growth in e-commerce not only focuses on online shopping for goods and fashion but also food and beverage products, pharmaceuticals and manufacturing, spurring the demand for logistics and warehousing," he points out.
"The changing consumption patterns to e-commerce have not only driven logistics and warehouse demand but also the expansion of Industry 4.0 and smart factories. During the MCO period, many manufacturers showed interest in artificial intelligence, technologies, investments in robotics and 5G connectivity systems as these would generate a more efficient operational workflow, reduce costs and experience fewer risks amid lockdowns."
Wong highlights that despite the stiff competition from its Asean neighbours, Malaysia has been able to attract industrial investments worth billions. "For example, Intel Corp announced in January 2022 that it would be investing RM30 billion over 10 years to expand its manufacturing capabilities in advanced semiconductor packaging technology in the Bayan Lepas Free Trade Zone, creating 8,000 new jobs. And China-based solar energy giant Risen Energy Co Ltd is investing RM42.2 billion over 15 years to set up solar plants in the Kulim Hi Tech Industrial Park in Kedah.
"Microsoft is setting up a RM1 billion regional data centre. And home-grown company Hartalega is investing RM7 billion to build 16 rubber glove factories."
Changing with the times
As the economy chugs on, it isn't surprising that the industrial property segment is seeing a transformation. According to Wong, Malaysia's foreign direct investment in the manufacturing sector has declined in the last four years, spurring the government to implement the Industrial Master Plan 4 to attract more high-technology and value-added industries.
"The industrial sector is gradually evolving from manufacturing-based to logistics and warehouse-based. This was especially so during the pandemic years of 2020/21, with the increased adoption of e-commerce and the globalisation of supply chains. As a result of the US-China trade war, many China manufacturing companies are moving their operations overseas, to countries like Malaysia," he says.
Malaysia's pro-investment policies and good infrastructure are some of its attractions and this has resulted in some logistics and distribution centres being completed in 2021, such as the Ikea Distribution Hub in Port Klang (floor area: 1 million sq ft), Hap Seng Industrial Hub in Shah Alam (1.3 million sq ft) and Lam Soon Distribution Hub in Selangor (277,000 sq ft).
Wong mentions another hub called Cainiao Aeropolis eWTB Hub at the Kuala Lumpur International Airport, which is a joint venture between Alibaba Group Holding Ltd and Malaysia Airports Holdings Bhd. It serves as a regional distribution centre and e-commerce logistics hub.
Siders notes that the newer industrial developments are mostly built-to-suit (BTS) properties or customised according to the tenant's or buyer's specifications. He points to Bandar Bukit Raja Industrial Gateway in Klang and Cipta Serenia in Sepang as examples of the BTS concept.
He highlights that Bandar Bukit Raja Industrial Gateway has set aside 869 acres for BTS factories, which will keep the developer busy until 2035. At Cipta Serenia in Sepang, 196 acres have been allocated for the BTS concept, with about 55 acres developed so far into light industrial plots with detached factories. Some 98 acres have been earmarked for medium industrial land and the developer is currently in the planning stage.
Siders says the two industrial parks, which used to be oil palm plantations, have evolved into their current form to take advantage of the "good accessibility and network of roads".
Wong notes that the BTS concept is being adopted in Malaysia and cites the joint venture between Sime Darby Property Bhd, Mitsui & Co and Mitsubishi Estate Co Ltd to build modern warehouse facilities for confirmed tenants with pre-agreed rental rates on a long-term basis at Bandar Bukit Raja Industrial Gateway.
Another trend he has observed is the setting up of industrial development funds such as the one formed between Sime Darby Property and logistics service provider Logos Property Group Ltd.
Also, integrated industrial parks are becoming the norm, as such parks no longer just sell vacant industrial land, Wong points out. "Many industrial parks are incorporating logistic hubs and an inland port. For example, PKT Logistics Group has logistic hubs that have incorporated a truckers' lounge, rest and relaxation centre, food court and an inland port. Its Penang Hub at Batu Kawan Industrial Park has also incorporated a maritime campus and student residences.
"[PKT Logistics Group] is developing the One Northern Hub in Bukit Kayu Hitam and is incorporating an inland port. It will be ready in 1H2023."
He also points to land reclamation efforts to increase industrial lands, such as the Penang Development Corporation's Penang South Island Project, comprising three new islands, and the Melaka Gateway project in Melaka.
Challenges and outlook
Looking forward, both property experts foresee some shortcomings in the industry.
"One of the serious challenges to the manufacturing industry is the shortage of skilled and unskilled labour, and employers are finding it difficult to recruit foreign labour," says Wong.
He adds that there isn't enough industrial land to cater for both local and foreign demand. "Especially from foreign multinational corporations that require a few hundred acres of industrial land to relocate their manufacturing plants to Malaysia."
Siders says the industry may need to look at its existing products and upgrade where necessary. "Relocation of warehouses and logistics facilities to the outskirts and cheaper locations due to changing trends in e-commerce will gradually result in a relook at older and outdated warehouses for modification and adaptation.
"Some may pave the way for residential and commercial development while newer industrial parks with good infrastructure are developed in the outskirts. Eventually, unless older industrial schemes are remodelled to improve the efficiency of the buildings with smarter facilities and technology in line with the changing requirements, the value of these premises may decline over time even though they are in good locations."
Moving forward, the property experts see positive growth in the industrial property market.
"With the growth of the local and regional economies, demand for industrial space is imminent. Generally, the industrial sector will be driven by the growth in e-commerce, generating demand for space in warehousing in particular. Going by the trend in the industrial sector and changing consumer trends, we believe growth in the industrial sector will be seen for some years to come," says Siders.
According to Wong, Malaysia's march towards becoming an industrialised nation means the industrial property segment has a bright future. "With the Regional Comprehensive Economic Partnership agreement set up to create the world's largest free trade zone and investment opportunities in the 15 participating Asia-Pacific countries — of which Malaysia is a member — this will create extensive market access and relocation of investments to the Asia-Pacific region."
Opportunities abound for the Malaysian industrial sector and time will tell how the country takes advantage of this growing demand.