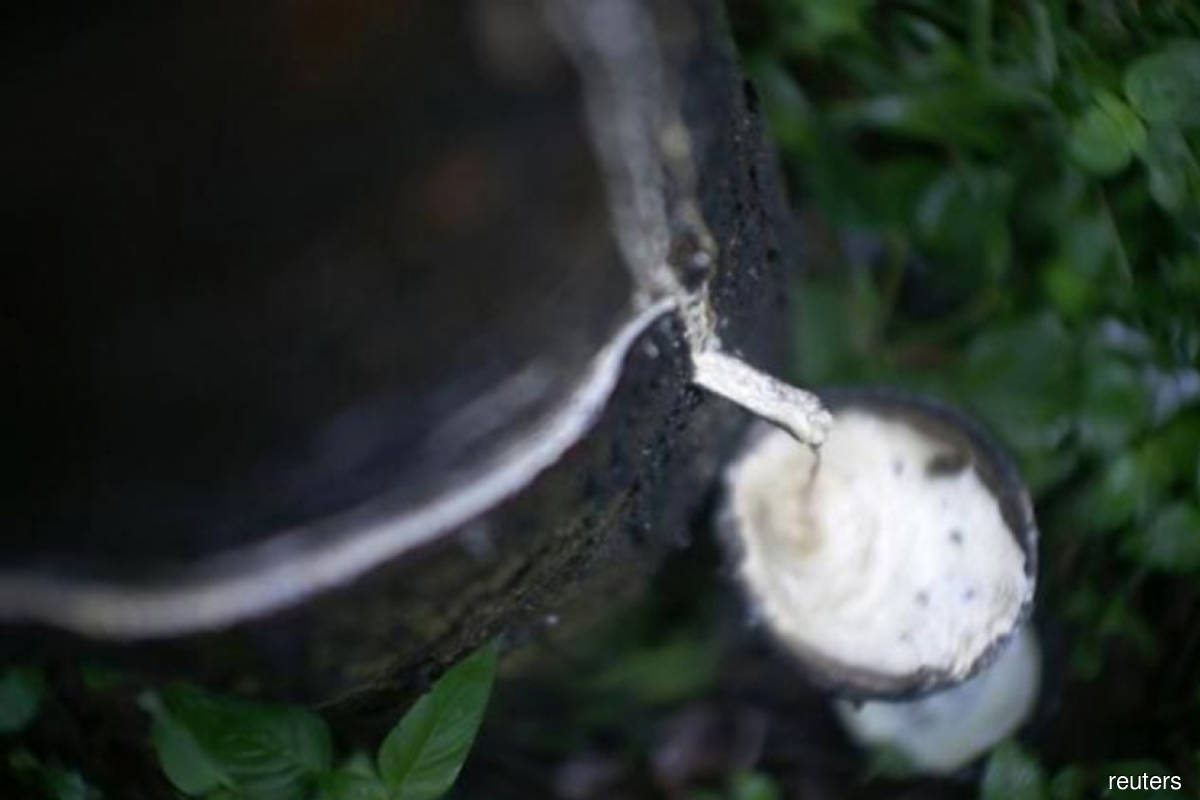 KUALA LUMPUR (Feb 7): Malaysia's natural rubber (NR) production rose by 8.9% to 30,556 tonnes in December 2022 from 28,048 tonnes in November 2022, the Department of Statistics Malaysia (DOSM) said. 
Chief statistician Datuk Seri Dr Mohd Uzir Mahidin said December's production was mainly contributed by the smallholders sector (86.7%), compared to the estates sector (13.3%).
However, he said that on a year-on-year basis, NR production decreased by 26.7% versus 41,690 tonnes in December 2021. 
Mohd Uzir said the total stocks of NR in December last year increased by 4.1% to 201,359 tonnes, compared to 193,396 tonnes in the month before.
He said the rubber processors factory category contributed 90.9% of the stocks, followed by the rubber consumers factory (9%) and rubber estates (0.1%).
"Exports of Malaysia's NR amounted to 48,797 tonnes in December 2022, 4.2% lower when compared to November 2022 (50,927 tonnes). 
"China remained as the main destination for NR exports, which accounted for 47.6% of total exports in December 2022, followed by Germany (4.2%), the United States (4.2%), Iran (4.1%) and Brazil (2.6%)," he said in the Monthly Rubber Statistics December 2022 report releasedon Tuesday (Feb 7).
Mohd Uzir said the export performance was contributed by NR-based products such as gloves, tyres, tubes, rubber thread and condoms. 
"Gloves were the main exports of rubber-based products with a value of RM1.1 billion in December 2022, an increase of 1.5% compared to November 2022 (RM1.07 billion)," he said. 
DOSM said that in terms of the average monthly price, latex concentrated recorded a decrease of 0.5% at 470.21 sen per kilogramme (kg) in December, versus 472.58 sen per kg in November, while scrap went up by 4% to 461.20 sen per kg in the month, compared to 443.36 sen per kg in the preceding month. 
It said that prices for all Standard Malaysian Rubber (SMR) ranged between -0.5% to 1.1%. 
The department said The World Bank Commodity Price Data reported that the prices for TSR 20 (Technically Specified Rubber) grew by 6% from US$1.27 per kg to US$1.35 per kg, while prices for SGP/MYS (Singapore/Malaysia) rose by 7.2% from US$1.43 per kg to US$1.54 per kg. 
It noted that the fourth quarter of 2022 showed NR production easing by 18.5% to 90,399 tonnes as against 110,969 tonnes in the third quarter of last year, adding that its annual performance in the fourth quarter of last year fell 21.6% compared to 115,310 tonnes in 2021. 
DOSM shared that last year's overall performance of NR production declined by 19.7% to 377,047 tonnes, versus 469,669 tonnes in the year before.
Meanwhile, according to the Malaysia Rubber Board Digest December 2022, the bearish sentiments which contributed to the decline in global factory output in November last year were attributable to the contraction of the US manufacturing activity for the first time in two and a half years, as well as the impact of China's Covid-19 lockdown, it added.